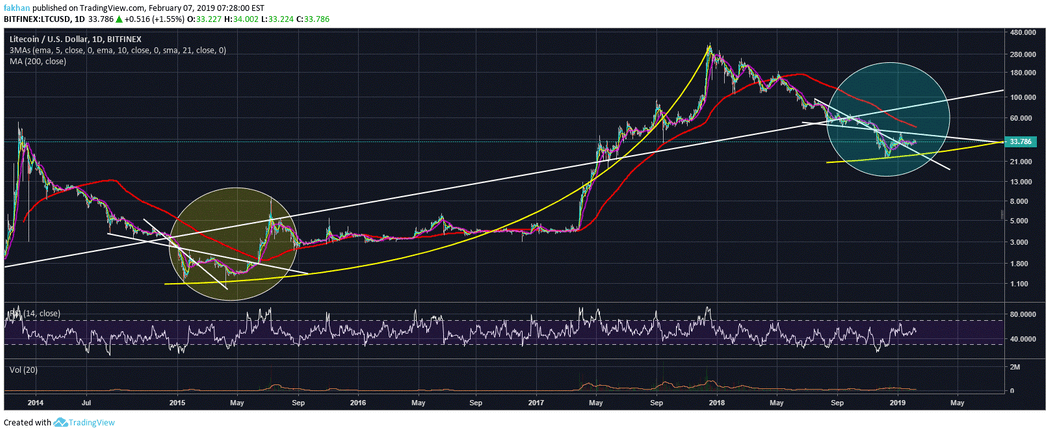 Litecoin (LTC) is repeating a pattern that it followed towards the end of the 2014-15 bear market. It proves that we are close to the end of this bear trend but most of us already know that. What we are more interested in finding out at this stage is whether LTC/USD has room for further downside before it rallies? If we take history into account then yes, Litecoin (LTC) has room to fall back to the trend line support which was previously the trend line resistance. During the previous bear market of 2014-15, this decline was a flash crash event. We saw the price decline enormously in a matter of a few hours but recover immediately afterwards. If the same were to happen this time, we could see a flash crash to $25 but the price will recover before most investors have the time to buy.
This means that long term investors who are looking for the price to make a decisive move would be better off holding on to their coins. Investors who want to buy more can place buy order slightly above $25 but they may not even get hit considering there are already a lot of silent buyers waiting in this zone. All things considered, most professional investors know that the price is going straight to $100 after breaking out of the current descending triangle. So, that would be a 4 times return on investment in a very short term. There are still a lot of professional traders who do not care about Litecoin (LTC) or what it stands for. If they see an opportunity to make money based on price action of the past, there is a strong probability that they are going to take it.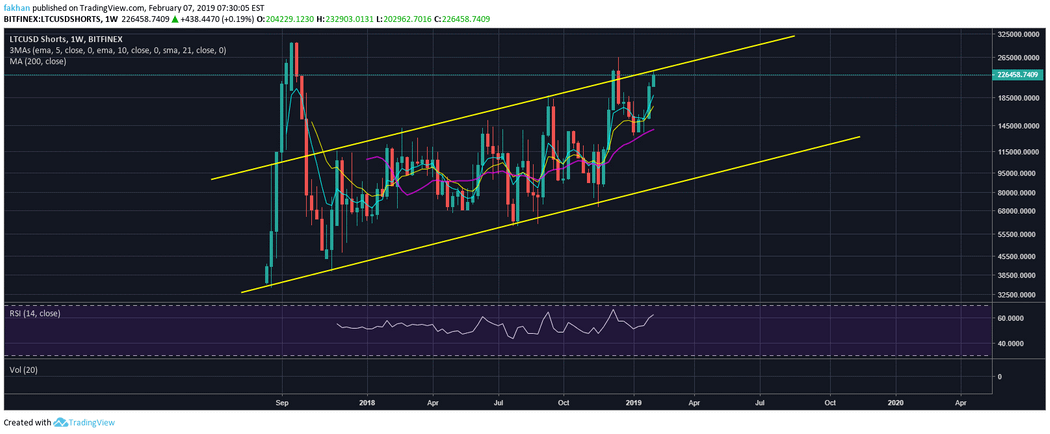 Unlike Bitcoin (BTC) and Ethereum (ETH), Litecoin (LTC) has to be bought and sold on exchanges for the most part as there is no large enough OTC market for it. So, the whales do have to trade on exchanges and when they do most of the time they leave traces which professional traders follow to ride the wave. This time the price is once again at a point where a big move to the upside is anticipated but if the whales are to buy on exchanges, they are likely to first push the price down to shake off any lose hands because the price cannot go up with them on hands as they would sell just to break even or turn in a small profit.
The weekly chart for LTCUSDShorts also shows that the bears have become overconfident and it is time for a correction to the upside. Every now and then after extreme moves, markets return back to mean. This is nothing out of the ordinary. Just as the price cannot stay at the top forever, it cannot stay at the bottom forever and will soon have to correct to the upside. The number of shorts has peaked after reaching the top of the ascending channel which further supports our stance that the sell pressure on LTC/USD is going to alleviate in the days ahead as the number of shorts is expected to decline aggressively.