Litecoin (LTC) has faced some strong resistance after its aggressive rally that saw the price surge by more than thirty percent in the past few days. The weekly chart for LTC/USD shows that Litecoin (LTC) has retraced towards the 21 Week EMA as expected. Interestingly, the recent price action bears a strong resemblance to the one seen during May, 2015. The price rallied in a similar manner back then but faced a strong resistance at the previous support turned resistance line. As we can see on the chart, LTC/USD ended that week in red while staying above the 21 Week EMA. We can see that the price is expected to do the same this time. If history repeats itself, we should see LTC/USD rally aggressively in the weeks ahead to reach a price target of $100.
In the past few days, we have seen some analysts discuss the possibility of Litecoin (LTC) taking the lead to show the way to Bitcoin (BTC). If we look at the weekly chart for LTC/USD, we can see that if the resemblance between now and 2015 actually leads to a rally towards $100 that would mean that the price has already bottomed. It may retrace after reaching the $100 target but it will still be way higher than where it started to rally from. All things considered, I think this scenario makes the most sense. This way, BTC/USD will be able to remain above the 200 Week MA while being able to see a rally towards its previous market structure followed by a correction that would lead to sideways movement for the remainder of 2019.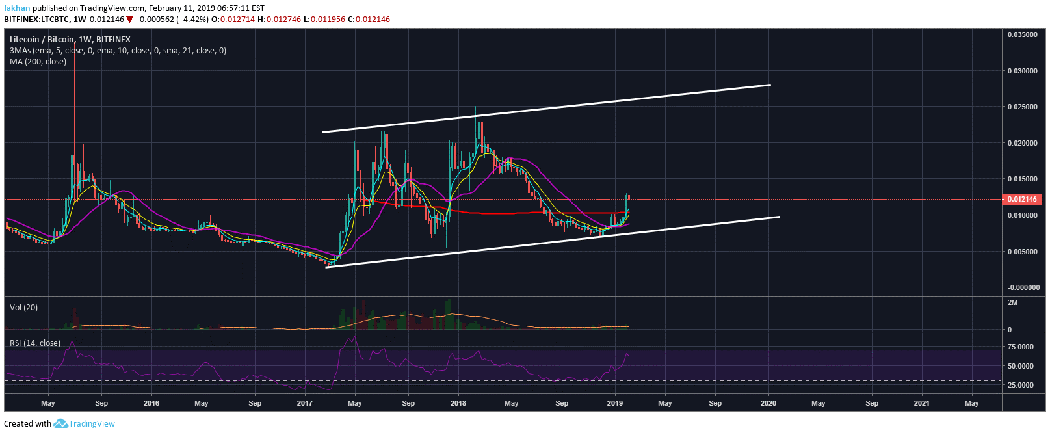 There are more reasons to believe that Litecoin (LTC) may indeed determine the course of this market apart from technical analysis. On August 8, 2019 Litecoin (LTC) will undergo its next halvening. This means that we will see a Litecoin (LTC) halvening way before Bitcoin (BTC)'s halvening. Historically, we have seen that Litecoin (LTC) as well as Bitcoin (BTC) both rally aggressively before halvening. Considering that Litecoin (LTC)'s next halvening is in August, we should see the price begin to rally as early as next week. If we look at the weekly chart for LTC/BTC, we can see that the halvening effect is already visible in the price action. The interest in Litecoin (LTC) has once again started to rise and it is not going to fade away until after the halvening.
One thing we have seen in this market is that events like Constantinople Upgrade or a Coinbase listing might lead to short lived interest but there is no sustainable growth. However, with halvening events it is a whole different story. This is because most of the people in this market care more about simple supply and demand than anything else. Every time a mineable cryptocurrency experiences halvening, it means that the block rewards for mining are cut in half, hence the term halvening. So, if a miner had to spend X amount of money to mine one Litecoin (LTC), now they will have to spend 2X. It is not hard to see how that will affect the price of Litecoin (LTC).