Professional traders believe Bitcoin (BTC) has yet to find its true bottom but retail investors have a hard time getting their head around why the recent rally could not in fact be a precursor to a trend reversal ahead. While some have termed the recent rally as a dead cat bounce, we believe it is a bit more than that. The price might take its time to stabilize and will then have one final move to the upside before it comes falling down to a new low most likely in Q2 of 2019. There are a lot of indicators that point to the simple and straightforward fact that Bitcoin (BTC) has not yet found its true bottom but for mainstream investors it is always hard to accept such statements on face value unless there is a strong catalyst. In this analysis we will cover why BTC/USD has not bottomed yet and what the next catalysts for further decline could be.
First of all, let us look at the daily chart for BTCUSDLongs. Both BTCUSDLongs and BTCUSDShorts are contrarian indicators that show how the market follows herd mentality and then the exact opposite happens. Retail traders have no idea what is happening most of the time and they rush into trades which ends in liquidation when their stops are hit by the market makers. It may seem a bit cliché to blame it all on the market makers but this is exactly how it happens. Of course, the market makers are not to blame alone; retail traders make most of the mistakes out of their own naiveté and herd mentality. The Stochastic RSI for BTCUSDLongs shows us that the number of longs is about to rise hard in anticipation of a big move to the upside. It might be challenging as BTCUSDLongs is already trading below the 200 Day MA which means it might take some time, but it will happen nonetheless.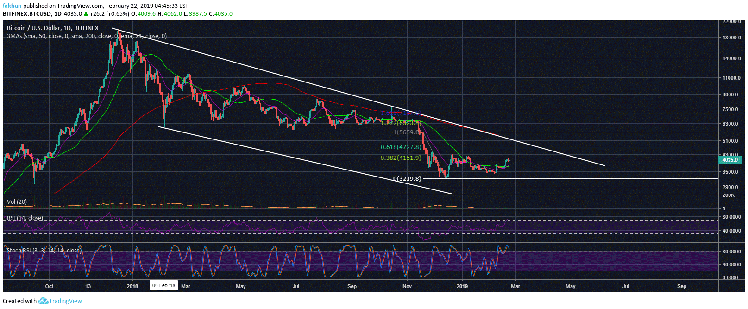 Now, let us consider what happens to BTC/USD when BTCUSDLongs tops out. The last time this happened was around the beginning of the bear market but most investors thought it was just a minor correction. So, when BTC/USD dropped to around $11,000 investors jumped in with both feet opening margin positions. This was around February 5, 2018 and as we can see on the chart for BTCUSDLongs, the number of longs reached a new all-time high. During the exact same period, the price of Bitcoin (BTC) was falling. Only when BTCUSDLongs began to decline, the price started to rise.
So, what does all of this mean? It means that retail trading activity is so predicable to market makers who prey on them and get away with it every single time. It's amazing how these whales can get away with the same thing over and over again. This did not start now, they have been doing it for decades and interestingly enough, herd mentality stays the same. Both BTC/USD and BTCUSDLongs point to the same conclusion which is that retail traders are overreacting at the moment. The thing about overreacting is that it works both ways. Soon as the price hits its upside target and whales turn the tables, we will see the price crashing once again. Some possible catalysts to expect would be disagreements among Bitcoin developers, bans, regulations and hacks.