Bitcoin (BTC) bears are once again confident that the bear market is not over yet and the price has to fall below $3,000 in order for BTC/USD to find its true bottom. A few weeks back, most Bitcoin (BTC) bulls would have laughed at this, but not anymore. The sharp decline that we saw the past week proved to the bulls that no matter how bad things are, they can always get worse. Now, looking at the daily chart for BTCUSDShorts, it is quite clear that the number of margined shorts tested a support and then bounced clearly off that support. In other words, BTCUSDShorts is now ready for a trend reversal that should see the margined shorts rise towards its previous all-time high and most likely above it.
It is pertinent to note that a rise in the number of margined shorts would also trigger a golden cross on the daily chart for BTCUSDShorts which would make the bears more confident and the price of Bitcoin (BTC) would be under immense sell pressure when that happens. So, the bears are not short of reasons to expect the price of Bitcoin (BTC) to go down hard in the weeks and months ahead until a true bottom is reached. However, previously we saw the bulls put up a fight and resist a decline to $3,000 but after recent developments, it does not appear that this is going to stop the bears anymore. The bullish resolve has been seriously weakened after last week's flash crash that wiped out more than $400 from the price of Bitcoin (BTC) in a matter of just a few hours.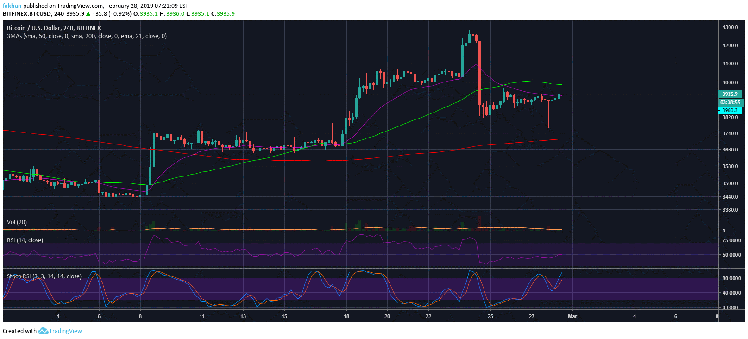 The daily chart for BTC/USD shows that after that sharp decline, the bulls had a good enough opportunity to stage a strong comeback and push the price back on track. This would have been very easy to do if the bulls had put up a fight because back then it appeared that the price had just declined to its trend line support. Had that trend line support not been breached, the bulls would have seen that rally by now and BTC/USD would be trading around $4,300 or higher. However, nothing of the sort happened and the price of Bitcoin (BTC) just kept on consolidating around the 21 EMA on the 4H chart.
The trading volume has once again dried up and the Stochastic RSI shows that BTC/USD has reached overbought conditions on the 4H chart. So, in other words the bulls had an opportunity to turn the crash into a pullback and pave the way for a rally but they panicked and let the bears take control. We still expect a rally to the upside which will be more of a fake out because it will immediately be followed by a strong and steady decline to the downside. Under present conditions, it would not be surprising at all to see Bitcoin (BTC) fall below $3,000 and find a true bottom somewhere between $1,000 and $2,800.