Ripple (XRP) is now back where it took off from towards the end of last month. This is not a good development for XRP hodlers who have long been anticipating a break out to the upside. The more XRP/USD tests the horizontal support at $0.287, the more likely it is to break it. This level has been tested more than four times in the past few weeks but it has held so far. The absence of bullish momentum means that this level is very likely to be breached on another attempt. RSI for XRP/USD on the 4H chart does point to the possibility of a correction to the upside but such a low level of bullish momentum in the market indicates that the bears might still have the upper hand to decide the near term fate of Ripple (XRP).
There is no denying that interest in Ripple (XRP) has been on a steady rise these past few months. However, it has yet to reflect in the price. Most Ripple (XRP) investors are hodlers who just buy coins and store them in a secure wallet instead of leaving them on exchanges. The trading activity on exchanges is still dominated by people who would readily sell their coins to turn in a small profit. It is thus not hard to imagine that these same people are also ready to sell when the price risks a near term sell off. Most Ripple (XRP) hodlers might be strong believers and may be determined to hold on to their coins no matter what. However, they do not contribute to trading activity. They are holding on to their coins at big losses, they keep buying in small amounts but most of their coins are outside of exchanges.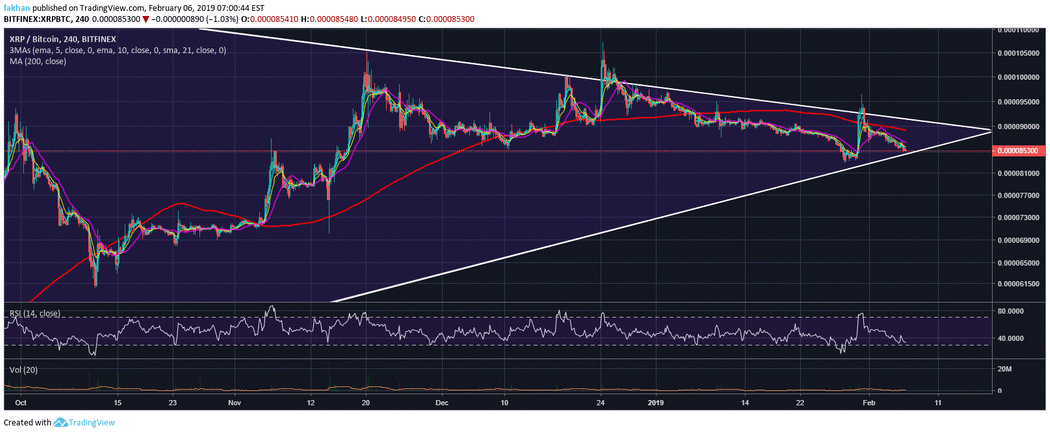 The sellers on the other hand who are ready to sell XRP/USD at a small profit have most of their holdings on exchanges. They are ready to pull the plug soon as they see the slightest risk of further sell off. These are the weak hands that are still there in the market. In the presence of these quick buck artists, Ripple (XRP) is unlikely to begin a bullish cycle. They are playing with the whales who keep throwing them a bone every now and then to slowly gather the coins they have at lower prices. Once the whales are done buying their coins, only then we will see the beginning of a new bullish cycle.
The 4H chart for XRP/BTC shows that Ripple (XRP) still has a strong probability of breaking above the symmetrical triangle it is trading in against Bitcoin (BTC). That being said, we could see one last move to confuse traders and the price may first break down before continuing upwards. This would be nothing new as we have seen it happen countless times before at critical points in a market cycle. This is a critical point for Ripple (XRP) because a breakout to the upside might lead to a retest of the previous market structure whereas a breakout to the downside might result in an extended bear trend that could last the till the end of the year.