Just when we thought things could not get any worse with Ripple (XRP), we have seen XRP/BTC form a gravestone doji on the daily chart. The gravestone doji is a strong bearish reversal pattern that often leads to significant further downside. This doji was formed when the price ran into the 50 day moving average but faced a strong rejection and was forced to decline below the 21 day exponential moving average. So, what does all this mean for Ripple (XRP)? It means that the professional traders and retail traders are not on the same page here. The excitement that we have seen in the market over the past 48 hours will most likely be over when the professional traders are done selling their coins to unsuspecting retail traders who believe this is the trend reversal they have been waiting for.
News and fundamental analysis are very important when it comes to analyzing a financial asset. However, nothing beats the charts, which is why technical analysis always takes precedence. Most of the times, the charts tell us things that news or other fundamental analysis tools and resources cannot. If ignore the technical for a moment and look at the fundamental side of things for Ripple (XRP), we can see that JPM Coin has dealt a serious blow to its use case, not because Ripple (XRP)'s technology is inferior to that of JP Morgan but because it one bank can do this, what is to stop hundreds of others to do the same thing? Now, if all of these big banks get their own cryptocurrencies and distributed ledgers, what use do we have for Ripple (XRP)?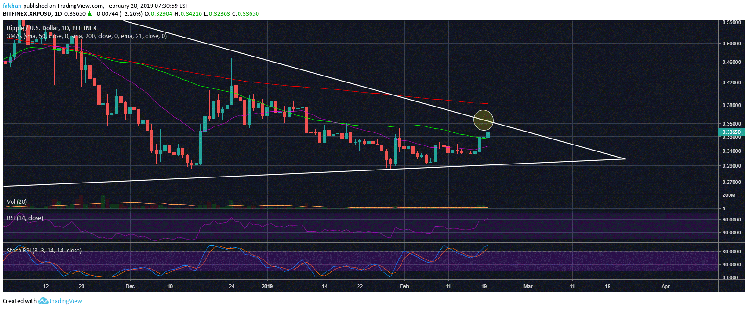 We mentioned in our last analysis on XRP/USD why we believe R3 did not care much about XRP in the beginning. It is now becoming increasingly clear why they did not because xVia or xRapid is not really a big deal. Moreover, if you are going to use third party help with those technologies, it only comes down to marketing and promotion which the Ripple Team is a genius at. In all fairness, what they have pulled off is no different than selling ice cream to an Eskimo. All of these big banks that have partnered up with Ripple (XRP) might have done exactly what Ripple (XRP) is helping them to do on their own, but they have lagged behind for far too long in a lot of ways so much that they do not believe they can pull it off on their own.
Moreover, the fact that a lot of retail investors are counting on Ripple (XRP)'s partnerships with big banks without considering the fact that one of these days the banks might be able to do exactly what Ripple (XRP) is offering and they would say, "No thanks, we got this". Things would not be so bad if these were the only risks. Ripple (XRP) is empowering the banks whereas this whole revolution is about getting rid of the banks and cutting out middlemen to make the end user in charge of their own finances, an ecosystem where everybody could be their own bank.