Stellar (XLM) is often seen a Ripple (XRP) competitor that wants to cut the middle man and enable people to become in charge of their own finances. While Ripple (XRP) empowers the banks and helps maintain the status quo, Stellar (XLM) wants to empower the end user and challenge the status quo. It is not hard to see that ultimately, Stellar (XLM) or a project like it which actually empowers the end user will come out on top because that is where we are eventually headed. However, we are still a long way from there and thus it is no surprise to see that XRP/BTC is doing a lot better than XLM/BTC. Ripple (XRP) is signing partnerships left and right and as time goes by, its positions is going to get a lot stronger as big banks and financial institutions pave the way for further adoption.
The vast majority of cryptocurrency investors are interest in Stellar (XLM) because of its cross border payments solution that cuts out middlemen and empowers end users. However, tech giants like IBM seem to be more interested in Stellar (XLM)'s capabilities as a stable, secure and compliant blockchain. As regulatory bodies get more interested in ICOs, startups that hold their ICOs on the Ethereum (ETH) blockchain increasingly run into problems with KYC/AML as Ethereum (ETH) does not cater for that. Stellar (XLM) on the other hand has a very compliant blockchain that ensures that tokens are only traded between KYC/AML approved addresses. This could be a game changer during the next ICO mania as startups would want to avoid running into legal issues using Ethereum (ETH). Besides, the Stellar (XLM) blockchain is a lot faster than Ethereum (ETH) with the average settlement rate for XLM transactions being 5 seconds compared to 3.5 minutes for ETH.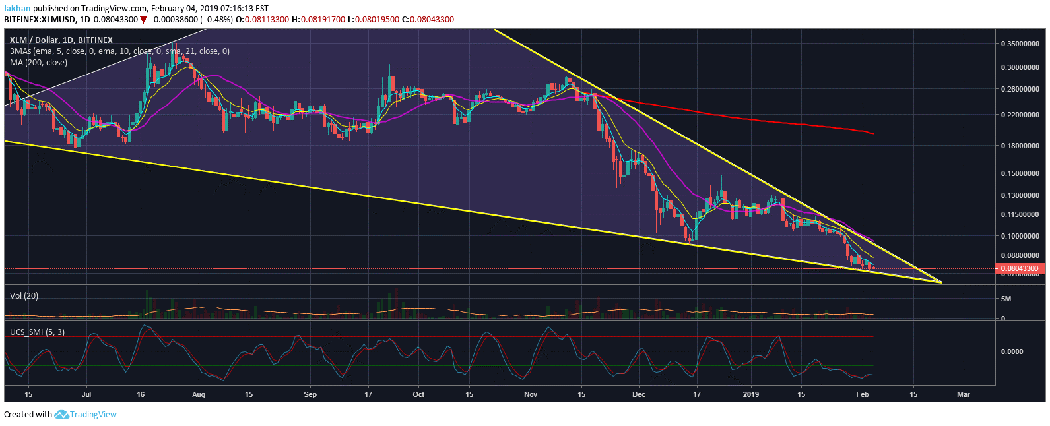 The transaction fees paid on the Stellar (XLM) network are also significantly lower than the Ethereum (ETH) network which again goes in Stellar (XLM)'s favor as the preferred ICO platform during the next ICO season. The only edge that Ethereum (ETH) might have over Stellar (XLM) is better liquidity. ETH is listed on a lot more exchanges compared to Stellar (XLM) but that is changing rapidly. Stellar (XLM) is also a more stable blockchain compared to Ethereum (ETH) and has had no security issues so far unlike Ethereum (ETH). As it has a long way to go before the same level of adoption as Ethereum (ETH) or Ripple (XRP), it means that there is plenty of room for growth and therefore an investment opportunity.
The way the price of Stellar (XLM) was manipulated the past few weeks after a Finder.com panel concluded that it might be one of the top gainers in 2019 goes on to show that there is significant institutional interest in this coin and the whales do not want retail investors buying up the market supply just yet. The daily chart for XLM/USD shows that the price is still trading in a falling wedge that it entered in June, 2018. This falling wedge has not been breached once and the price is likely to break above it in the weeks ahead. As the price of Stellar (XLM) rises that is when we will see news about what a wonderful blockchain Stellar (XLM) is and what its future looks like but by then it may be a bit too late to buy.