Ethereum (ETH) is still trading within a large bull flag that is expected to break strongly to the upside now that the moving average cross over on the 4H chart for ETH/BTC has formed a golden cross. This is often a very bullish development that results in the price rising sharply to the upside. We have seen this happen before in the case of Ethereum (ETH) when the price had bottomed out against Bitcoin (BTC) in December, 2018. Soon afterwards, the price rose above the 50 MA which was later followed by a golden cross that resulted in the price rising to its January, 2019 high. This cross over is expected to result in a similar break to the upside which will lead to Ethereum (ETH) finally forming higher highs and higher lows.
The price is still way below its previous all-time high and there is plenty of room for growth to the upside. However, market conditions still remain uncertain and Ethereum (ETH) is unlikely to make a move on its own without the blessing of Bitcoin (BTC). That being said, soon as the market recovers, we will be ready for the next altcoin season which will see Ethereum (ETH) leading altcoins towards aggressive gains against Bitcoin (BTC) just like we have seen in the past. We have already seen that Ethereum (ETH) has regained its second place (in terms of market cap) just before the beginning of the next altcoin rally. The number of new ICOs is still on the rise and a lot of startups are waiting to hold their ICOs soon as the market recovers.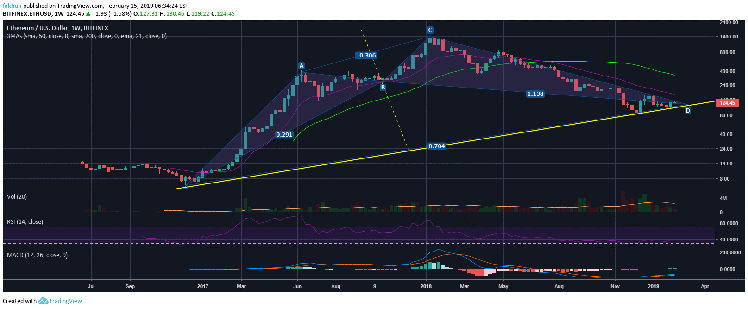 As new projects hold their ICOs in the months ahead, we will see demand for Ethereum (ETH) rise again as most investors in these ICOs will have to first buy Ethereum (ETH) in order to invest in those ICOs. This had a strong impact on the price of ETH/USD during the previous bull market and we believe it will have the same effect now. Ethereum (ETH) might not be able to rise as much in terms of percent gains but a five digit price is still quite reasonable. Investors should see 2019 as the best time to invest in Ethereum (ETH) but it does not mean they should expect to see significant returns on their investments this year. In fact, the four year cycles that we have seen before will likely follow again unless something extraordinary happens in the stock market.
The reason we believe the four year cycles will keep on following as before is because the strongest force in this market that influences price the most is supply and demand. After every halvening, we see an aggressive running up that leads to most cryptocurrencies reaching their new all-time highs. We expect the same to happen this time. There are plenty of confusions regarding the Fed's next move and the state of the stock market. Those factors affect the price of cryptocurrencies in a big way because this is still a very risky market and when things go bad, investors are eager to get rid of their risky investments first. However, we believe that this confusion will continue throughout 2019 and the stock market will continue to look for help and the Fed will ultimately have no choice but to provide it.