Ethereum (ETH) could still determine the direction of the cryptocurrency market and for good reason. This is because ETH/USD now has a lead on Bitcoin (BTC) and it can pretty much call the shots if it wants to. We saw this happen the past few days when both BTC/USD and ETH/USD went the opposite ways. Bitcoin (BTC) closed below the 50 day moving average whereas Ethereum (ETH) closed above it. Now, investors were left confused as to which one to trust. Historically, it has been Bitcoin (BTC) that has been dominant for the most part and the market sways towards its movements but this time Ethereum (ETH) took the lead and the market followed. We will get to why we think Ethereum (ETH) was successful in taking the lead, but first let us look at why we think Ethereum (ETH) can still determine the direction of this market.
If we look at the daily chart for ETH/USD, it looks a lot different than that of most cryptocurrencies because the price has yet to fall below the 61.8% Fib level. In fact, ETH/USD has remained strongly above this level and if it continues to rally from here, there is a strong probability that the rest of the market will follow. The reason we say that is because ETH/USD has not yet run into a strong resistance yet. Furthermore, if the price rallies from here, it will lead to the 21 day exponential moving average crossing above the 50 day moving average which would see the price rising at least towards $180. This would be interesting to see and it could happen but we have some strong reasons to believe that it might not.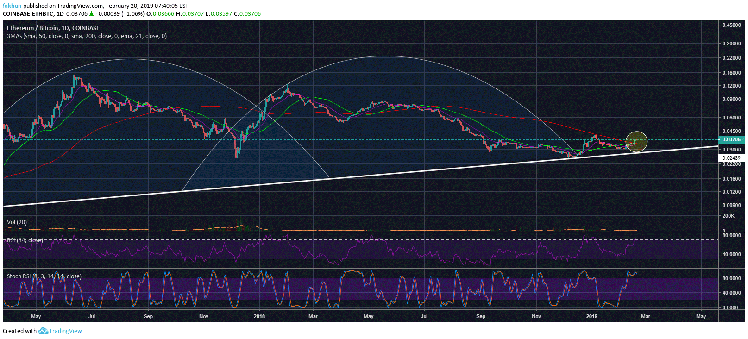 Both the RSI and the Stochastic RSI have reached overbought levels and the price is extremely unlikely to rise as high as $180 from current levels. If it were to rise past the previous daily candle, it will have to lead to the 21 EMA crossing above the 50 MA which does not usually happen unless the market is ready for significant upside short term. However, there is an even stronger reason why we believe Ethereum (ETH) is unlikely to rally past current levels without coming down first. If we look at the daily chart for ETH/BTC, we can see that one strong move up from here would trigger the golden cross that we have long been waiting for.
Ethereum (ETH) has not yet tested its previous market structure and neither has Bitcoin (BTC). A golden cross is most often followed by significant rallies to the upside. The only way a golden cross would happen at current levels is if the price were ready to break out meaning we would have already bottomed. I do not believe we have bottomed and I do not think the price is ready for significant upside from current levels. The only reason I believe Ethereum (ETH) was able to take the lead was because of the possibility of this golden cross which would push Ethereum (ETH) into a bull trend against Bitcoin (BTC). If this golden cross does not come to fruition at current levels, we will see Ethereum (ETH) follow Bitcoin (BTC)'s movements once again and the price would retrace significantly over the days and weeks ahead.