Ethereum Classic (ETC) has nosedived after running into a strong trend line resistance. The price is now expected to fall down to the 50 day moving average if not lower. We might see some consolidation short term before a possible move to the upside. That being said, this whole setup is increasingly appearing to be more bearish than ever. If the price ends up falling below the 21 day exponential moving average, it will have a hard time going up. We believe that the price is likely to remain above the 50 day moving average for now and continue to trade sideways before its next move to the upside. This move will most likely be the final correction to the upside before we enter the fifth and final wave of the Elliot wave correction cycle.
So far, it appears that ETC/USD is holding up well against a sharp decline to lower levels. However, the price has entered overbought conditions short term and a drop to the bottom of the triangle would not be surprising. That being said, a move to the upside has to happen before the price can continue going down. In the past few weeks, Ethereum Classic (ETC) has had a lot of new events and conferences. The teams working on this blockchain are working harder than ever to capitalize on the full potential of the Ethereum Classic blockchain. We have seen new Dapps being built on the ETC blockchain and the community is growing at a very fast pace. Ethereum Classic (ETC) has had issues with funding in the rest past but what we want to see is how it fares during the bloodbath that is about to come.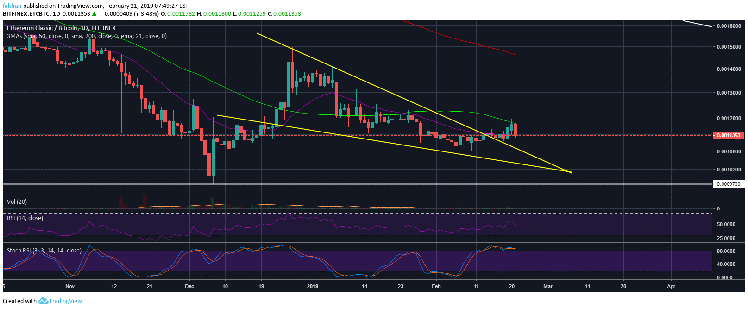 Historically, Ethereum Classic (ETC) has a good track record of holding its ground better than most other cryptocurrencies during a market correction. We have already seen a horrible correction in the market that has led to most coins losing more than 95% of their value. However, when things are this bad it does not mean that they cannot get any worse. In fact, we have strong reasons to believe that they are going to get worse and when that happens we will see a lot of ICOs and useless projects get wiped out. Ethereum Classic (ETC) has a market cap of less than $500 million. The next correction would mean that things could get pretty bad and it would be a test for Ethereum Classic (ETC) to prove its mettle during tough times.
The daily chart for ETC/BTC shows that Ethereum Classic (ETC) faced strong rejection at the 50 day moving average despite several attempts at a breakout. Ultimately, it had to accept defeat and fell significantly below the 50 Day MA. The price could now settle atop the trend line resistance turned support of a previous falling wedge. This might be a good point of consolidation for ETC/BTC before its next move to the upside. This next move to the upside will most likely be insignificant and will be followed by a sharp decline to the previous support around December, 2018 low.