Ethereum Classic (ETC) has shown a serious rise in interest especially during the bear market. While cryptocurrencies like Stellar (XLM) and Ripple (XRP) have seen a loss of interest over the past few weeks, ETC/USD has seen more money flow into it as development activity on the Ethereum Classic blockchain proceeds with rapid pace. In the past 48 hours, Ethereum Classic (ETC) has climbed past the 21 Day EMA and is now close to testing the 50 Day MA. Soon as it climbs past the 50 Day MA, it will be clear to shoot towards the 200 Day MA. As the daily chart shows, that will be the time when the most interesting event in a long time will occur i.e. the Golden Cross. We might see this golden cross on ETC/USD as early as June.
Historically, golden crosses have resulted in major rallies to the upside and there is no reason to believe that this time will be different especially when Ethereum Classic (ETC)'s fundamentals are better than ever. The cryptocurrency that often received backlash for having no Dapps now has an ambitious program that has several developers working on new Dapps under the umbrella of ETC Labs. The ETC Labs Core Team is focused on making the blockchain more secure and finding opportunities for practical use of the Ethereum Classic blockchain. One of such applications would be in the IOT (Internet of Things) for which the ETC blockchain is most favorable given its focus on immutability and decentralization. A lot of investors got interest in this blockchain for its IOT promise in the past but the previous development team, ETC Dev failed to deliver on that promise which as we now know lead to some major changes.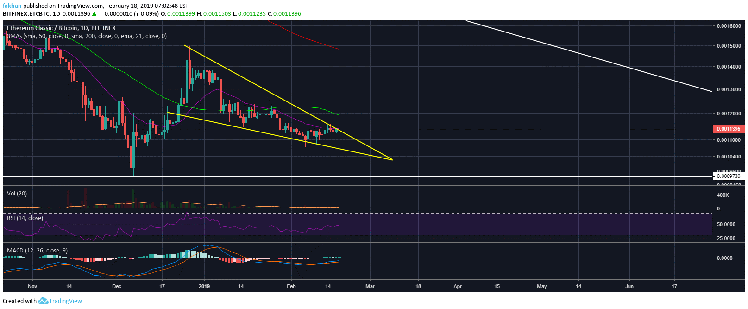 Investors in Ethereum Classic (ETC) are more confident after the recent regime change because they believe the new regime is more investor friendly. Both DCG and DFG are focused on helping ETC Labs utilize the full potential of the Ethereum Classic blockchain and to stay committed to its IOT (Internet of Things) promise. ETC-ETH cooperation has also improved a lot in the past few months. Despite their differences, both blockchains are willing to work together for mutual benefit. This goes on to show that the teams behind Ethereum Classic have always demonstrated sportsman spirit despite fundamental differences with the Ethereum blockchain and concerns over some recent issues involving the Ethereum foundation.
Ethereum Classic (ETC) has long been known to be an undervalued cryptocurrency which is why it holds its ground better than most cryptocurrencies during a market meltdown. However, we are now starting to see a rise in bullish momentum not just in ETC/USD but also in ETC/BTC. Ethereum Classic (ETC) has already rallied hard against the US Dollar in the past 24 hours but it is now preparing to break out against Bitcoin (BTC). The daily chart for ETC/BTC shows that the price is struggling to break past the 21 Day EMA. Soon as that happens, we will see a strong breakout towards the 50 day moving aver