Ethereum (ETH) has broken above the falling wedge it was trading in to resume its long awaited rally towards the top of the ascending channel. The price has currently run into resistance close to the 21 Day EMA after breaking past the 10 Day EMA. However, it is important to note that ETH/USD has not faced a rejection at the 21 Day EMA yet which means that it is likely for the price to either break past the 21 Day EMA today or in the next few days. Either way, it will pave the way for a rally towards $20. Investors who were able to get in around $100 might be able to aim for a 100% return on their investments. RSI for the daily chart shows that there is ample room for a sustained rally to the upside that should ETH/USD rising for the next few weeks.
The volume profile for the daily chart between November, 2018 and February, 2019 shows that the volume is expected to rise once again. The weeks immediately after a Chinese New Year have historically been quite bullish for Ethereum (ETH) and it is expected that this time we will see a similar outcome. That being said, we cannot say for sure that Ethereum (ETH) has bottomed yet. The price is very likely to resume a rally towards $200 but if it faces a rejection around those levels, we will see a strong correction to the downside which could see the cryptocurrency fall to new lows for 2019. Both the bulls and the bears are convinced at this point that the bottom is near but there is state of fear and uncertainty in the market that has dominated logic and reason.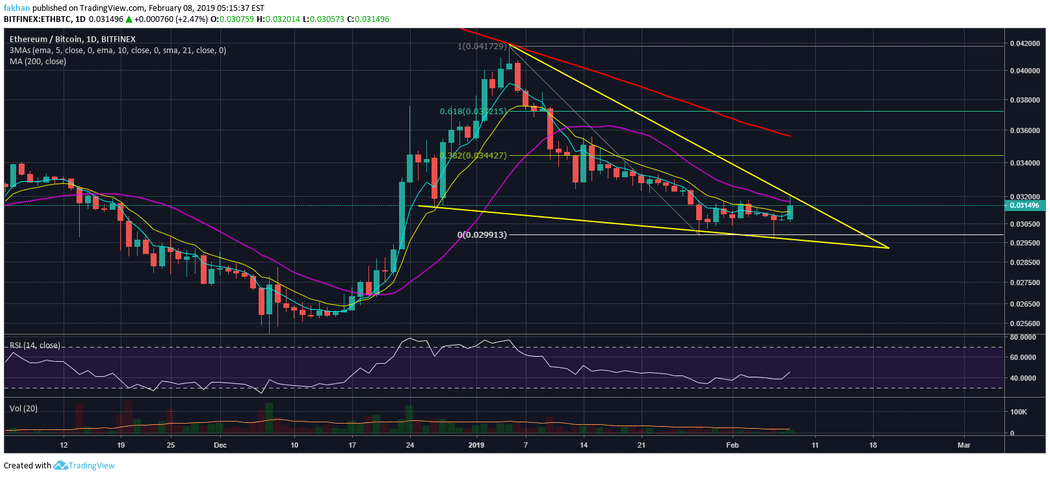 Investors who were once calling for the price to drop to $400 so they could buy more are now reluctant to pick Ethereum (ETH) at current levels. The daily chart for ETH/BTC shows that Ethereum (ETH) managed to break out against Bitcoin (BTC) today but failed to break past the 21 Day EMA. In fact, the daily candle is expected to close below the 21 Day EMA but that does not mean that the price will not attempt to rise higher in the days ahead. Weekends have historically been red days for cryptocurrency markets especially during bear trends. We can expect some sideways movement for the next two days but things could change drastically as early as next week.
Financial advisers and portfolio managers from major banks and hedge funds are increasingly advising their clients to put at least 5% of their money in cryptocurrencies. Some analysts have mentioned that as soon as companies like Fidelity roll out cryptocurrency trading services, a large number of their clients would want to try them. Even if they were put a small portion of their money in the cryptocurrencies, the combined effect of all such investments could see the market reach a new all-time high as early as mid-2019. The top three investments in cryptocurrencies through institutions are expected to be in Bitcoin (BTC), Ethereum (ETH) and Ripple (XRP). It would therefore not be surprising to see Ethereum (ETH) reach a five digits price during the next bullish cycle.