Ethereum (ETH) has been trading in a descending channel since the beginning of the year. However, the price has now finally broken out of the descending channel to resume a long awaited rally towards $200. There is not much in the way of ETH/USD to pose as a strong barrier against a rise to the top of the large ascending channel. That being said, sideways movement in Bitcoin (BTC) might slow it down some more. However, the inevitable will have to happen sooner or later and the price will have to touch the top of this ascending channel before it can pick a defining direction for the next few months. The daily trading volume remains low and major trading activity remains dominated by algorithms. Real buying interest is yet to be seen as investors are too scared to get back into the game.
Those of us who have been around long enough to have seen the entire bear market can relate to the marvels of human psychology witnessed during that period. For instance, you might have seen a large number of people on Twitter or Reddit saying that they would sell their houses or their cars to buy Ethereum (ETH) at $400, but now that the price is trading just above $100 nobody wants to buy! It is true that there are a lot of people who might have bought at $400 and would in fact still be holding on to their coins with deep losses. However, there are a lot of other people with unrealistic expectations. Despite the fact that Ethereum (ETH) and most other cryptocurrencies are down more than 95% form their all-time highs, a lot of retail investors still expect the price to fall a lot more.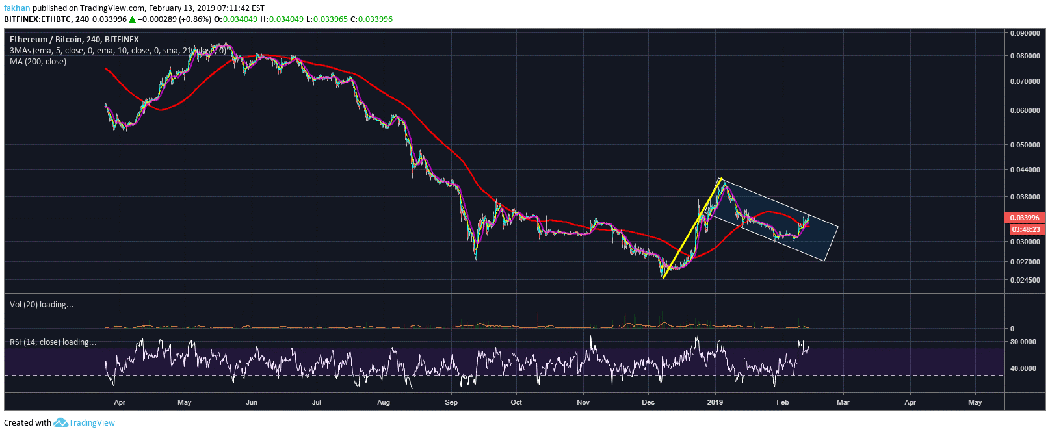 Most of these traders lost money buying high and selling low which is why they are waiting to see the price drop a lot lower so they can get the same number of coins that they lost. It is important to note at this point that there is a very high probability that the price has found a local bottom if not a global bottom. This means that the price will now have to retest the previous market structure before it can fall further. The ETH/BTC 4H chart shows a bull flag that is likely to break to the upside. We could see another move to the downside first before the price can rise but considering that the price is holding strong above the 200 MA on the 4H chart, the most probable scenario is that ETH/BTC will break to the upside without retracing significantly.
Ethereum (ETH) is at a far better point today in terms of risk/reward not just because its price is down more than 90% from its all-time high, but because its fundamentals are better than ever. The price might have taken a toll during the bear market but the blockchain has been seeing a lot of development activity throughout. It is not yet clear why the Constantinople upgrade is being delayed but chances are it will coincide with other favorable market developments like Litecoin's halvening and the entire market might be able to see a mini bull run at the same when that happens.