The last few weeks have been incredibly confusing for Bitcoin (BTC) traders and investors. The price has failed to make a decisive move to either side. The 4H chart for BTC/USD shows that the bull flag that the price has been trading in since the beginning of the month seems to be going nowhere. The price attempted to break above it in the past 24 hours but it failed miserably and was dragged back inside the flag. After the bullish moving average cross over on the 4H chart, it was expected that Bitcoin (BTC) would break decisively to the upside. However, some interest groups appear to be deliberately stalling a break to the upside for reasons not known at this point.
Recently, a Chinese Mining Expert predicted the predicted that Bitcoin (BTC) will rise 20,000% during the next bull run. Given the state of the global economy, we have strong reasons to believe that this might be possible. A lot of people consider the JPM coin announcement a negative development but in my opinion this is a solid victory for Bitcoin (BTC) and its believers who should feel vindicated that those who have been calling it a scam and a fraud are now trying to compete with it on the same battlefield. Bitcoin (BTC) was around when cryptocurrency was not even a word. Since then, it has reached unprecedented levels of adoption that no JPM coin or any other coin for that matter can compete with no matter what they do. If anything, this recent JPM coin announcement shows us how desperate institutions like JP Morgan currently are and how threatened they really feel by Bitcoin (BTC) and other cryptocurrencies.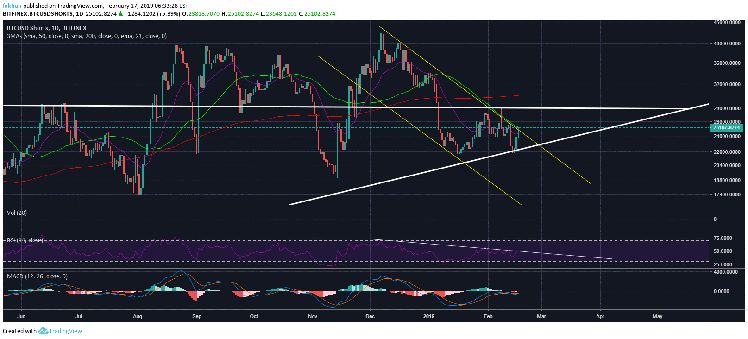 Now, we have gotten used to four years cycles for Bitcoin (BTC) and we have seen that every subsequent cycle leads to lesser percentage gains compared to the previous cycle. However, unlike the four years cycle, this pattern does not rest on anything concrete and can be broken. We now know that we have the four years cycle because of halvening. Every four years, Bitcoin (BTC) undergoes a halvening event. As every halvening event cuts mining rewards in half, simple supply and demand tells us that the price must rise and therefore it does every single time. Now, supply and demand tells us that the price should rise after halvening but it does not tell us how much it should rise.
The daily chart for BTCUSDShorts shows us that the number of shorts has been in a descending channel since the beginning of the year and is now about to break a historical trend line support. Soon as this support is broken, all hell is going to break loose. The bears are going to get out of their positions or get liquidated both of which will lead to major spikes in the price of Bitcoin (BTC) and the bulls will take it from there. We have seen a lot of industry leaders make some very bold predictions. Some of them have been proven wrong in the past but there are other that have been proven right. Several such predictions were made by Tim Draper which turned out to be true. He now sees Bitcoin (BTC) at $250,000 by 2022.