Bitcoin (BTC) does not seem to have bottomed yet. The price has just run into a trend line resistance and is expected to fall significantly in the days ahead. There may be some room for growth after an initial retracement but for now traders should lookout for a pull back before entering any long positions. Shorting BTC/USD at current levels is certainly not a good idea now that the bearish resolve has been damaged beyond repair. We will discuss in this analysis what that really means but first let us look at what Bitcoin (BTC) is really up to. The price of Bitcoin (BTC) is still trading in a symmetrical triangle and it is unlikely to break above or below it anytime soon. The price touched the support line earlier this month and then started to rise sharply.
We saw around February 10 that the price had topped out locally and could fall back towards the support line. However, it declined within a tight range and formed a bull flag instead which lead to an even stronger break to the upside. That rally has now come to an end and the price will have to retrace before it can move up. Now, there is something interesting to note here. When BTC/USD consolidated and formed a bull flag last time the price had not run into trend line resistance yet which meant that it will ultimately have to do that. So, instead it printed a bull flag which allowed it to rise towards the trend line resistance. However, this time the situation is entirely different.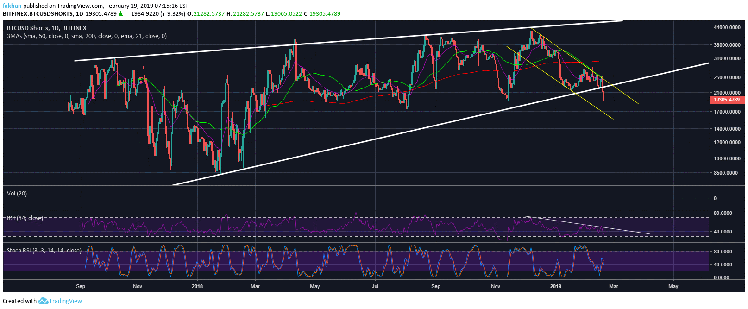 If we look at the 4H chart for BTC/USD we can see that the price has run into its trend line resistance and can now drop straight towards the support line without having to form a bull flag. If it forms a bull flag then we can expect a break above the trend line resistance which will be very bullish for the entire cryptocurrency market. That might be the final move we expect that should see BTC/USD rise towards its previous market structure around $6,000. This rally has excited a lot of retail traders but professionals are not convinced so far. Some expected a straight drop to a new low from current levels while other believe the price will retrace and then shoot back towards the previous market structure from where it will begin its decline.
We have reasons to believe that a straight decline to a new low from current prices is not probable. If we look at the daily chart for BTCUSDShorts, we can see that a historical trend line support that has held since 2017 for Bitcoin Shorts has now been broken. This is a very big deal if we consider the impact it has had on the bearish resolve. Previously, the bears expected that the number of shorts would rise after touching the trend line support but now that BTCUSDShorts has fallen below this support, it is clear that this trend line will now be a strong resistance to break. So, the sentiment shift has occurred, but we still believe the bottom is not in yet.