Ethereum Classic (ETC) has been around for years but until recently, the only people interested in this blockchain were either those who believed in its principles of immutability and decentralization or those that worked on it in some capacity. The majority of investors who buy cryptocurrencies to turn in a profit had no reason to invest in Ethereum Classic (ETC) because it was a poor performer during the previous altcoin season. In fact, ETC/USD seriously lagged behind while other cryptocurrencies like Ethereum (ETH) and Litecoin (LTC) rallied hard. This led to all sorts of debates about Ethereum Classic (ETC) being a scam or a dead project shilled by a few people with large bags of this cryptocurrency. Even when Coinbase listed Ethereum Classic (ETC), it did not receive a price boost same as Litecoin (LTC) or Bitcoin Cash (BCH) did.
The point is mainstream investors in cryptocurrencies had no reason to invest in Ethereum Classic (ETC) until recently. However, all of that is changing quite rapidly as ETC Development Teams are working round the clock to push for mainstream adoption of the blockchain. Just recently, Ethereum Classic Labs (ETC Labs) rolled out an ambitious program to get more developers to build Dapps on Ethereum Classic (ETC). The ETC Labs Core Team has revamped the development game and is all set to get things done. They seem to be moving a lot faster than ETC Dev and are more interested in bringing work to attention of the community. This strategic shift on part of the development teams working on Ethereum Classic (ETC) shows that they now realize that they cannot just focus on the work and expect the community to celebrate their achievements.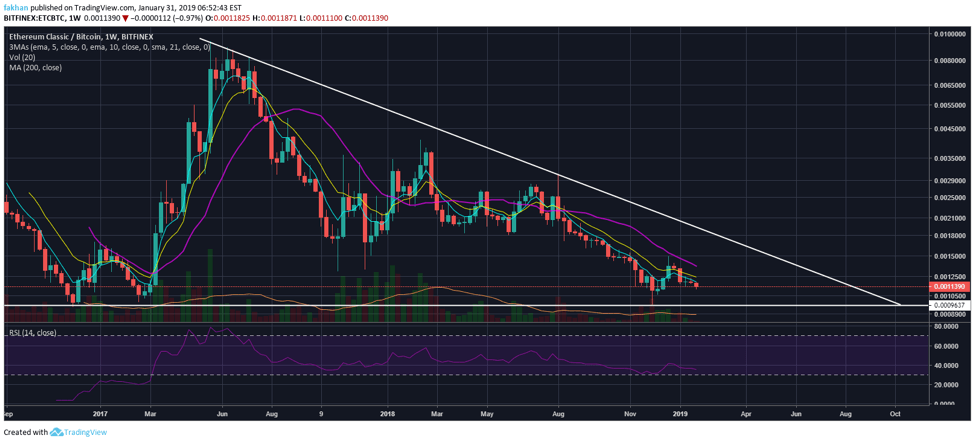 Chart for ETC/BTC (1W)
There also seems to be a shift towards working on things that are more appealing to the community. They seem to have realized that ceding to the demands of their investors in their early days is important if they want to have the funding to take this blockchain to the next level. This is why they are focusing more on Dapps and IOT (Internet of Things) to build confidence of mainstream investors in the Ethereum Classic blockchain. Such measures were not seen in the past which is why Ethereum Classic (ETC) remained isolated for the most part from the rest of the industry. Even Ripple (XRP) that was considered an outsider for a long time was able to gain acceptance way before Ethereum Classic (ETC). It was thus not surprising to see that a lot of people took to Twitter to criticize Coinbase's decision of listing Ethereum Classic (ETC) instead of Ripple (XRP).

The Ethereum Classic (ETC) Community has some of the most talented people in the industry. They also believe more in principles of immutability and decentralization a lot more than members of other communities. In fact, members of the Ethereum Classic (ETC) community are a lot like those of the Bitcoin (BTC) community. Prominent industry figure, Bob Summerwill recently joined as Executive Director of ETC Cooperative. The ETC Community is growing bigger by the day and the development teams are increasingly focusing on the demands and needs of the community. If Ethereum Classic (ETC) continues to grow at this space, it could definitely be the fastest growing blockchain in 2019.