Ripple (XRP) bulls have finally stood up to the bears and denied continuation of the downtrend, at least for now. This resistance to downtrend continuation has come at a point where Ripple (XRP) has to make it or break it. It is Ripple (XRP)'s last chance to break out of its yearlong descending channel failing which it will have to fall back towards the bottom of this channel. Ripple (XRP) bulls being aware of this are stepping up to defend against a fall below the short term ascending channel seen on the 4H chart for XRP/USD. The price is also trading above the 200 MA on the 4H chart and is not prepared to fall below that. A break above this descending channel will be a major breakthrough for Ripple (XRP), one that will formally mark the culmination of the bear market.
Investment interest in Ripple (XRP) is on a steady rise and now that Ripple (XRP) is the no longer the third largest coin by market cap, investors are directly comparing it to Bitcoin (BTC). For most Ripple (XRP) investors, it is Ripple vs. Bitcoin. They believe that Ripple (XRP) is here to stay and will end up securing partnerships with major financial institutions to keep the current financial order intact. The majority of Ripple (XRP) investors are convinced that Ripple (XRP) has a better shot at adoption and use than Bitcoin (BTC). This is because Ripple (XRP) is faster, cheaper and more scalable. It is also backed by a known group of people so if anything goes wrong, they will have someone to take to court.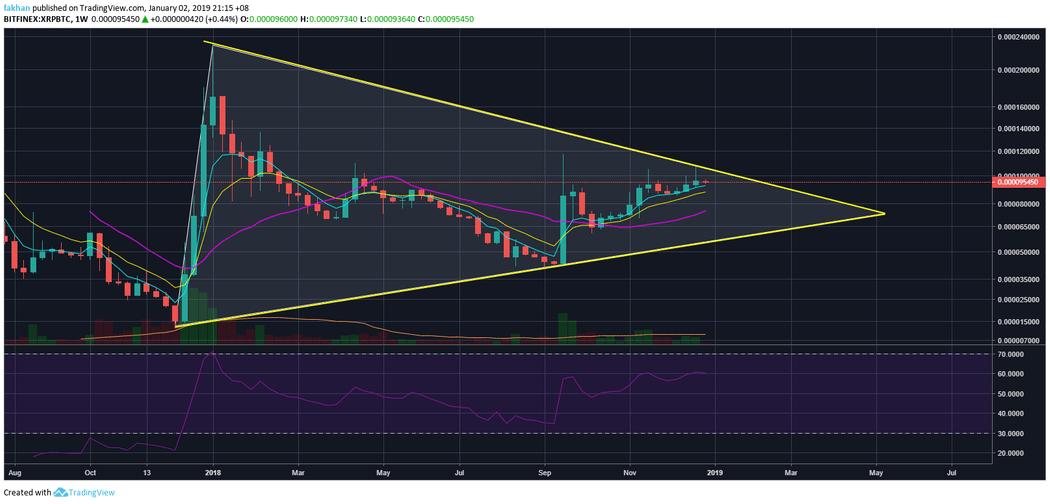 Chart for XRP/BTC (1W)
Ethereum (ETH) lost its position to Ripple (XRP) as the interest in ICOs died down during the bear market, but with the beginning of a new cycle, we are going to see thousands of new ICOs flood the market again. That being said, Ethereum (ETH) is quite unlikely to put in a real fight to secure its second spot because the interest in Ripple (XRP) is growing whereas interest in Ethereum (ETH) is declining. As more and more of the current platform cryptocurrencies begin to develop new Dapps on their blockchains, Ethereum (ETH) will gradually begin to lose its unique selling point. Ripple (XRP) on the other hand is expected to grow a lot faster. In fact, Ripple (XRP) is just one major partnership away from becoming a major stake holder in the financial industry.

If Ripple (XRP) signs one major partnership with a bank that requires the bank to use XRP for liquidity instead of its nostro accounts and the bank sees a drastic decrease in its expenses and a rise in its efficiency after some time, it is going to change the game completely. In fact, it would not be surprising if Ripple (XRP) overtakes Bitcoin (BTC) in case something like that happens. There is no denying that Ripple (XRP) was and will remain to be one of the most lucrative investments in this industry. However, there is a lot more to this space than money. Most of us got into cryptocurrencies and blockchain technology so we could be in charge of our own finances and help the world become more decentralized. At the end of the day, you have to decide whether you want to empower middlemen to maintain the status quo or you want to help projects that disrupt the financial order as we know it.