Ripple (XRP) has surged tremendously in the past 24 hours but the price has erased most of its gains for the week after running into a strong trend line resistance. This resistance has led to rejections three times in the past but the fact that XRP/BTC is constantly testing this line means that it will eventually be broken. RSI for XRP/BTC is nearing overbought territory but interest in Ripple (XRP) is also on the rise. The price may have room for retracement short term but it would be unexpected for XRP/BTC to decline below the 21 Week EMA. As Bitcoin (BTC) continues to surge higher in the weeks ahead, XRP/BTC is expected to follow suit. Weekly trading volume has started to recover and the trend is expected to continue in the weeks and months ahead.
The XRP/BTC weekly chart shows that Ripple (XRP) is one of the few cryptocurrencies that have resisted heavy declines against Bitcoin (BTC) and were quick to stage recoveries. However, it will now have to either decline further within the descending channel that it is trading in or it will have to break out of it. If the price were to continue trading in the descending channel, it will have to break and close below the 21 Week EMA. This does not seem likely considering it will push Ripple (XRP) into an extensive correction against Bitcoin (BTC). On the other hand, a break above the descending channel will only be likely in case Bitcoin (BTC) continues to resume its rally over the weeks ahead. The number of exchanges offering XRP/BTC, XRP/USDT and XRP/USD pairs is on the rise. Recently, SWIFT partnered up with R3,a blockchain consortium that will use Ripple's XRP token for transactions.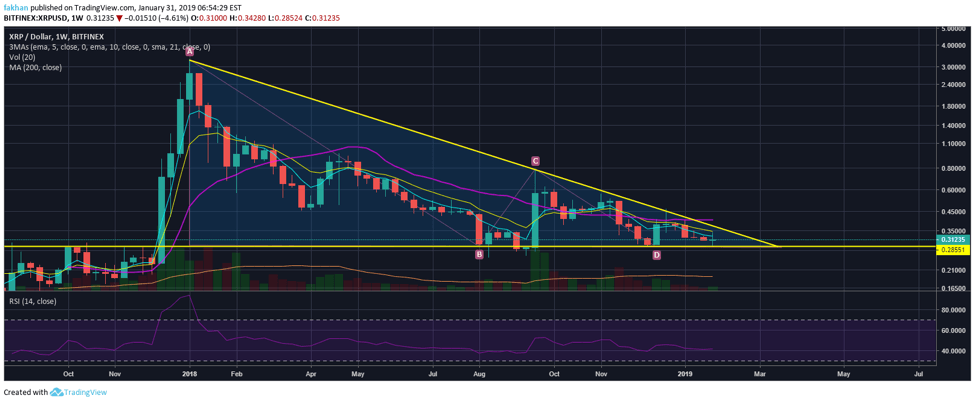 This was the primary catalyst behind yesterday's price boost in XRP/USD. However, it was not the only one. The past few weeks, a lot of big banks and financial institutions have been cozying up to Ripple and they are very likely to replace their nostro vostro accounts with XRP as most of them are done testing and they already know that XRP works. From an investment standpoint, XRP/USD is trading just above a very strong support and is now on the verge of a break out. This breakout could easily see XRP/USD trading above $0.50 in no time. Ripple (XRP) has seen a lot of bullish developments throughout the bear market that are yet to translate into its price.

The price of Ripple (XRP) is still down more than 90% from its all-time high of $3.2. There are still plenty of XRP investors that are holding their bags with more than 80% losses but they are confident that Ripple's best days are ahead of it. That does seem true considering the rising level of interest in Ripple's XRP token and its adoption by big financial institutions. The SWIFT partnership alone is a big accomplishment and a testament to Ripple's success as a company that believes in getting things done.