Ripple (XRP) is very close to breaking past the 21 Day EMA against Bitcoin (BTC). When that happens, we could see Ripple (XRP) resume its uptrend against Bitcoin (BTC). This uptrend began in September, 2018 when XRP/BTC climbed atop the 21 Day EMA and ended up closing above the 200 Day MA eventually. So far, it has remained above the 200 Day EMA and is unlikely to fall below it. The RSI looks very favorable for another run up that should see the price break out of the symmetrical triangle in the weeks ahead. The last time XRP/BTC was trading in a similar triangle, the price ended up rallying hard for the next few weeks. If the same were to happen this time, we could see XRP/BTC rally towards its previous all-time high in just a few weeks.
We can see that Ripple (XRP) has rallied significantly against Bitcoin (BTC) compared to other cryptocurrencies but it could also mean that Ripple (XRP) might be due for a correction just when the rest of the market begins to recover. So far, that does not appear to be the case but as we have seen in this market, a correction that is due comes into effect sooner or later. Ripple (XRP) still has plenty of room to run against Bitcoin (BTC) and we may even see it rising to a new all-time high against Bitcoin (BTC). However, when it does that, its price will still be below the trading below $2 which goes on to highlight the importance of moving in sync with Bitcoin (BTC) in this market.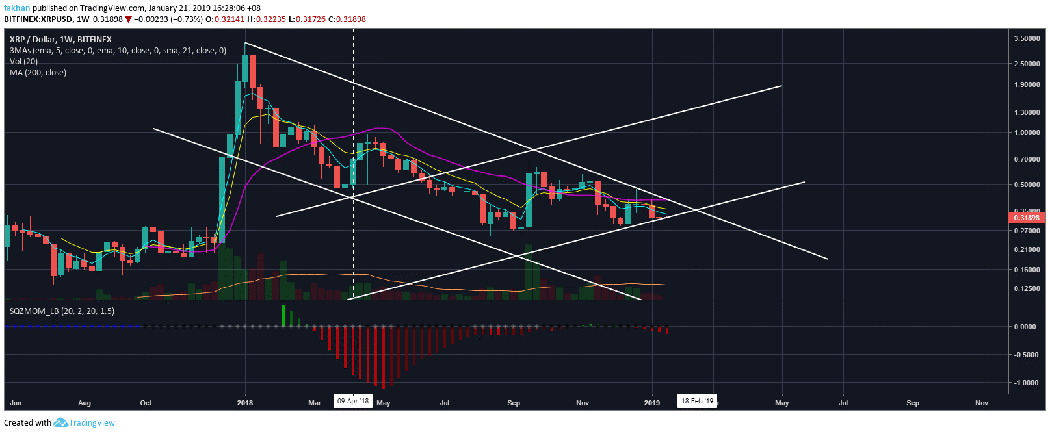 The past few weeks, we have seen a large number of financial institutions express confidence in Ripple (XRP)'s xRapid service which will ultimately result in XRP use and adoption by big banks and financial institutions. If this goes as planned, we might see XRP adoption kick in way before Bitcoin (BTC) adoption. The adoption of XRP by big banks and financial institutions for use instead of their nostro accounts is going to have the same effect on XRP as a Bitcoin ETF would have on the price of BTC. We might see a big spike in XRP/USD over the coming months and it would not be surprising if Ripple (XRP) eventually decouples from Bitcoin (BTC).

Ripple (XRP) has been one of the best gainers during the previous bull run but the cryptocurrency has still been ignored by some prominent service providers. At the top of that list is Coinbase which for some mysterious reasons are reluctant to list XRP/USD despite popular public demand. There have been countless polls on this matter on Twitter and other forums where the vast majority have expressed their desire to see Ripple (XRP) on Coinbase. There is no integration or liquidity issues but certain legal uncertainties still loom over regarding the status of XRP. This could be a possible explanation for why Coinbase has not listed Ripple (XRP) yet but it is becoming quite clear that not listing Ripple (XRP) on their platform has been Coinbase's loss and it has not stopped investors from buying Ripple (XRP) on other platforms.