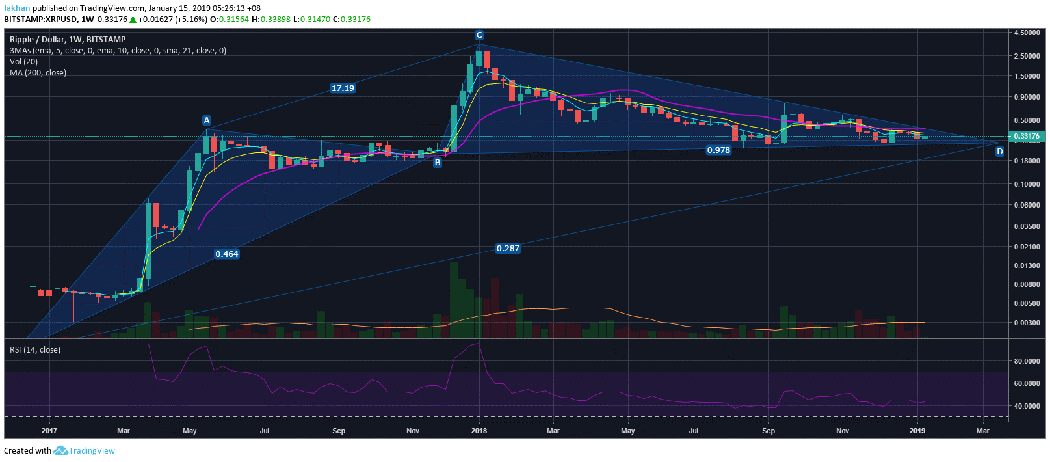 Ripple (XRP) CEO Brad Garlinghouse has already said that banks are ready to hop on XRP. We are not far from the day when almost every bank in the world will be connected to Ripple (XRP) one way or the other. The number of new partners is growing every passing day. Investors have seen a lot of these partnership announcements the past few months, but now they want to see actual XRP use and this time they are going to get to witness that. In fact, Euro Exim Bank and many other partners are ready to pull the trigger soon as the price of XRP stabilizes. The cryptocurrency market is still in a bear trend and a lot of investors are not convinced that we have bottomed out yet.
The average investor might not have a problem seeing XRP/USD fluctuate 5% in a day but for financial institutions this is deal breaker. However, we have reason to believe that all that is going to change and Ripple (XRP) adoption is going to rise in the months ahead. After the bear market, we will have a prolonged period of sideways movement during which time the banks and other financial institutions will have the ideal opportunity to experiment with XRP in real life. A lot of banks have tested XRP and found it to be quite helpful to their businesses but they are yet to test it live. We believe that 2019 is going to be the year when we will see all of that happen.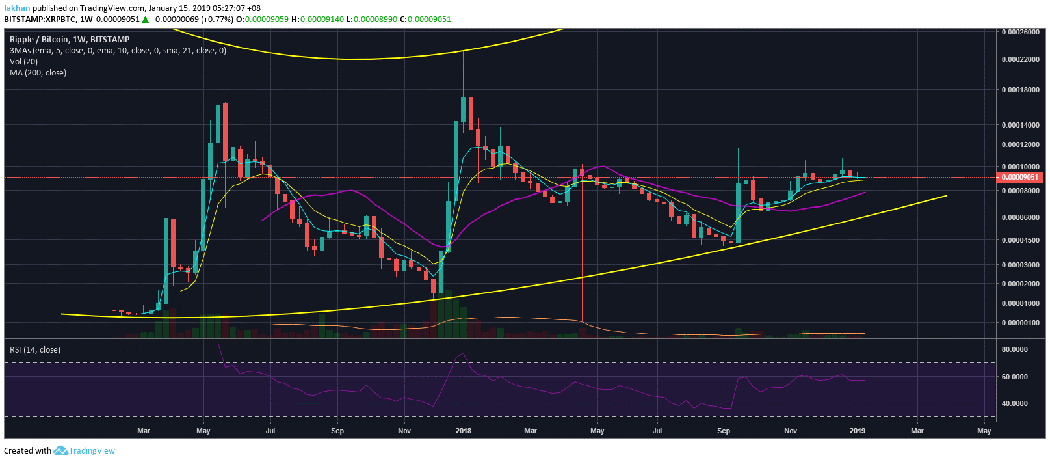 Chart for XRP/BTC (1W)
In the last few months, we have seen a lot of new services use XRP for faster payments but most of them were miniature to small companies with fewer customers. It is true that the success of these companies have convinced major financial institutions that this is a working product and they could indeed benefit a lot from replacing their nostro accounts with XRP using Ripple's xRapid service. However, investors wanted to see the big banks take up XRP so they can see adoption on a bigger scale. That is finally happening as major banks are lining up to use Ripple's xRapid service and not just the xCurrent service that they have been testing until now.

Ripple's xRapid service that requires banks and financial institutions to use XRP instead of their nostro accounts has a serious shot at being the next big thing in the banking industry. The interesting part is, Ripple (XRP) does not have any competition in this space. One might say Stellar (XLM) is in the same space but it is not offering the same product as Ripple (XRP). In fact, Stellar (XLM) is more like Bitcoin (BTC) focusing on peer to peer transactions. Ripple (XRP) on the other hand is focused on improving what already exists, which is empowering the banks to better facilitate their customers to reduce costs, increase speed of transactions and make things simpler. There is very good chance that 2019 might be the year of the interledger where we will see big banks and financial institutions try to convince the public that they don't need Bitcoin (BTC) or any of the 2000+ cryptocurrencies.