The diamond pattern that we have seen form on XRP/USD the past few months is about to come to fruition. Ripple (XRP) started to form this pattern around July, 2018 but it was only around November, 2018 that we had a clear idea as to what Ripple (XRP) was up to. The weekly chart for XRP/USD shows that the price is expected to make a decisive move before 18th February, 2019. We believe that this next big move will occur around the Chinese New Year. This move is likely to coincide with other world events around the same time. Weekly trading volume has dried up which means it would not take much to swing the price either way.
For the past seven weeks, Ripple (XRP) has been consistently struggling to break past the 21 Week EMA but so far it has not succeeded. RSI for XRP/USD is close to oversold territory which means there is plenty of room for a big move to the upside that should see Ripple (XRP) break out of the diamond formation. This year is expected to be big for distributed ledger platforms and cross border payments solutions. Ripple (XRP) and Stellar (XLM) are expected to remain at the center stage as large banks and financial institutions begin adopting these technologies to improve their services. The number of small financial companies already using such technologies is already on the rise but soon as large financial institutions get into the game, we could see mainstream adoption kick in, not just for Ripple (XRP) but for other cryptocurrencies as well.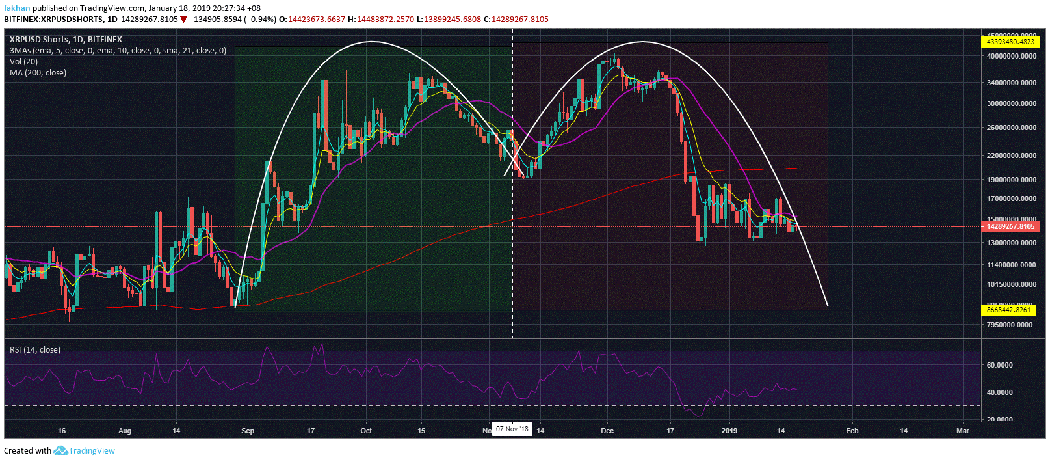 When banks and other financial institutions start buying XRP to replace their nostro accounts, we could see Ripple (XRP)'s market capitalization exceed that of Bitcoin (BTC). If that happens, Ripple (XRP) would be well positioned to become the one world currency that governments and banks across the globe can agree on. It is already one the best cryptocurrencies in terms of transaction cost, speed, stability, liquidity and scalability. Ripple (XRP) is a focused on its xVia and xRapid services for now but it plans on using its distributed ledger platform to encourage developers to build useful products and solutions on it. Even in the absence of such a platform, if Ripple (XRP) succeeds in capturing just a small fraction of the trillion dollars forex market, we could see its market cap reach a couple of trillion dollars in no time.

The number of short positions for XRP/USD is already beginning to decline as traders close their shorts in anticipation of a big move to the upside. XRPUSDShorts has fallen below the 21 Day EMA and is now unlikely to climb back above it. This means that over the coming days and weeks, we should see XRP/USD rise in price as the sell pressure decreases. A lot of major financial institutions have recently cozied up to Ripple (XRP) and they are just one heartbeat away from officially announcing their intention to use XRP to replace their nostro accounts.