Ethereum (ETH) declined heavily against Bitcoin (BTC) in the past 48 hours but now it has started defending against additional sell pressure. In fact, Ethereum (ETH) is actually up against Bitcoin (BTC) for the day and is expected to continue to rise further as market recovery ensues. Most cryptocurrencies including Ethereum (ETH) have fallen more than 95% from their all-time high but so far there is no floor in sight. The price does seem to have found support just above the $100 level but it is not clear yet whether ETH/USD might be able to defend against further decline. So far, it seems that Ethereum (ETH) hodlers are in no mood to sell below $100. This is because we see a giant bullish gartley pattern coming to fruition on the 4H chart for ETH/USD.
The 4H chart also shows that the price is still trading inside an ascending channel and is likely to begin its rally anytime now soon as Bitcoin (BTC) begins a correction to the upside. RSI shows that the price has plenty of room for further upside and a rally can be expected as soon as the beginning of next month. So far, consolidation is expected to continue for some time as investors are also focused on how the stock and bond markets are going to close for the month. As cryptocurrencies still behave like speculative assets rather than safe haven commodities, we can expect that movements on the S&P 500 and the 20 Years Treasury Bonds will have a strong impact on the price of Ethereum (ETH) along with the rest of the cryptocurrencies.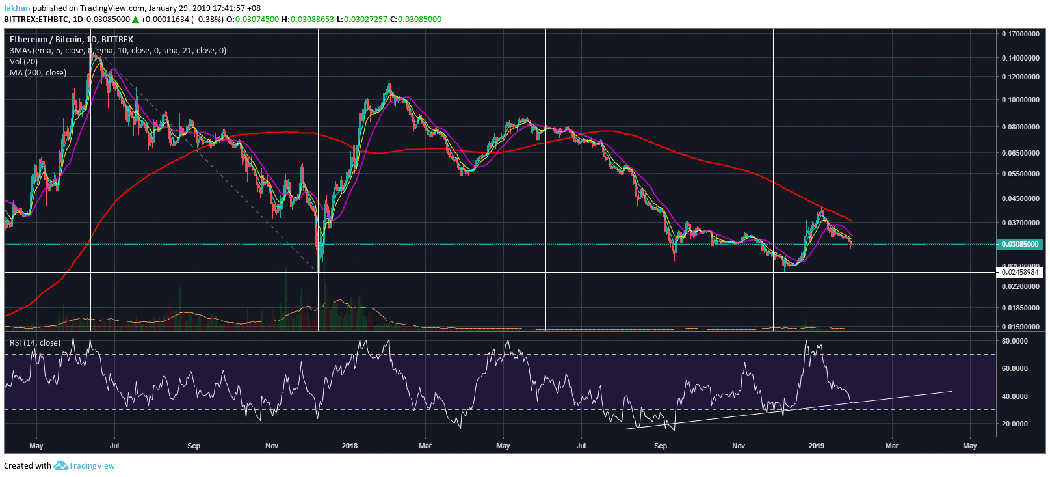 Chart for ETH/BTC (1D)
The next move Ethereum (ETH) makes to the upside is going to be a strong one which could see the price rise to levels close to $180. If Ethereum (ETH) continues to trade within the ascending channel, we could see the price recover most of its gains before the end of the year. That being said, market sentiment is still overly pessimistic and new money is unlikely to flow into the market without some solid catalysts. Major players like Robinhood and Baakt could pave the way for mainstream adoption but before that happens; we need tools and products for institutions to get into the market. It is the institutions that will push cryptocurrencies to mom and pop investors to finally make that mainstream adoption happen. However, so far it does not seem that institutions have enough options to get into cryptocurrencies. A lot of new players are making progress in the derivatives space while old players like Coinbase are providing custody solutions.

Recently, the Tzero security tokens trading platform went live which means the number of services are growing. Next we could see companies like Amazon and Microsoft use Ethereum (ETH) for enterprise level services that would encourage existing players to put capital back into the market as well as attract new investors to invest in cryptocurrencies like Ethereum (ETH). The bear market has a way of bringing the fine print to attention of the mainstream investors which means they are able to see all the cracks and flaws. That could be a deterrent to investing in this space but it can also be a reminder that this market is still in its infancy otherwise Ethereum (ETH) would be worth a lot more than just $11 billion dollars.