Ethereum (ETH) is on track for a massive comeback against Bitcoin (BTC) in the weeks ahead. The 4H chart for ETH/BTC shows that the price has just broken out of a falling wedge and is currently trading sideways before its next big move. It is pertinent to note that the price is very closely to the 21 EMA and could climb above it any time now to stage an explosive rally. Recent developments have hindered the near term prospects of Ethereum (ETH) but the future looks brighter than ever. All of a sudden we have seen statements regarding the future of Ethereum (ETH) and whether or not it is going to zero surface again, but all of this is nothing more than short term speculation.
Certainly, Ethereum (ETH) may not be able to enjoy the same level of dominance that it did in the past. It will have to cede some space to new players in this industry that are fast becoming direct competitors of Ethereum (ETH) and promise a lot of better alternatives. Whether or not they will end up pushing Ethereum (ETH) down the list is another debate, one which we may not have to worry about in the near future. This is no different than debating whether Yahoo or Google might eventually come up on time. In the early days, a lot of people would have said Yahoo but we all know how that turned out. Yahoo did very well for a long time but Google ended up as the ultimate winner.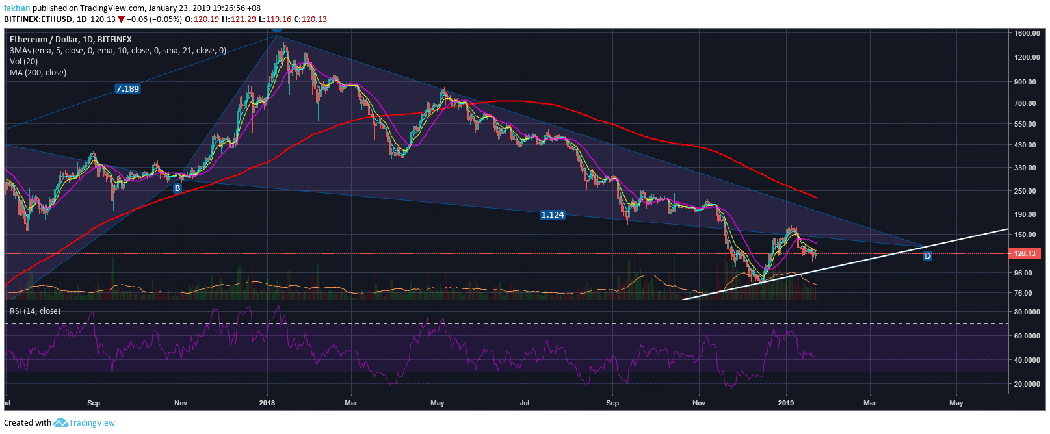 Similarly, Ethereum (ETH) has a distinct advantage as being the first platform cryptocurrency and it is going to benefit from that. The number of developers working on Ethereum (ETH) is a lot higher than most other platforms and they are also more experienced and far ahead of most blockchains. However, as we have seen in the past people eventually come up with better alternatives and the competition grows. The same is going to happen in this space and someone is going to end up on time. We do not know yet if it will be Ethereum (ETH), Zilliqa (ZIL), Cardano (ADA) or Ethereum Classic (ETC) but it does not matter much at this stage. Ethereum (ETH) as well as most other cryptocurrencies have been long overdue for a major rally against Bitcoin (BTC) and they are going to get it as soon as things normalize.

Ethereum (ETH) is also better positioned for a strong rally against the US Dollar in the weeks ahead. The weekly chart for ETH/USD shows that the correction has now come to an end and the price is consolidating before its next big move. It is important to note that ETH/USD is at a very favorable point from a risk/reward standpoint. This platform coin has a lot of room for growth in the years ahead when corporations like Microsoft, Amazon and Google will start using the Ethereum (ETH) blockchain for their products and services.