Ethereum Classic (ETC) is recovering after a 51% attack that significantly damaged its reputation. However, its price did not suffer the way one would have expected as a result of the backlash on popular social media forums. Perhaps, this was because most of those people that projected the attack as the end of Ethereum Classic (ETC) were not invested in the cryptocurrency in the first place. So, when things normalized, a lot of people took this opportunity to accumulate more which is why we saw Ethereum Classic (ETC) stay its ground even as most other cryptocurrencies tumbled in the weeks ahead. Even today, ETC/USD is doing a lot better than Ethereum (ETH) and is well positioned for a rally in the near future.

The 51% attack was a blessing in disguise not just because it warned the development teams to be more careful in the future, but also because it exposed the ill will and bias against Ethereum Classic (ETC). First we saw ETC Dev leave the blockchain citing funding problems. Then just when ETC Labs was getting new Dapp developers onboard, the 51% attack took place. More interestingly, just when Slow Mist was getting close to finding the culprits behind the attack, someone encouraged the hacker to return the hacked funds. So, what does all of this mean? It means that it was never about the money like we said the day the attack took place. There is a method to how and why these things happen that at time are difficult to spot but if you put them in perspective; it is easy to see through it all.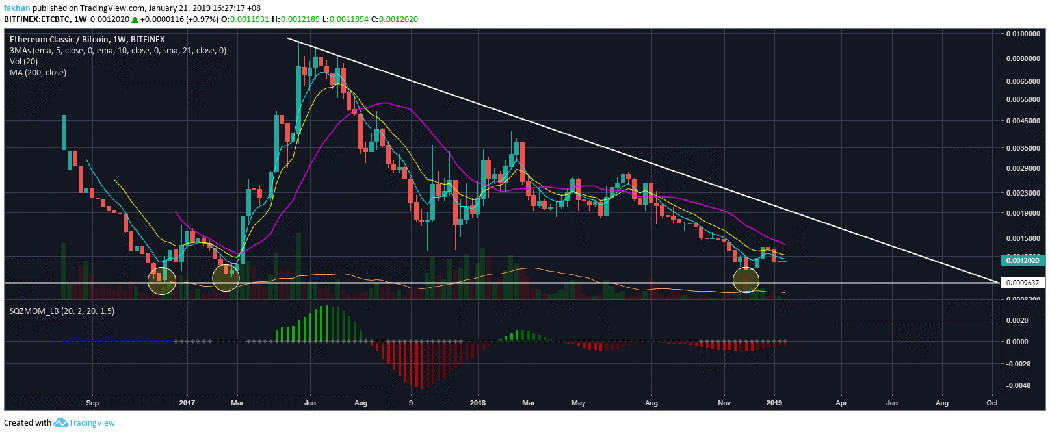 Chart for ETC/BTC (1W)
Of course the first question to ask after such an incident is, "Cui Bono?" or "Who benefits?" Who would want to malign the reputation of Ethereum Classic (ETC) or a Proof of Work (PoW) model without any financial benefit? If the hacker had not returned the funds, we could have assumed this was about the money. However, the fact that those funds have now been returned in entirety to the exchange, Gate.io proves that there were other motives behind this attack. Some analysts believe that if Slow Mist publishes information regarding the identity of the hacker, this whole fiasco might actually end up helping Ethereum Classic (ETC).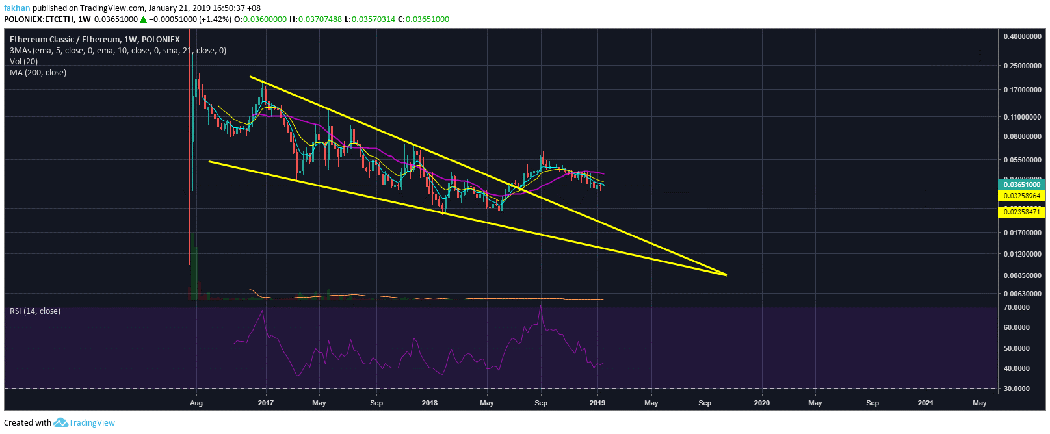 Ethereum Classic (ETC) is massively undervalued compared to Ethereum (ETH). The two blockchains do not have many differences apart from adoption. If anything, Ethereum Classic (ETC) can be considered to be a superior blockchain in terms of immutability and decentralization. However, there is no denying that Ethereum (ETH) has a lot more developers working on it and has also reached a higher level of adoption. That being said, Ethereum Classic (ETC) is just getting started and has a lot of room to go before it reaches the level of adoption that Ethereum (ETH) has. As Ethereum Classic (ETC) has a lot more room to grow compared to Ethereum (ETH), we believe that the uptrend that we see on the ETC/ETH weekly chart is likely to continue through the remainder of 2019 and possibility the next year or two.