Ethereum (ETH) has seen a lot of positive momentum just before its Constantinople hard fork. If the current exuberant sentiment continues to prevail, we could see ETH/USD rally towards $200 just before the hard fork next week. Technical conditions are favorable for such a move. The price has entered a large bullish pennant which is expected to break to the upside. This break out would push Ethereum (ETH) in the $200 zone but the price may continue to rise until it tests the previous market structure. RSI on the 4H chart is not in the overbought territory yet but the next rally would put it there which means we can expect a sharp pull back after the retest.
The upcoming Ethereum (ETH) hard fork will pave way for a smooth transition from Ethereum (ETH)'s current PoW (Proof of Work) model to PoS (Proof Of Stake). There are some disagreements regarding the transition to PoS as it is a big decision for the Ethereum (ETH) community. However, it is rumored that some players in the Ethereum (ETH) community recently staged a 51% attack on Ethereum Classic (ETC) to make their point. That being said, there is little evidence at the moment to form a concrete view on this but it is quite clear that they had a lot to benefit from it. It successfully exposed the cracks in a PoW model and triggered multiple debates on different forums as to the harms of a PoW model.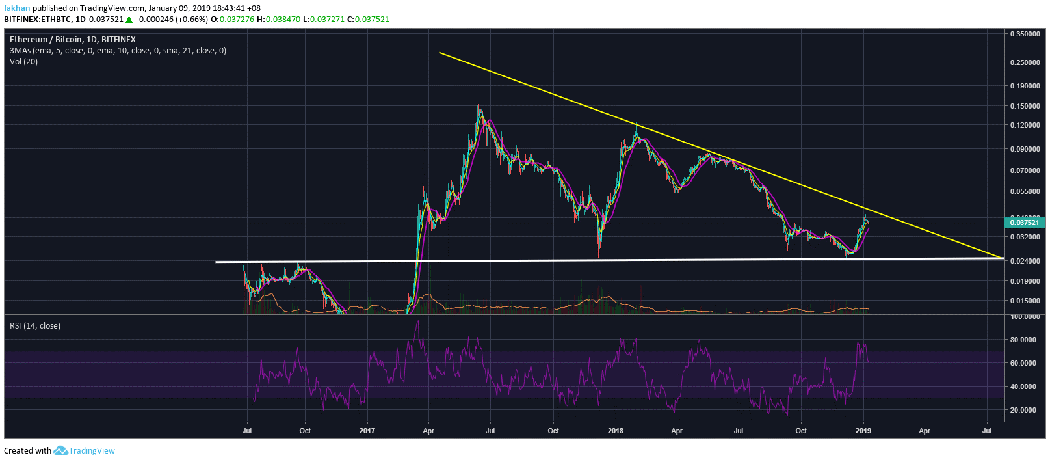 Chart for ETC/BTC (1D)
All things aside, Ethereum (ETH) has grown big enough to do what it wants. We do not live in a perfect world where people would put ideals before money or success. In fact, it is quite the opposite. Some prominent figures including Charlie Lee of Litecoin (LTC) that came to defense of Ethereum Classic (ETC) after the attack retweeted that if a blockchain cannot be 51% attacked, it is not decentralized. This is a very valid point, but in a world where people care less and less about ideals and more about short term gains, this debates goes out of the window. Ethereum (ETH) might be more centralized than Ethereum Classic (ETC) but it also has better control if something goes wrong. This also means that they have consensus on a lot of things even if in a centralized manner.

The point is, at the end of the day they get things done which is why Ethereum (ETH) is the second largest coin by market cap. Running a tight ship means more focus on all aspects of the business. There are a lot of good developers who want to see a blockchain succeed but they forget that a blockchain like Ethereum (ETH) or Ethereum Classic (ETC) is no different than a startup and it need to be projected in the right way for people to accept it. Ethereum (ETH) may not share the ideals of Ethereum Classic (ETC), it may not even be as decentralized or immutable, but if it is more successful, it has a higher chance of being in the game five to ten years from now compared to Ethereum Classic (ETC).