Bitcoin (BTC) has been trading sideways the past few weeks as majority of cryptocurrency enthusiasts wait for a drop to lower levels. However, it is becoming increasingly clear that we might not see a drop as there are a lot of silent bulls waiting to buy every dip especially in the $3000-$3500 range. BTC/USD has already tested the 200 Week MA and it does not have to fall again to test it again. That being said, the people waiting on the sidelines are not going to get in before Bitcoin (BTC) makes a decisive move. There are discussions regarding a big move in February in close circles but it is not clear yet what the catalyst behind that move will be. One such catalyst could be the Van Eck Bitcoin ETF. The SEC has until February 27, 2019 to approve or reject this ETF.
As the SEC is required by law to make a final decision by February 27, 2019 without room for further delays, it is expected that February would be a big month for Bitcoin (BTC). If this ETF is approved, we will have the catalyst we have long needed to see Bitcoin (BTC) rise to a new all-time high possibly in 2019. However, if the ETF is rejected, we may see the price fall to $3,000 or lower levels. Either way, we will have a decisive direction for the months ahead. The sentiment right now is overly bearish and the number of people expecting Bitcoin (BTC) to fall down to $3,000 or lower levels is a lot higher than the ones who think BTC/USD has already bottomed.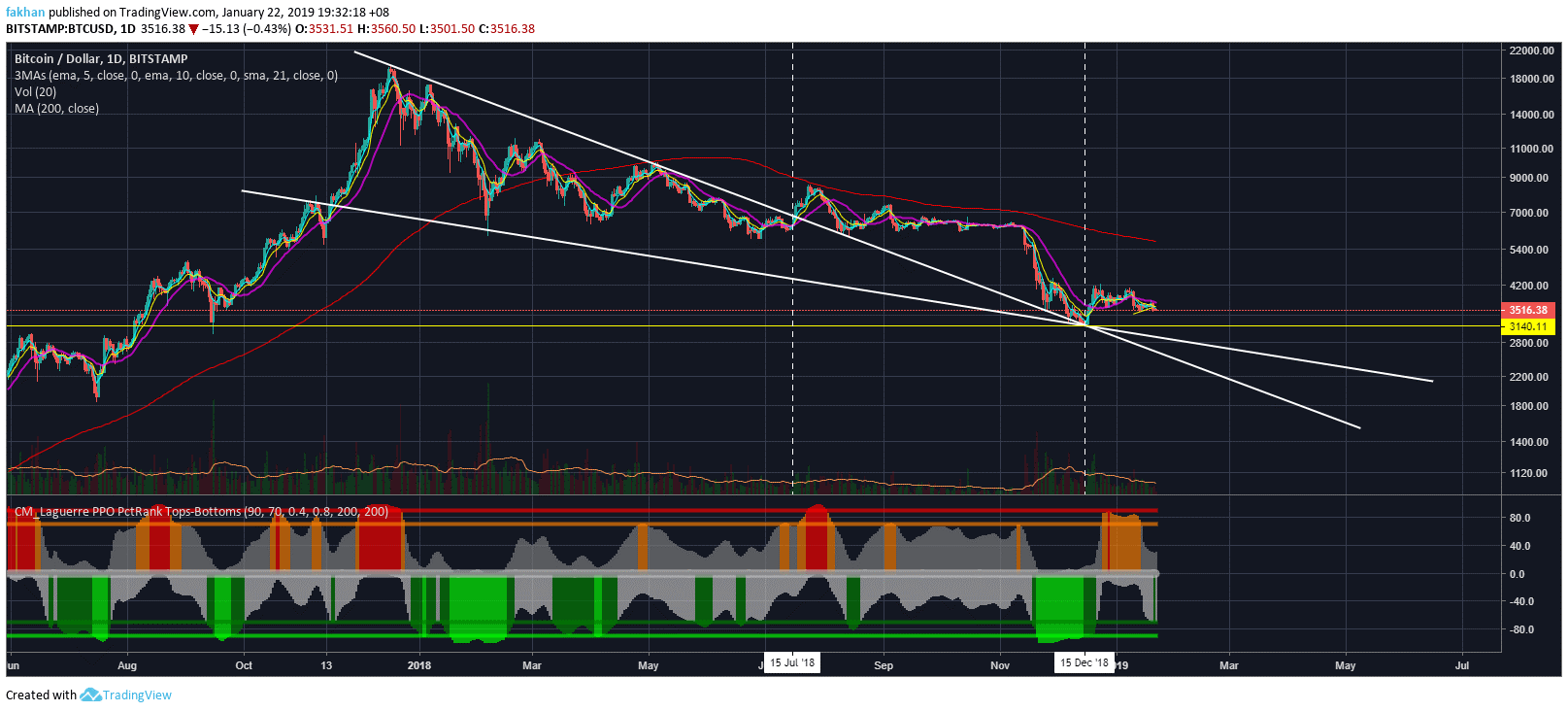 There are also some who believe that Bitcoin (BTC) could hit $50,000 or higher levels even in 2019 but at this point such pronouncements do not seem plausible at all. However, as we have seen in the past, Bitcoin (BTC) has a way of surprising most of us. Not long ago from today, people paid in Bitcoin (BTC) for pizzas that would be worth millions of dollars today. In 2014, the price peaked above $1,000 and there are a lot of people who expect that people that bought a large number of Bitcoin (BTC) around those levels and who did not sell during the top are going to sell now near the bottom. This is nothing more than wishful thinking.

It is far easier to be bearish than bullish on BTC/USD because the sentiment worldwide is against Bitcoin (BTC) at the moment. Large financial institutions and governments still see it as an experiment and the media puts it in the same category as speculative assets like stocks. While that may be the case for other cryptocurrencies, Bitcoin (BTC) is something entirely different. There are ways in which Bitcoin (BTC) is even better than Gold as it is easier to store and hard to confiscate. Bitcoin (BTC) also has a known limited supply which means we know for sure how many of them are in circulation and how many are yet to be mined. The same cannot be said of Gold.