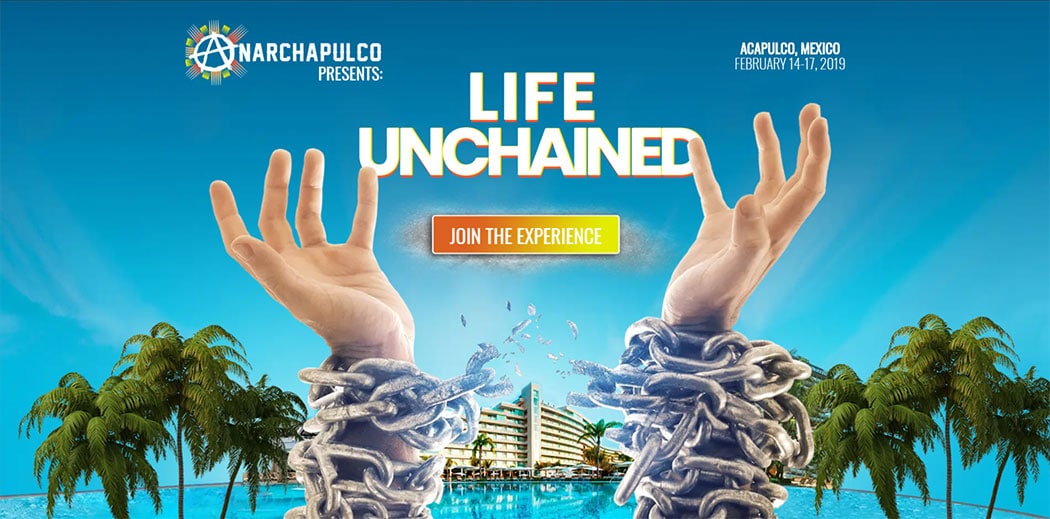 For those that don't know a manifesto is a declaration of intentions by a community or a certain group. The team at Anarchapulco has aimed to make a manifesto this year to reflect all of their beliefs and goals as a community which you are invited to.
From February 14th-17th this year you can head to Acapulco in Mexico where the Anarchapulco event will take place for the fifth year in a row where the unparalleled line up of speakers will share with you ways to "LIVE UNCHAINED" through investments, politics, entrepreneurship, health, sustainability, philosophy and personal relationships for four days amongst the sun, sea and incredible beaches at an amazing resort.
Cryptopulco
You might be thinking what this has to do with cryptocurrency. Well at the Anarchapulco event in February there is a crypto section where 40 of the world's leading speakers on crypto and blockchain technology will be giving their thoughts about the industry, the markets and the future of tech. Cryptopulco will include a stage and a crypto lounge where they invite you to use to promote community and inspire discussions on cryptocurrency. There will be the top six sponsors in the lounge for Anarchpulco this year as well as a poker tournament on 13th February for those who get to the resort a few days earlier.

One of the speakers includes Joshua Marriage who is a worldwide spokesperson and Australian Coordinator for CloakCoin, an untraceable cryptocurrency launched in 2014. On top of this, he is also co-founder of Sydney based #PriTech venture studio, Privacy Express. Marriage is a big technologist and subculture enthusiast, he believes personal data belongs to the people and is dedicated to helping you pay with cryptocurrency instead of your privacy.
Another speaker is Hannah Rosenberg who is the managing director at The Blockchain Institute. In addition to this, Rosenberg is an e-commerce developer, economist and entrepreneur with a degree in Economics from the University of Illinois at Chicago. Rosenberg is also the founder of a blockchain training and consultancy business, Velas Commerce.
There are around 3,000 people expected to attend in 2019 so be sure to get your ticket now before the event sells out! Make sure to get your ticket, here