Bitcoin (BTC) is all set to begin the New Year with a strong rally but certain ground realities alleviate its enthusiasm. This is because Bitcoin (BTC) on its own is no different than a nascent stock in an emerging market. Sure, there is a lot of potential but there is also a lot of risk. So, investors have to look towards bigger markets to see whether they want to or do not want to invest in something as risky as Bitcoin (BTC). There is no denying that if the stock market were to collapse in the near future, Bitcoin (BTC) would go down with it, at least in the beginning. The same is also true of Gold but Bitcoin (BTC) will be hit a lot harder.
This is why Bitcoin (BTC) takes its direction from other bigger markets at critical points. If we look at the EUR/USD weekly chart above, we can see that the Euro is at a critical point. There is a strong probability that the price might resume its rally towards the top of the ascending channel it is trading in. However, it is also a fact that EUR/USD has failed to break past the 21 Week EMA for the past thirteen weeks. If it keeps on doing that, we will ultimately see the price break below the ascending channel to begin another downtrend. The probability of that happening in light of major market developments is quite low but it is still a possibility and needs to be accounted for. The most likely scenario at this point is that EUR/USD will break past the 21 Week EMA and begin an aggressive rally that should last till 2020.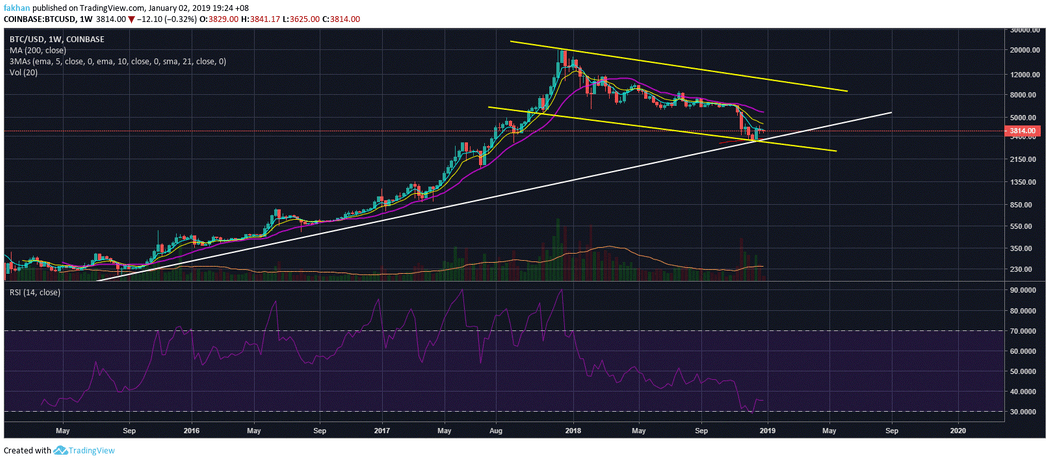 Bitcoin (BTC) is trading in a descending channel on the weekly time frame. The price is currently struggling to break past the 5 Week EMA but so far there has been no success. If the Euro swings downwards, we will see BTC/USD fall towards the bottom of this descending channel for a test of $3,000 or lower levels. However, if EUR/USD breaks past its 21 Week EMA, this will pave the way for Bitcoin (BTC) to begin a strong rally towards the top of its descending channel. That rally is likely to push the price of Bitcoin (BTC) past $6,000. In any case, a retest of the previous market structure is expected now that the correction seems to have come to an end.

RSI for BTC/USD on the weekly time frame is already showing signs of a bullish divergence. However, this is not the first time it has happened. It happened before between June and July last year but the price ended up falling lower. If we look at the EUR/USD price action during that time, we can see that it broke below the 21 Week EMA at that time and began a downtrend. This ended up pushing Bitcoin (BTC) from a correction into a bear market for the remainder of the year.