Bitcoin (BTC) has printed six red candles in a row on the monthly time frame. The price seems to be close to a local bottom for now and a recovery towards the previous market structure is expected. However, the global economy is in state of turmoil and financial markets are marred by uncertainty and chaos. The sole purpose of the creation of Bitcoin (BTC) was to reduce dependence on trust backed cryptocurrencies and make the transition to a trustless economy where money is something that has intrinsic value. It was thus obvious to see that if Bitcoin (BTC) gained mass adoption, it would do very well in times of a financial crisis. However, so far we have not seen any signs of mass adoption. In fact, less than 1% of the global population is exposed to cryptocurrencies in any way.
While investors in the stock market are worried about their investments, there are lot of people in this space that are worried about their investments as well because it is not yet clear if BTC/USD and other cryptocurrencies will behave the same way as Gold during times of a financial crisis. The behavior of cryptocurrencies has been more like penny stocks from an investment standpoint. Most of them were scams and some were very good ones that made investors a lot of money. The bear market was instrumental in wiping out those scams or weak projects that could not deliver. However, investors want to know whether or not Bitcoin (BTC) has bottomed and what the next possible moves might be.
The monthly chart for BTC/USD shows that we have already broken and closed below the 21 Month EMA. In most markets, this is a strong sign of the beginning of a bear trend. The same happened in the case of Bitcoin (BTC) and we saw it decline for another two months. Bitcoin (BTC) is preparing to retest the previous market structure at $6,000. When it does that, there is a strong possibility that it will retest the 21 Month EMA. Even if it does not retest the 21 Month EMA this time it will have to test it again at a later stage. When and how it retests the 21 Month EMA will have important consequences. If the price tests the 21 Month EMA from current levels and faces a strong rejection, it will send a Kiss of Death Sell Signal.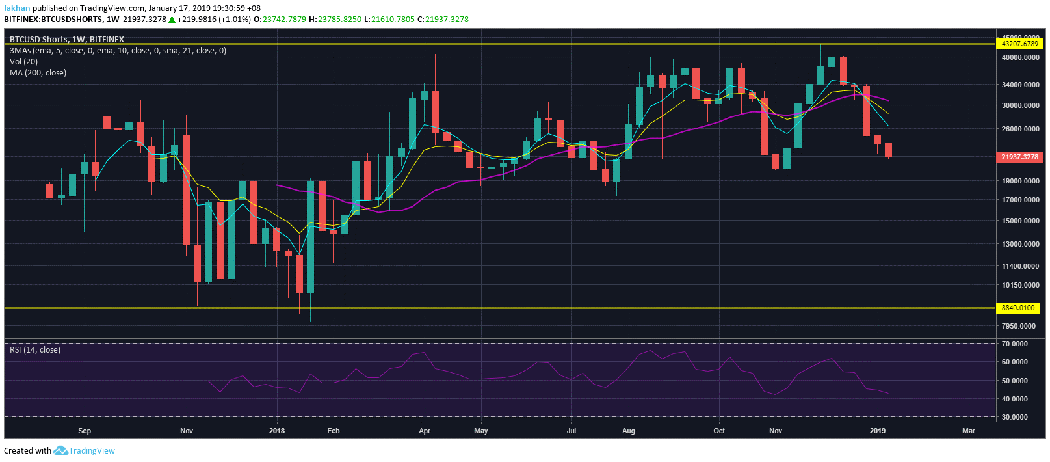 In financial markets, this is a strong signal for bearish continuation which sees the price falling down significantly in the weeks and months ahead. However, before we can see any signs of a Kiss of Death Signal, we will have to see a retest of $6,000. So far, the conditions are ripe for such a retest. The weekly chart for BTCUSDShorts shows that the number of shorts is ready to fall significantly having broken below the 21 Week EMA. It has also faced a strong rejection after forming a triple top and is now likely to bottom out by March.

Bitcoin (BTC) has also formed a diamond on the monthly chart. The price is beginning to rise from the bottom of this diamond pattern all the way towards the top. It is unlikely that BTC/USD will rise towards the top of this diamond in one go but the most probable scenario is that we will see the price rise to the 21 Month EMA and then trade sideways for quite some time before it can break out of the diamond formation, most likely to the upside in the months ahead.