Bitcoin (BTC) is currently down more than 4% for the month. The past few days have made the bears more confident as most of them are focused on smaller time frames. If we zoom in on the 4H or daily charts for BTC/USD, its future outlook does not look so good. However, if we zoom out and look at the weekly or monthly charts, everything lines up. The monthly chart for BTC/USD shows that Bitcoin (BTC) has already bottomed out and is currently just trading sideways before its next big move. The number of people who actually believe that Bitcoin (BTC) is poised to enter a long term bear market is too low despite the prevalent negative sentiment. The vast majority of cryptocurrency enthusiasts still believe that the price is likely to ultimately reach a new all-time high.
At the moment, we have a large number of bulls in the market and a smaller number of bears in the market. However, there is another group of investors and analysts in this market that is larger than both the bulls and bears combined. The members of this group identify themselves as bearish short term, but bullish long term. In other words, they are bearish as long as the price does not fall to a level they are waiting to buy at. This is no different than being bullish around $18,000 just because you are hoping and praying that the price would reach $20,000 so you can sell. As we have seen in the past, this group does not fare too well. On the buy side, it ends up buying too late and on the sell side it ends up selling too late.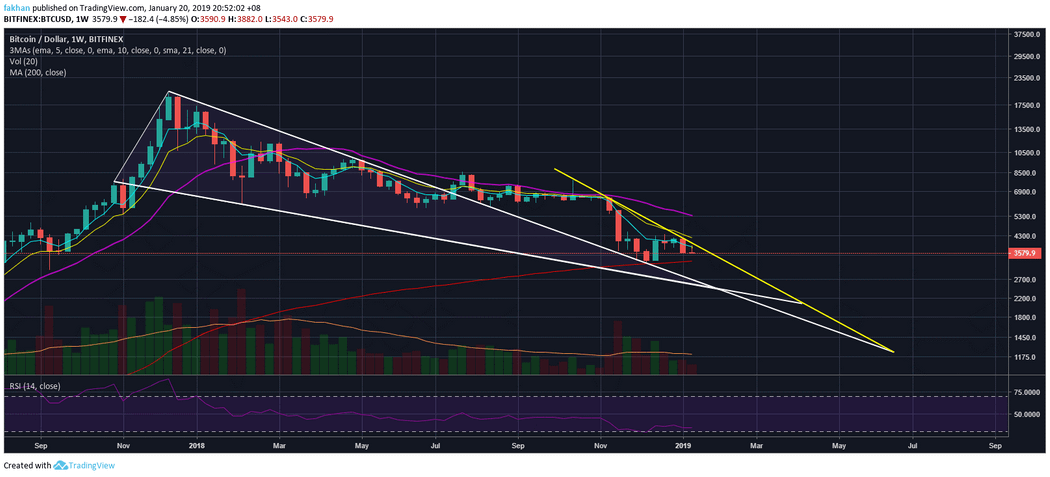 Even if we were to compare Bitcoin (BTC)'s current cycle with the previous four years cycle, it is obvious to see that Bitcoin (BTC) has either bottomed out or it is very close to bottoming out. Setting the comparison aside for a moment, even if we analyze Bitcoin (BTC)'s cycle on its own, we can see that the previous resistance has now turned into support and Bitcoin (BTC) is unlikely to decline significantly. BTC/USD broke the trend line resistance in July, 2018 and tested it in August, 2018 as support. This support was later confirmed more than three times after November, 2018.

The point is, even if Bitcoin (BTC) were to crash hard, it will have to stop around $2,700 and shoot back above the 200 Week MA before the end of the week. This is what Bitcoin (BTC) could do technically but realistically speaking, considering the number of buy orders around $3,000, it is very unlikely for the price to fall below that level. Most short term bearish and long term bullish traders have been waiting for a fall to $3,000 but considering that the majority is expecting such a drop is one of the reasons it may not occur. Bitcoin (BTC) has been trading sideways for a long time but now it has to take a decisive direciton. Trading volume has dried up significantly over the past few weeks which indicates that the next move is going to be both quick and strong.