Bitcoin (BTC) is preparing to make its big move up as price touches the bottom of the bullish pennant it has been trading in. The reason this pennant is more likely to break to the upside than the downside is because the price was trading up just before it entered the pennant. This can be seen on the 4H chart for BTC/USD as the quick recovery after November, 2018 lows. The price did not have the strength to continue trading higher so it had to fall to the bottom of the pennant to consolidate over the weeks ahead before so it may finally break out to the upside. Bitcoin (BTC) is trading in oversold territory as shown on the 4H chart and there is a high probability of a quick correction to the upside.
If Bitcoin (BTC) were to follow the market cycle of 2014-15, then it would be expected to rise all the way towards the previous market structure around $6,000. It could reach around $6,200 before ultimately falling again possibly towards a new yearly low. The current price of Bitcoin (BTC) presents the ideal risk/reward setup for a long entry. If you believe in the long term prospects of Bitcoin (BTC), then accumulating at current levels is a very good idea. That being said, there is always a risk that the price may break to the downside instead of the upside. However, if you want to be safe, it comes at a price. You will miss the current price and will have to buy around $4,000 or higher if it does break to the upside.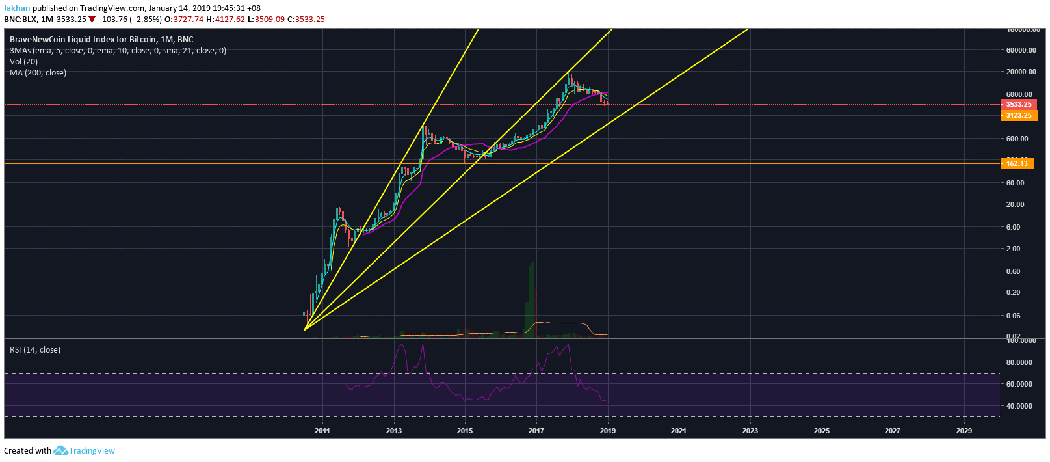 Chart for Brave New Coin Liquid Index for Bitcoin (BTC) – BNC:BLX (1M)
The price is expected to rise towards $6,000 to test previous market structure but there will be pullbacks in between. So, this climb might take the next two or three weeks to come to completion. Bitcoin (BTC) has already begun the week in green but investors are not ready to jump yet as they look for a clear direction. Those of us who have been around during previous cycles know how difficult it is to get into a market after you miss a favorable price point. For instance, if someone missed getting in at $500 during the previous cycle, they were reluctant to get in after they had seen Bitcoin (BTC) rise by 300%.

As a result, they missed out on the better part of the whole bull run and finally FOMO'ed in around the top and ended up losing money, breaking even or making a small profit compared to what they could have made if they did not let a few hundred dollars blur their vision of the future. The same thing is happening this time. People are waiting for the price to fall to $3,000 or lower without realizing that the price might just shoot back up to $4,000 or higher and then thinking that they missed a favorable price point, those investors may not feel comfortable getting in and miss out on the next rally. This is why dollar cost averaging is such a useful strategy. You buy in small amounts at prices you are comfortable with and when the dust settles, you have a low average entry price.