Most of us know that Bitcoin (BTC) has either topped out or is very close to topping out. Yet, the vast majority is reluctant to get into the market hoping to find the exact bottom. Now, the fact of the matter is that even the most experienced traders have a hard time calling tops and bottoms especially in a market like this. However, considering the fact that the majority of people in this market are first time investors, it is not surprising to see such tendencies. It is good to pay attention to risk management and if the market is not at a point where you are comfortable to invest, then the reasonable thing to do would be to wait. However, this does not appear to be the case.
The majority of cryptocurrency enthusiasts are expecting BTC/USD to drop to $3,000 or lower levels. Most of them are even rooting for the price to fall to levels like $2,800 or lower but I don't think they understand what it really means. First of all, even if the price were to crash to $2,800 or a lower level, there are so many buy orders around that point that you would not even be able to get in. Second of all, if the crash does not result in a quick recovery back above the 200 Week MA, then Bitcoin (BTC) would be in real trouble because never once in its entire trading history has the price closed below the 200 Week MA. If something like this happens for the first time, it would completely obliterate the bullish resolve for a very long time.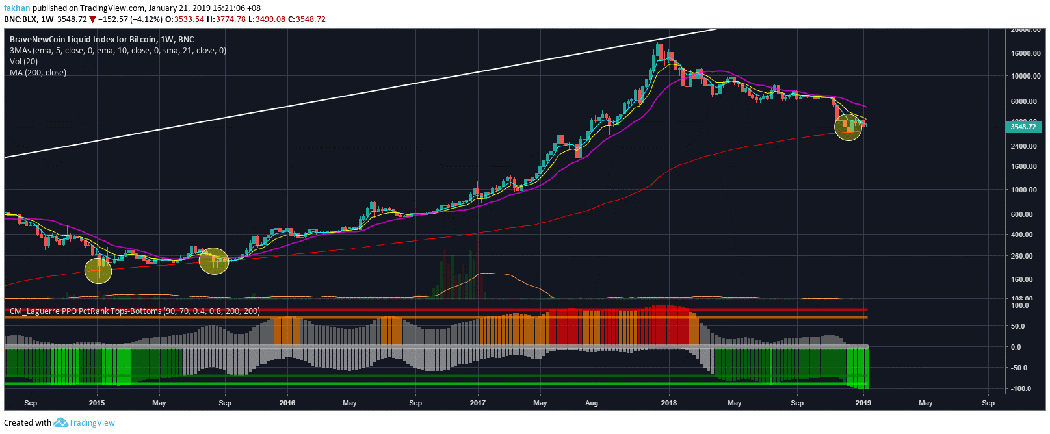 This is because the 200 Week MA would turn from support into resistance. So, every time the price nears the 200 Week MA, it would face a strong rejection. If something like this were to happen, I think it would be very reasonable to see BTC/USD fall to three digit prices. So, the temporary bears should be really careful what they wish for. Personally, I think there are a lot of big players invested in this market with a lot of time sensitive plans. I don't think they can afford to see Bitcoin (BTC) enter a long term bear market which is exactly what will happen if the price falls and closes below the 200 Week MA.

Bitcoin (BTC) has been the face of many controversies over the past few years but it has still remained above the 200 Week MA. This time, people understand it better than ever and its future prospects have never been this bright. Furthermore, Bitcoin (BTC)'s rise during the previous market cycle was a lot more aggressive than the recent one. If the price defended a close below the 200 Week MA even after such an aggressive climb, then it is very likely to defend the 200 Week MA this time. The weekly candle is still quite far from the 21 Week EMA which means the price will continue to remain in a state of uncertainty and confusion for the next month or two.