Ripple (XRP) has run into a strong resistance at the top of its descending channel. This resistance is the 61.8% Fibonacci retracement level which indicates that there is a strong probability that Ripple (XRP) may have to correct short term. Even if XRP/USD does not have to fall towards the bottom of the descending channel, it still has to at least retest the 21 Day EMA if it is to break the descending channel. The problem with Ripple (XRP) is that it has been trading out of sync compared to the rest of the market which has put itself in a very difficult position. Investors are confused as to whether this might be a good time to start buying Ripple (XRP) or not.
When it comes to cryptocurrencies with a lot of potential in the long run, a good time to buy is whenever there is a pullback or the price is oversold short term. This is a good way to dollar cost average your entries so you can get a low overall average price for the Ripple (XRP) you accumulate. Now, the problem is there are a lot of people who bought Ripple (XRP) way above $2 during the recent cycle and are still holding at a loss. They did not mind buying at such a high valuation and they did not mind holding throughout the bear market at a loss but all of a sudden they are very concerned about buying more at $0.40 instead of $0.35. In other words, they did not count dollars before but now they are counting cents.
There is a simple way to address that problem. You cannot FOMO in and expect to have gotten in with the best price. This is not how it works. For instance, Ripple (XRP) is currently trading around $0.45. If you wait for a pullback to $0.40 and then you FOMO in, there is a strong probability that the price might drop even further to the 21 Day EMA i.e. well below $0.35. If you FOMO in at this point you have to be prepared for that. If you are investing for the long term, say months or years from now this may not matter much but still, the best thing to do would be to dollar cost average your entries so you get a good average price.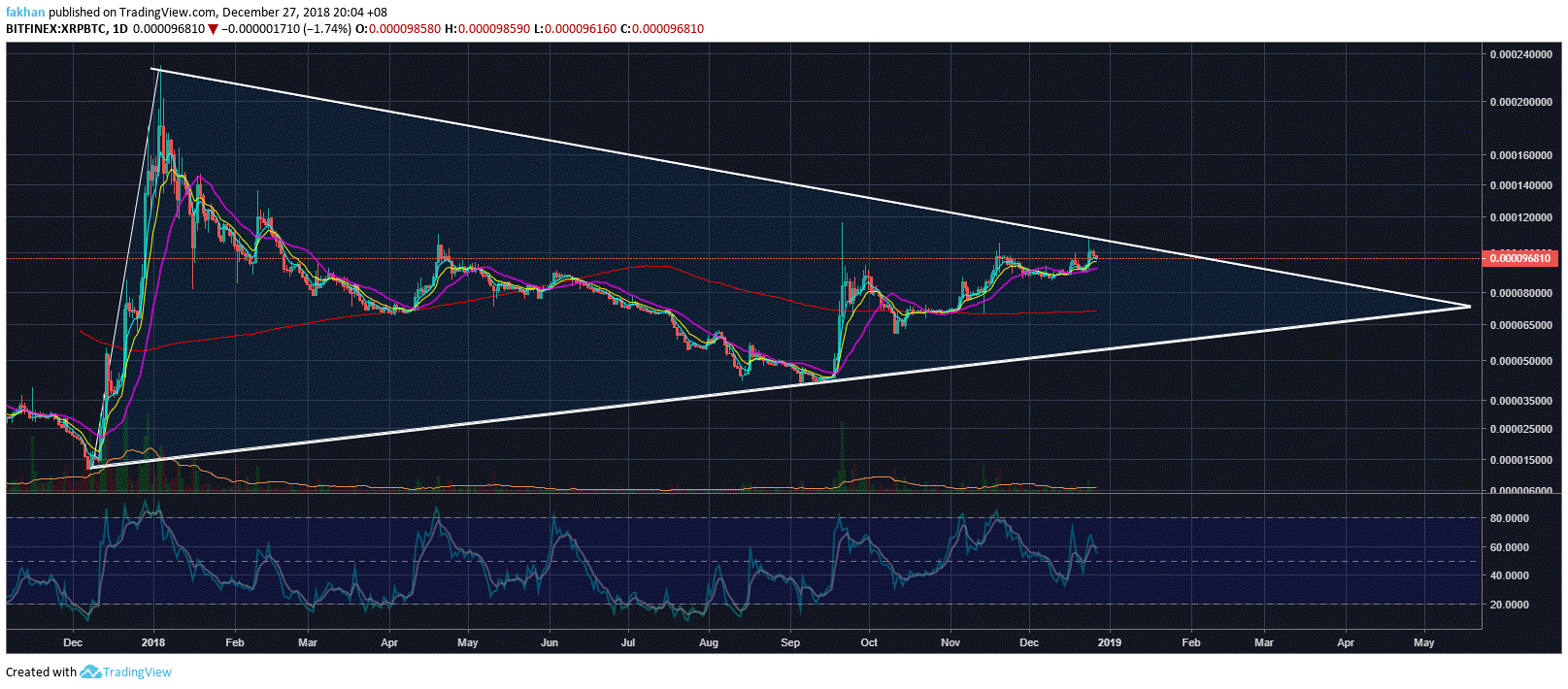 If you are trading, it gets even easier. You just have to watch for certain levels and then enter long or short positions with carefully placed stop losses and take profits. For instance, if you are looking to go long on Ripple (XRP) at this point, you should wait till the price breaks past the 61.8% Fib retracement level. In doing that, you understand that the price might just shoot up past the 61.8% Fib level and you may lose a good entry point. However, at least you will know which way the trend is and you will be taking a calculated risk.
There is no such thing as whether something is a buy or a sell. It all comes down to timeframes. Something could be a buy on a smaller time frame and yet be a sell on a larger time frame and vice versa. For instance, if we look at the daily chart for XRP/BTC, we can see that Ripple (XRP) has clearly run into a short term resistance against Bitcoin (BTC) and the price might be due for a retracement. However, if we look at the big picture we can see that XRP/BTC has formed a giant symmetrical triangle. Now, as XRP/BTC was trading upwards before entering this symmetrical triangle, there is a strong probability that it is going to break to the upside out of this symmetrical triangle. However, short term there still remains a possibility that XRP/BTC may fall back to the 21 Day EMA or the 200 Day MA.