Ripple (XRP) dropped below $0.30 today after facing rejection at the 5 Day EMA. The price has declined aggressively since mid November but there is still room for further downside. The daily chart for XRP/USD shows the price trading in a falling wedge. Having just been rejected at the top of this wedge, the price is now likely to decline to the bottom of this wedge to find a temporary bottom before reversal. Volume has started to decrease once again and it would not be surprising to see Ripple (XRP) making an aggressive move to the downside to establish a new yearly low before the end of the week. RSI for XRP/USD has also run into a historical resistance and is expected to continue to fall till mid December.
Ripple (XRP) seems to have broken its pattern of defiance and now moves with the rest of the market. The daily chart for XRP/USD shows that Ripple (XRP) still has plenty of room for a rally in 2019. The price could rise all the way towards $0.50 and even higher by early 2019. That makes current price levels good entry points for the long term. That being said, the sentiment right now is overly bearish and it is unlikely for new retail buyers to return to the market anytime soon. Most of them will flock in only when they begin to see big successive movements on the daily chart. 2017 was the year when a vast majority of new traders and investors entered the market. Most of them joined around late 2017 when the prices were already too high.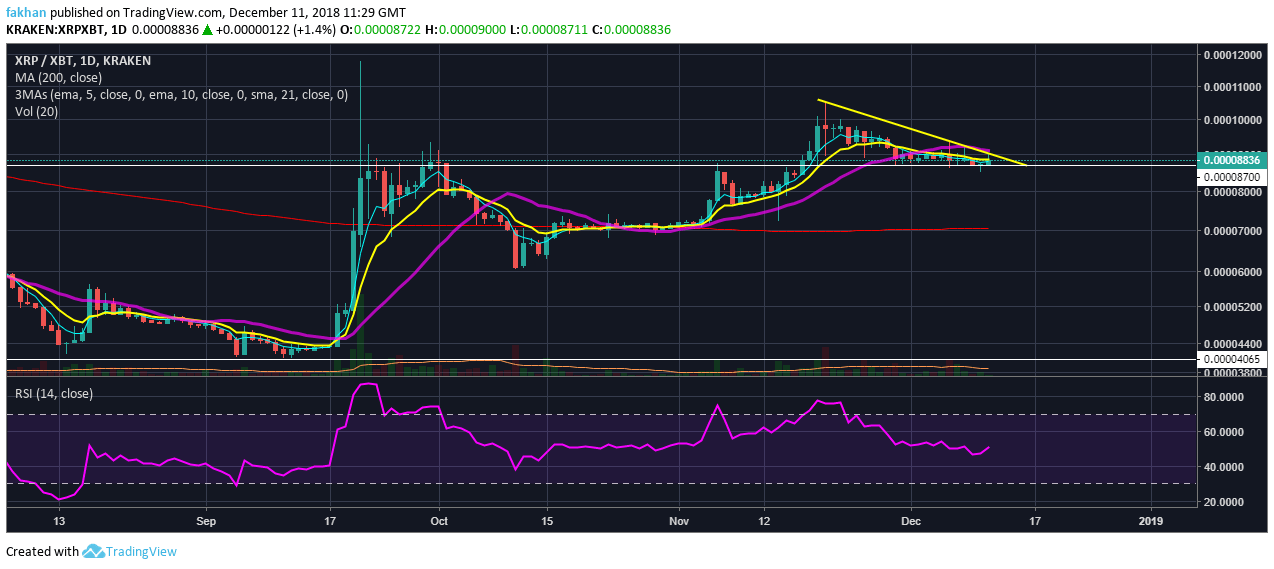 Chart for XRP/XBT (1D)
They saw the big rallies and they thought this could go on forever. When the prices began to drop, they did not sell in the hopes of a recovery. Then when the recovery did not kick in, most of them panic sold thinking the cryptocurrency bubble has popped. Now, that may be true, the bubble did actually pop. However, what's more important is that this is nothing new. This particular bubble has popped four times before and it will continue to pop again in the future. That does not mean that Ripple (XRP) or the cryptocurrency market has died. If anything, this should be seen as a wonderful opportunity to buy some more. There is a way to think about all this, and that is to chalk it all as a failure thinking you made a big mistake buying near the top and now you have lost it all.

However, that is not the only way to think about this. You can also be grateful that you had the opportunity to see an entire market cycle within such a short time. A lot of people do not get to see that. Cryptocurrencies have made it possible. The learning you acquire from following an entire market cycle is simply priceless. In my view, it matters more than the short term profits you make at a certain time. Being lucky and buying low and selling high during the bull market is like somebody giving you a fish. However, being attentive and learning from your experiences during both the bull and bear markets is like someone teaching you how to catch a fish. It is not hard to see which one is going to help you more in the long run.