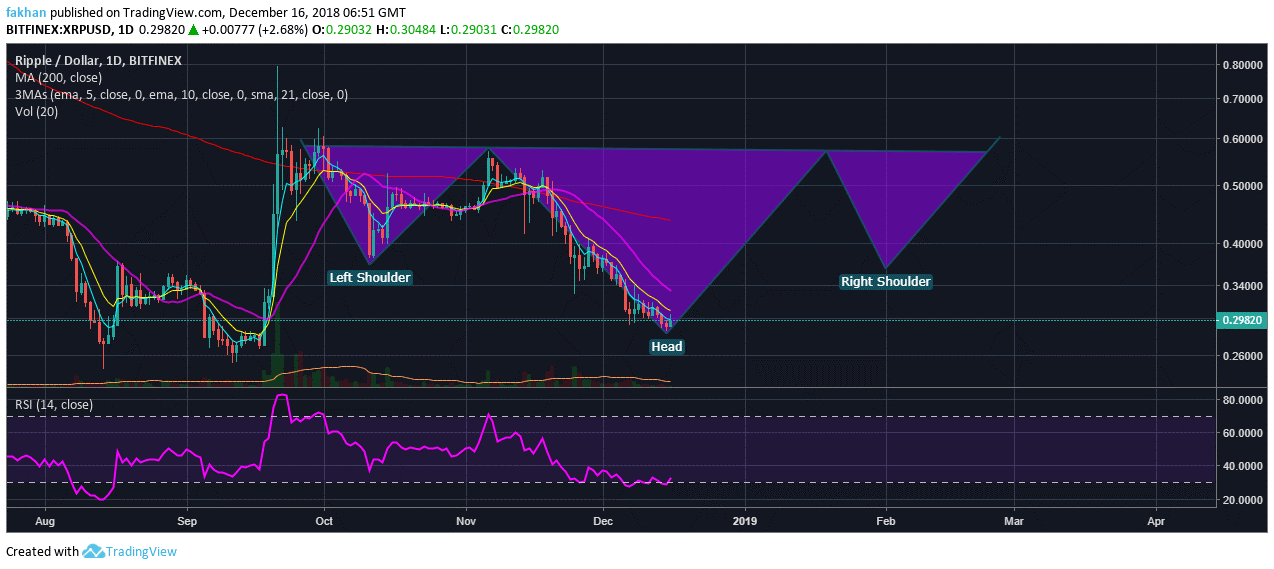 Ripple (XRP) just partnered up with Israel's major banking giant, GMT. Today, its fundamentals look far better than ever, but that's not all. On the technical side, things did not look so good until recently. Ripple (XRP) had overplayed its hand against Bitcoin (BTC) and as other cryptocurrencies had bottomed out, it seemed that Ripple (XRP) was still overbought and might have room for further downside. However, now it seems that Ripple (XRP) is all set for an explosive breakout as early as next week. On the daily chart for XRP/USD, we can see an Inverse Head and Shoulders pattern in the making. The first breakout which would lead to the completion of the head of the IH&S is expected to push Ripple (XRP) above $0.50 once again.
XRP/USD is likely to rally at least for the next two months which should see the completion of the head of the IH&S. After that, we are likely to see a retracement that should pull the price back towards $0.30. That move will be followed by another rally towards the previous temporary top which should then see the price breakout towards $0.80 around April, 2019. A lot of investors and analysts expected Ripple (XRP) to make new highs in 2019 but under the present circumstances, it does not seem likely. That being said, Ripple (XRP)'s fundamentals today are far better than they have ever been. This makes it a far better investment from a risk/reward standpoint. Ripple Labs, the company behind the currency, XRP seems all set to push for global adoption of Ripple (XRP).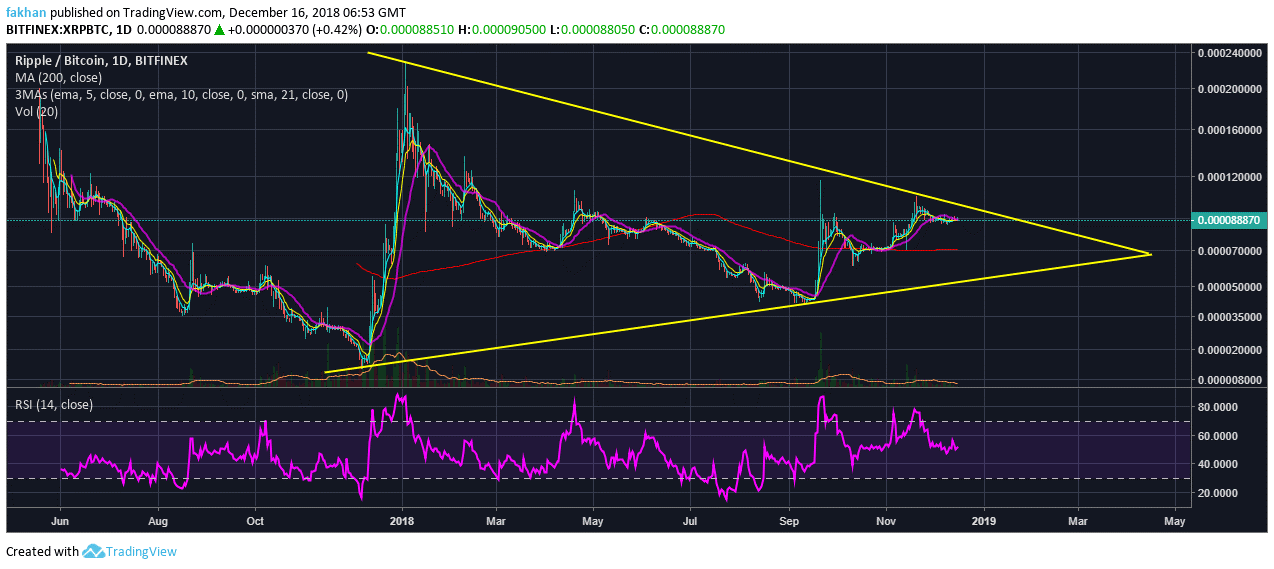 Chart for XRP/BTC (1D)
The number of partners Ripple (XRP) has signed has grown tremendously over the past few months. Even during the bear market, Ripple (XRP) has been signing partners left and right and their presence is felt across the financial landscape today. Major financial institutions like the Bank of America, Santander and now GMT have all joined hands with Ripple (XRP). The team behind Ripple (XRP) is one of the smartest people in the blockchain industry. Not only do they understand the needs of the target audience, they also understand what the general public expects of them. For instance, during their last Swell event, they had Bill Clinton as a keynote speaker. In a previous event, they had Sir Tim Berners Lee, the founder of the World Wide Web as a keynote speaker. They have also had prominent figures like Ben Bernanke speak at their conferences.

Ripple (XRP) is sending a loud and clear message that it has the support and good will of the powers that be. The status quo that is controlling the entire space that the likes of Bitcoin (BTC) want to disrupt is opening its doors to Ripple (XRP). When push comes to shove, these financial institutions are not going to close their doors because some Bitcoin (BTC) put them out of business. They are going to fight back, and the best way to do that is with the help of cryptocurrencies like Ripple (XRP).