Ethereum (ETH) has failed to break past the 5 Day EMA resistance against both Bitcoin (BTC) and US Dollar (USD). This means that a retest of the previous yearly low is now inevitable and Ethereum (ETH) will have to fall in the next few days to fully complete its correction. It is possible that the bottom that is to be established the next few days may not be the ultimate bottom and Ethereum (ETH) may fall again in early 2019, but ETH/BTC has long been due for a recovery and it is going to get it but not before it puts in a bottom. RSI for ETH/BTC has room for further decline at least for a retest of late 2017 lows.
Ethereum (ETH) has defended against major setbacks at current levels because the price is already down significantly from its all time high and has now little room for further downside. That being said, the price will have to fall to test previous yearly lows over the next few days. The probability of a recovery before a retest of previous lows is now very low considering the bullish are not ready to step in before the bears have their way with the price. Any attempt to get in the way of a fall at this stage will only mean catching a falling knife. The bulls and the bears are both agreed at this stage that a retest of yearly lows is inevitable. The number of shorts for Ethereum (ETH) against both Bitcoin (BTC) and the US Dollar (USD) has now gone up once again.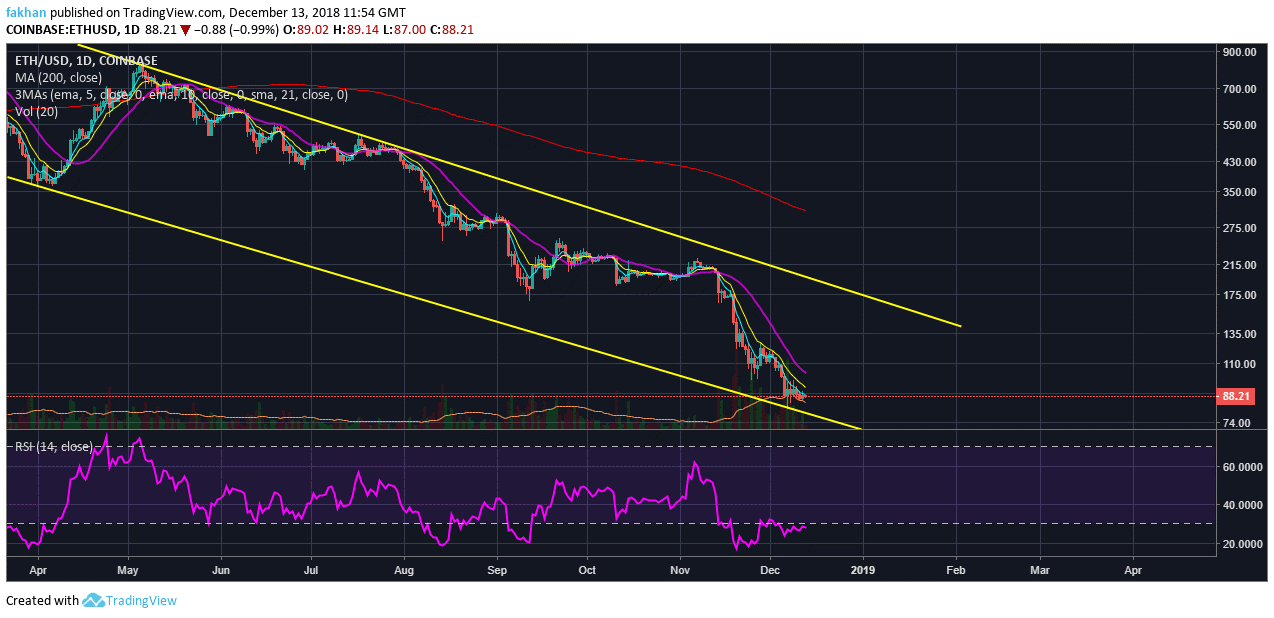 Ethereum (ETH) bears are going to let go and we probably will see a strong squeeze after the price declines to $70. However, at the moment, the bearish resolve is stronger than ever and they are not willing to let go. The number of shorts started to decline last week when the chances of a recovery started to appear, but soon after Ethereum (ETH) faced rejection at the 10 Day EMA, the number of shorts started to rise once again. This time, the number of shorts is not going to go down unless the bearish resolve gets seriously hurt. The only way that is going to happen is if the price bottoms out around $70 and rises straight up from there to stage a successful recovery.

The daily chart for ETH/USD shows that there is still some room for a drop to $70. The price has been struggling to get above the 5 Day EMA for the last ten days but it has failed every time. Now the RSI also seems to have run into a resistance and is ready to go down over the next few days. This would probably be the last time we would see Ethereum (ETH) at such low prices this year. Once ETH/USD starts to recover towards $200, the bullish resolve is going to get strong again and a lot of investors are going to FOMO in again. That would probably set the stage for a final capitulation in early 2019 which will make this cycle similar to the one after 2014.