Many in the crypto community think of Ethereum Classic (ETC) as a phoenix that rises from the ashes as it is reborn again. This is one of the strong qualities that it shares with Bitcoin (BTC). Both cryptocurrencies have died and reborn again countless times in the past. Perhaps the reason they were able to do that it because there is no person, group or company that owns Bitcoin (BTC) or Ethereum Classic (ETC). Moreover, both Ethereum Classic (ETC) and Bitcoin (BTC) are truly decentralized and immutable. Unlike most other cryptocurrencies, neither Ethereum Classic (ETC) nor Bitcoin (BTC) has made any compromises on its values and principles. If we think about it, this is what makes both of them valuable in their own capacities.
If Bitcoin (BTC) had little to no adoption or acceptance, there would still be a lot of people buying BTC/USD and the same is true of ETC/USD as well. Ethereum Classic (ETC) is a blockchain that does not have any notable Dapps built on it but yet remains in the league of top twenty largest coins by market capitalization. This does not happen without a reason, not after what we have been through. The bear market has been very brutal on most cryptocurrencies. Gone are the days when cryptocurrencies like Verge (XVG) or Bitcoin Private (BTCP) would make their way into the top-twenty league. Investors have become very careful after the recent bear market. Bitcoin (BTC) has had bear markets before but this is the first one that has hit a big market of altcoins this hard.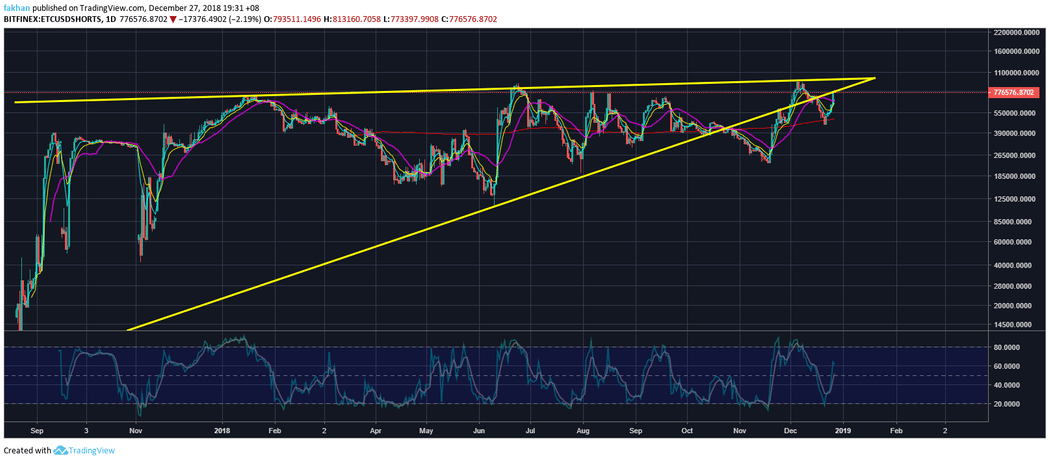 Chart for ETCUSDShorts (1D)
We have had times when any project or company that would associate the word, "blockchain" with it would look a lot cooler and futuristic. We have seen companies get higher valuations because of this and we have seen a lot of sh*tcoins succeed because of this. However, the hard reality now is that those days are over. In a few years from now, blockchain is not going to be so cool anymore. People are going to want to see what a blockchain is actually good for. That is when we will see most cryptocurrencies fail, because they would not be able to deliver. This is because they created a whole new market of useless blockchains that are good for nothing. That being said, there are plenty of hidden gems in the market but they are hard to recognize.
Ethereum Classic (ETC) is one of such projects. If this brutal bear market could not kill Ethereum Classic (ETC), rest assured that it is here to stay. The only reason ETC Labs, DFG, DCG and IOHK are throwing their money and weight behind Ethereum Classic (ETC) is because they see potential. This is one of the few projects in the market that is actually focused on using the blockchain for something. That something is the Internet of Things (IOT) market which is going to be at the forefront of the fourth industrial revolution. All of this might sound good to the people who are currently supporting Ethereum Classic (ETC) but it is not attracting a significant number of new investors.

This is why Ethereum Classic (ETC)'s new backers rolled out an ambitious program to build useful Dapps on Ethereum Classic (ETC) to give the average investor a reason to invest in Ethereum Classic (ETC). This is exactly what Ripple (XRP) did when the crypto community was largely against it. It took a step back and repositioned itself to change the hearts and minds of retail investors and it succeeded. Today Ripple (XRP) is one of the most loved cryptocurrencies in the crypto community. Sentiment does not take time to change, fundamentals do. The virtue of a good investor is to separate sentiment from fundamentals. A trader does not have to care about fundamentals on a short term trade, but an investor has to think about the fundamentals of a project because it is all that matters in the long run.