Ethereum Classic (ETC) has had an impressive rally that saw the price rise all the way from its yearly bottom around $3.2 to as high as $5.7 within a time frame of less than three weeks. Considering that we are yet to see the yearlong bear market come to an end, this was a pretty good rally. Investors are still hopeful that the rally may continue but at the moment the price is likely to retrace sharply having faced a strong rejection at the 38.2% Fibonacci retracement level. As Ethereum Classic (ETC) retraces, we are going to see it complete the right shoulder of a month long IH&S formation. If this formation comes to fruition, we are likely to see ETC/USD rally past $10 in the first few weeks of 2019.

At the moment, RSI for ETC/USD shows that the price is almost in the overbought territory. There is a very small probability of this rally continuing any further at this point. The most likely scenario will be to see the price retrace at least towards $4.1 before any continuation of the rally can follow. If Ethereum Classic (ETC) had run into such a strong resistance on a lower time frame, we could have expected the price to continue upwards considering the interest around Ethereum Classic (ETC) is one of the highest it has ever been. After the recent regime change, investors are flocking to Ethereum Classic (ETC) as they believe that this cryptocurrency has what it takes to position itself as a market leader in the IOT (Internet of Things) space.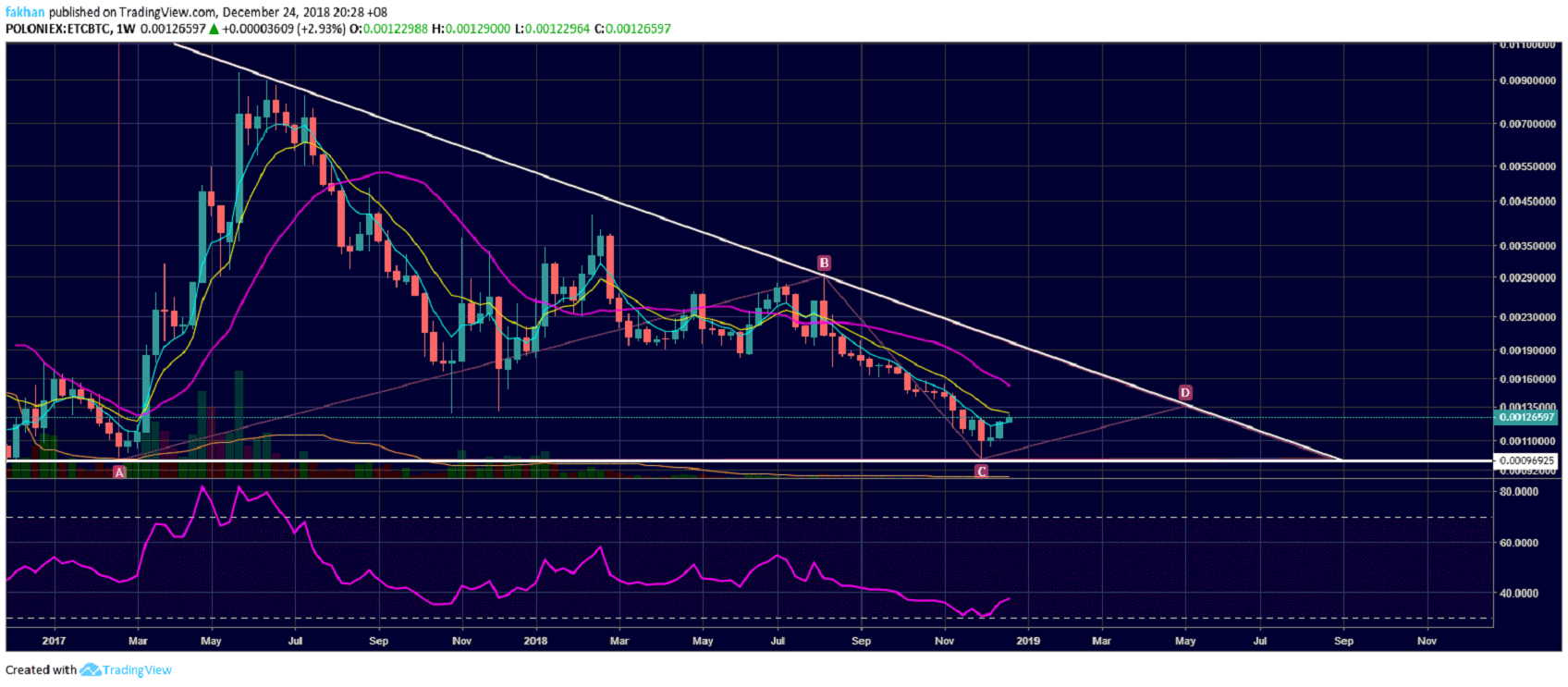 Chart for ETC/BTC (1W)
The fourth industrial revolution has already begun. Big tech giants are already throwing their weights behind projects in AI, AR, Big Data, Machine Learning and IOT. Perhaps this is the reason Foxconn decided to support Ethereum Classic in the same way as IBM is supporting Stellar. Ethereum Classic (ETC) is a wonderful project with a lot of potential. However, the public perception of this project has not been the best one. Tech geeks check Github accounts of projects that they are eager to invest in, but the average investor checks Reddit or Twitter accounts for those projects. From my personal experience, I have found Ethereum Classic (ETC)'s twitter and reddit accounts to be lacking all sorts of professional standards. Until recently, it appeared as if they were run like individual accounts by thirteen years old.

Ethereum Classic (ETC)'s public image on Twitter is gradually improving. In a conversation with Anthony Lusardi, the Director of ETC Cooperative, I was told that they are starting to work on areas like marketing and public perception. To be fair to Ethereum Classic (ETC), it is a big achievement that they have come this far considering a lot of people were eager to kill this project after the Ethereum (ETH) fork. If Ethereum Classic (ETC) can survive that and the recent ETC Dev shutdown, there is no doubt they are here to stay and as they grow and mature, a lot of big companies would stop shying away from publically associating their names with Ethereum Classic (ETC).