Cardano (ADA) is preparing for a fall as Bitcoin (BTC) looks likely to extend losses below $3,000. This leaves Cardano (ADA) no choice but to fall below $0.025 during the upcoming sell off. As you can see on the weekly chart for ADA/USD, there is very little room for further downside and Cardano (ADA) may rebound very quickly after falling below $0.025. This means that investors should be looking for entry positions instead of expecting a big fall from current levels. The worst thing to do right now would be to go short on Cardano (ADA) without any risk management. The price may look vulnerable for a fall but it should be borne in mind that Cardano (ADA) is already significantly oversold and is one of the most undervalued projects in the cryptocurrency space.
The trend line for support seen on the weekly chart is one that Cardano (ADA) has held since the beginning of its correction. It would be extremely unlikely to see it break during the upcoming crash. That being said, we have seen top coins like Bitcoin (BTC) and Ethereum (ETH) break critical market structures. By comparison, Cardano (ADA) is still a very small cryptocurrency and it would not be surprising to see it behave irrationally in the face of market pressure. The price has failed to even retest the 5 Week EMA since the beginning of the recent crash. This does not look good from a technical analysis standpoint.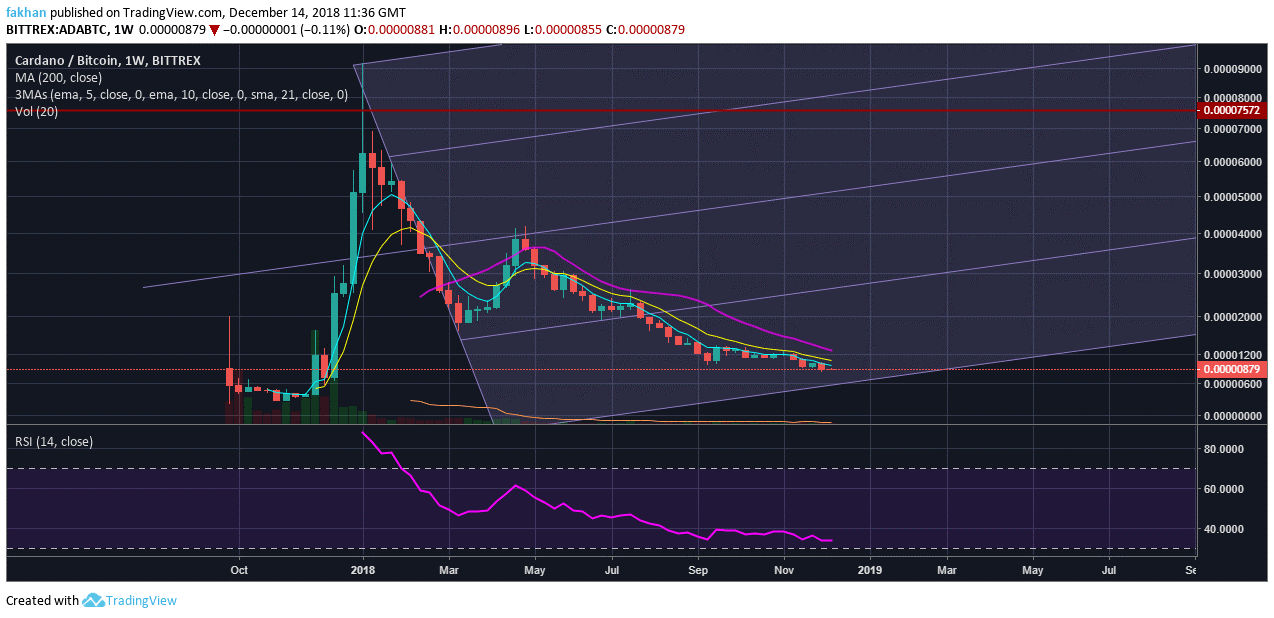 It would not be unreasonable to say that trading Cardano (ADA) at the moment is no different than catching a falling knife. Investing in Cardano (ADA) right now is a whole different story though. As mentioned before, this is the best time to start accumulating for those that believe in the project and are willing to hold their ADA coins for the next few years. Cardano (ADA) is just getting started and the vast majority of cryptocurrency still have absolutely no idea as to what this project is about or aims to achieve. All they know is that it is one of the top ten largest coin by market cap. This goes on to show how cryptocurrency enthusiasts know so little about this coin. Frankly, the major reason Cardano (ADA) has been able to receive its current level of recognition and acceptance is because it is the brain child of Charles Hoskinson, the CEO of IOHK.



Cardano (ADA) is yet to complete its correction against Bitcoin (BTC) as is clearly shown by the weekly chart for ADA/BTC. It is currently trading in the last section of the pitchfork and has significant room for further downside. The price has been continuously rejected by the 5 Week EMA at least for the last twenty weeks! Even though the EMAs have now come closer, but this is not the first time it has happened. We saw in July that the market gave us a false signal of a reversal when the EMAs started to align together, but the price soon dropped further and paved the way for a bigger correction.