Any chance Bitcoin (BTC) had of a short term recovery is now long gone after BTC/USD just got rejected strongly off its 5 Day EMA. The price is now on its way to testing current yearly lows but chances are it will end up falling below $3,000 to find an actual bottom. At this stage, it is too early to tell if that will be the actual bottom for Bitcoin (BTC). However, it will take the price back to the previous market structure near $6,000. This means that regardless of this being the actual or temporary bottom, it is a good entry for a trade, one that could result in at least a 100% ROI from the perceived bottom. The long term descending channel for BTC/USD remains intact and the price has room to fall further.
The descending channel for BTC/USD shows that Bitcoin (BTC) has yet to reach the bottom of that channel and thus has ample room to fall. The daily RSI also has enough room for further downside. RSI for BTC/USD is setting the ground for a bullish gartley pattern that would enable it to form a double bottom before the ultimate recovery. The price of Bitcoin (BTC) has been falling straight for the last few weeks with uncertainty and fear surrounding it. The bulls were not confident of a recovery from current levels whereas the bears were certain that a fall to $3,000 would ultimately occur. This is what prevented the price from shooting straight up from current levels after an extensive correction. Price actions during the last few days have now also convinced the bulls that the price can fall further and thus it would not be wise to catch a falling knife.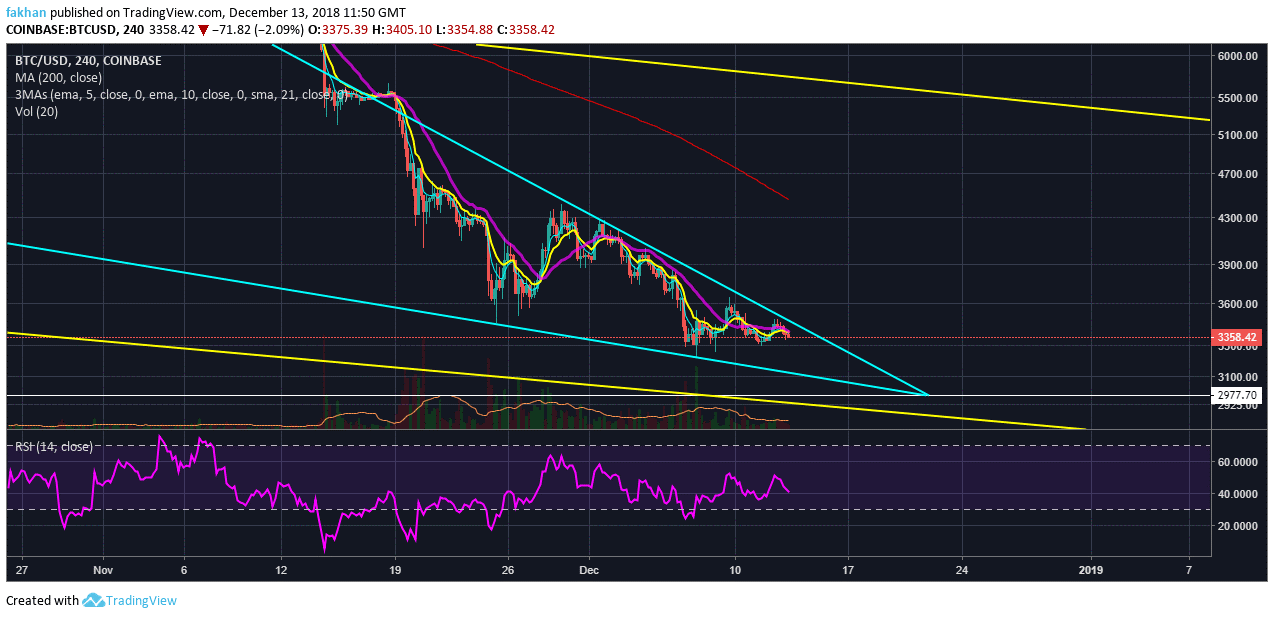 The big picture is clear and sometimes traders just zoom out so much that they become oblivious to what is happening short term. If we look at this 4H chart for BTC/USD, it is easy to see that Bitcoin (BTC) is in a giant falling wedge that is ultimately going to lead to a reversal. If you are an investor, this would be a good time to start picking up. So you can buy some coins here and then wait some more to dollar cost average your entries as Bitcoin (BTC) falls further. However, if you are a trader and you buy now thinking the price is going up, you are in for trouble. There is a difference between being a trader and being an investor.

As an investor, you can afford to ignore what is happening on shorter time frames and just focus on the big picture. You believe in Bitcoin (BTC) long term and you think buying at these levels will get you good returns in a few months or years from now. However, if you are a trader acting like an investor, not only will you suffer losses short term from any margin positions you have, but you may also get liquidated if the market behaves a bit irrationally which it often does around turning points. This is why it is important to understand whether you are trading or investing in Bitcoin (BTC) because you cannot have a one fits all strategy for both.