AdEx, the decentralised advertising platform, and the biggest payment channels network on Ethereum, has announced a rebrand to become known as Ambire. In addition, the company will shift focus its Ambire wallet, which it believes will become the jewel in the Ambire Network.
AdEx Network has achieved much since its decentralised ads platform was launched back in 2017. Technological advances include seedless logins, paying transaction fees on Ethereum in stablecoins rather than in ETH, automated gas fee management, atomic bulk transactions (multi-calls), eliminating ERC20 approvals, among others.
The company's ad network has grown to more than 16,000 registered users, and this allows the team to focus on Ambire Wallet - a new tool that promises to set new usability standards for the DeFi industry.

To reflect its growth and development, AdEx Network has decided to rebrand and change their name to Ambire.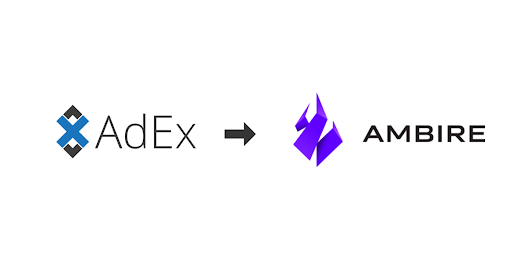 CEO and founder of Ambire, Ivo Georgiev had the following to say:
"When we founded AdEx Network in 2017, blockchain technology was still in its infancy, Ethereum had almost no adoption, and things were developing at a lightning speed. We were only working on our decentralized ad platform,"

"A mere four years later, the industry is almost unrecognizable. We achieved a lot during this time and we felt it was time for a brand update that reflects that growth that we underwent as a company."
Ambire wallet is just as much for crypto-savvy users as complete newbies, but it will have a particular focus on being a tool for allowing users to very easily transact in cryptocurrency and DeFi without any previous knowledge of either.
The Ambire team decided to build their wallet precisely because of the barriers to entry into cryptocurrency and DeFi. Most new users will be totally uneducated on the cryptocurrency space, especially those who feel challenged by new technology.
Also, even once inside the cryptocurrency space, keeping up with new developments and requirements can be time consuming and just really demanding. Therefore, the team at Ambire is creating a Defi wallet that will combine simplicity and intuitiveness with the power to make DeFi accessible to all.
The introduction of the Ambire Wallet will not affect the existing Ambire AdEx platform. This will continue to be developed and improved. With 16,000 registered corporate users, millions of ad impressions are processed every day.
The in-house developed OUTPACE Layer 2 solution ensures that Ambire AdEx remains the biggest payment channels network on Ethereum. A major V5 upgrade is being worked on, and an eventual move towards full decentralisation is planned.
Disclaimer: This article is provided for informational purposes only. It is not offered or intended to be used as legal, tax, investment, financial, or other advice.