Days after a Bored Ape NFT collection sold at auction for $24.4 million, another colorful collection is set to launch on the ENVOY Network. The project, Alien Samurai Dino Warriors, is a collaborative effort between chart-topping EDM DJ Dimitri "Vegas" Thivaios and Batman movie producer Michael Uslan.
Serving as a prelude to Thivaios' upcoming graphic novel series of the same name, the exclusive Alien Samurai Dino Warriors NFT collection will introduce the world to an elite band of dinosaurs well-versed in the code of the Samurai. The third NFT drop on ENVOY, the collection follows the platform's launch of Decentraboard, the crypto industry's first NFT curated billboard.
Superstar DJ Meets Samurai Dino
Dmitri Thivaios is better known as one of the world's leading EDM DJs, thanks to his work alongside brother Michael. Operating under the title Dmitri Vegas & Like Mike, the pair have headlined numerous festivals and held DJ residencies in Ibiza, collaborating with the likes of Fatboy Slim, Armin van Buuren and David Guetta. Now, though, "Vegas" is turning his attention to what he calls the DinoVerse.
"Dino Warriors is very special to me and is inspired from my love and passion for '80s comics and cartoons," the DJ reveals. "I have been developing this project for a long time now, so translating this into an NFT-fueled powerhouse with the groundbreaking ENVOY Network has been very exciting. It allows us to turn those NFTs into keys to unlocking amazing content and being much more than just an asset."
Interestingly, Thivaios is also part of the supergroup 3 Are Legend alongside Like Mike and American DJ Steve Aoki, the latter of whom dropped his own NFT collection Dream Catcher earlier this year. To bring his idea for Dino Warriors to life, Thivaios turned to Emmy-award winning film and TV producer Michael Uslan, whose credits include all Batman features since Tim Burton's 1989 reboot.
Although many elements of the DinoVerse will be kept secret until the publication of the eponymous graphic novel early next year, the soon-to-drop NFT collection comprises moving 3D statues of the five Dino Warriors as well as several collectible trading cards. Collector tiers, meanwhile, are split between Diamond, Gold, Silver and Community.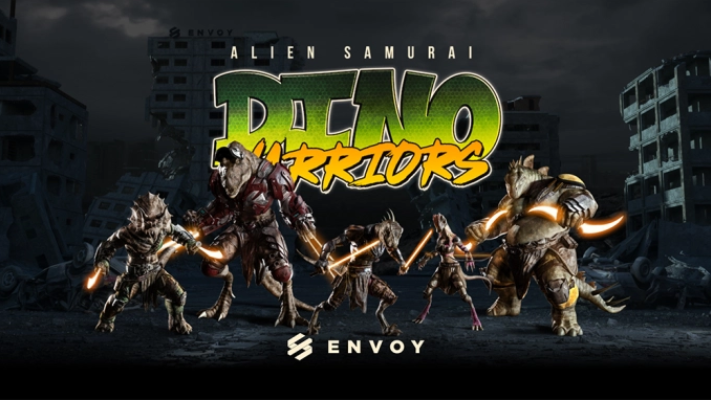 Could Dino NFTs Be the Market's Next Viral Hit?
As well as Uslan, the creative team behind Alien Samurai Dino Warriors includes renowned cartoonist Erik Burnham (Ghostbusters, Teenage Mutant Ninja Turtles) and Marvel Comics editor Heather Antos.
Reflecting on her work with Thivaios and co, Antos said,
"It's always exciting to work with passionate creators. There are few creatives I've met who can match Dimitri's passion for comics. Dino Warriors is the perfect blend of action and whimsy that is sure to hook readers both old and new. I couldn't be more thrilled to be a part of this great team."
Scheduled to drop later in September, the graphic novel NFT series comes at a time when NFTs are booming: in the last month of August alone, sales surpassed $1 billion. Little wonder ENVOY Network recently managed to secure $2.5 million in funding from a clutch of seasoned investors.


Disclaimer: This article is provided for informational purposes only. It is not offered or intended to be used as legal, tax, investment, financial, or other advice.