Bitcoin made one of its trademark huge flash crashes yesterday, causing more than $400 billion to be wiped off the value of the crypto market. The El Salvadorean party was somewhat spoilt, and huge liquidations forced many retail hands out of the market. Is the dump finished, or are we in for any more downside?
It should have been El Salvador, and President Bukele's day yesterday, as the small nation formally recognised Bitcoin as legal tender. However, only an hour or so after the law was passed in El Salvador, the market came crashing down.
Was this just too much of a coincidence? An event that screamed manipulation wiped out nearly 400,000 traders on Bybt to the tune of $3.46 billion over the last 24 hours.
Ruud Feltcamp, CEO of CryptoHopper, had his own insightful perspective:
"This is what I love about crypto. Only in crypto, can you see a flash crash wiping out $400 billion in value, after which it'll probably continue to rise as if nothing happened."
President Bukele of El Salvador perhaps had the last laugh. He took advantage of the ensuing crash to buy another 150 bitcoins, taking the country's holdings to 550 coins, representing a value of around $25 million. The President tweeted the following as a jibe at the IMF: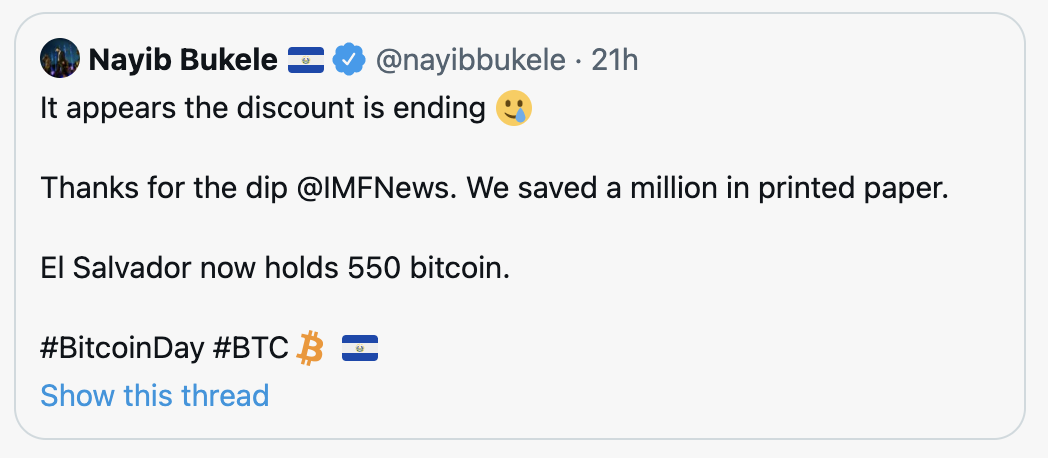 Today, following the crash, Bitcoin has once again descended. However, instead of making a lower low, the number one cryptocurrency kissed the 50-day moving average perfectly, and has since moved back above the 200-day moving average, an extremely important level to hold.
Now that we have seen this correction, and given that it was fairly heavy, the likelihood is that Bitcoin will start to regain the lost ground. A golden cross is predicted to happen on the 12 or 13 of September, at which point Bitcoin is officially back in the bull market.
Disclaimer: This article is provided for informational purposes only. It is not offered or intended to be used as legal, tax, investment, financial, or other advice.