The Cryptocurrency sector is heating up following recent major bullish news announcements from banks and payments providers. The total market cap of Crypto stands at $1.96 trillion and large cap coins stand at, or near, their all-time-highs.
As news in the traditional world of finance maintains a bleak outlook, crypto is surging as the bull market continues to gain momentum.

Source: CoinGecko
Bitcoin has rallied over the last week since a fall in price to around the $50,000 mark. A 19% rise saw Bitcoin post a local high of just over $60,000 earlier today before settling around $59,600 at time of writing.
The current bullish trend for Bitcoin could well see it break its all-time-high, either this weekend or at some point during the week to come. Some analysts are starting to predict a looming end to the bull market, but the general consensus is that there is still fuel in the tank yet.
Large cap coins have now started to awaken, perhaps as new investors into the cryptocurrency space start to look for faster growth areas away from Bitcoin. The large caps have also been accumulating for a fair amount of time, so this could be their chance to begin a new leg up.
Ethereum has seen a similar trajectory to Bitcoin over the last week. A local low on 24th March was followed by a strong move to the upside. The number 2 ranked cryptocurrency is now very close to its all-time-high, set on the 20th February, of $2040. Moves to the upside in Ethereum impact the rest of the altcoin market.
Binance coin has made the number 3 ranking on the crypto market cap its own recently, and continues to widen the gap with a market cap of $54.5 billion, compared to that of Tether in 4th place with $41.7 billion.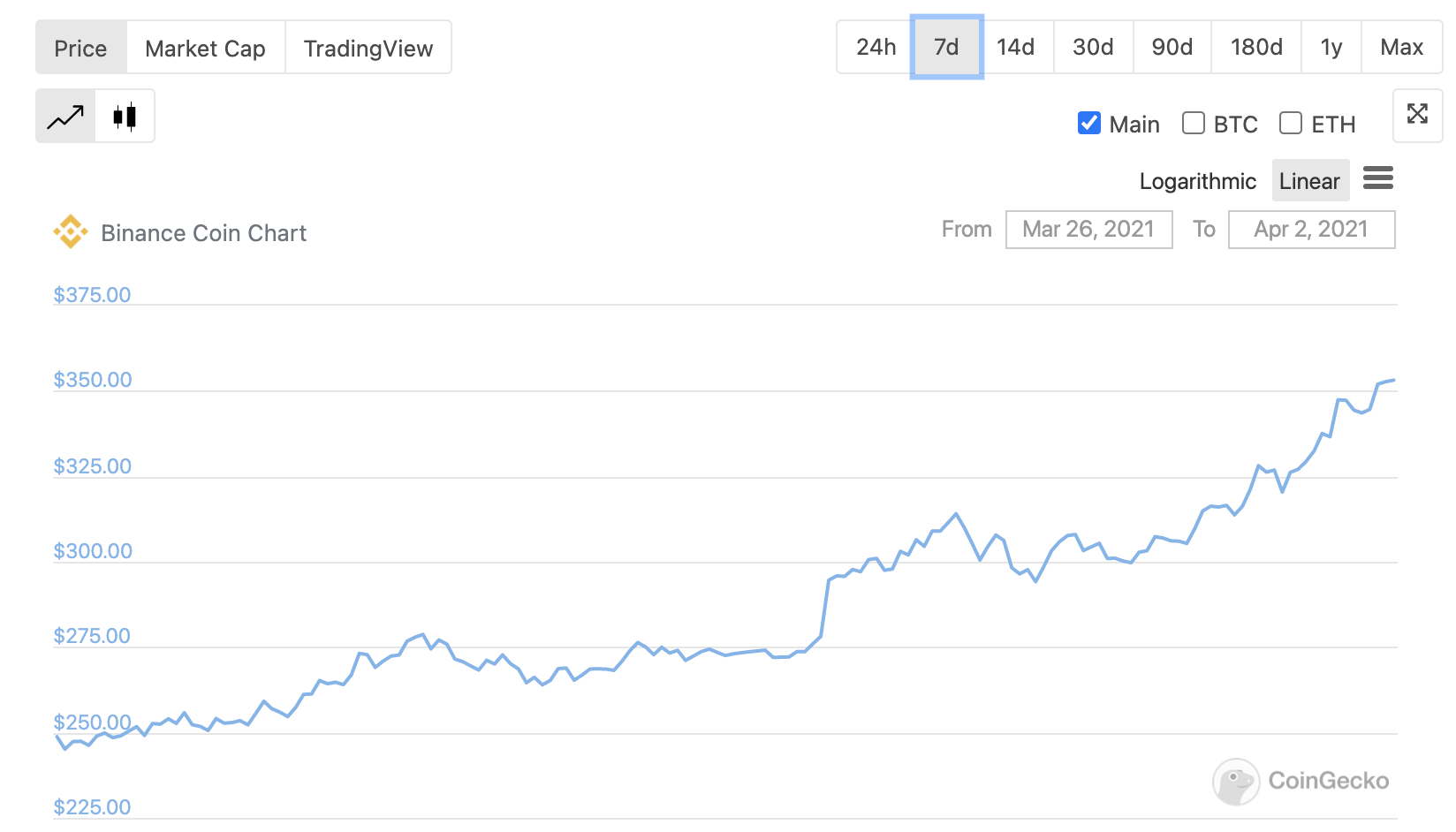 Source: CoinGecko
BNB passed its all-time-high today as it broke out to a new price of $356. With Ethereum still struggling with the ongoing high gas fee issue, the Binance Smart Chain ecosystem is attracting projects, given its tiny fees in comparison to the Ethereum network.
Chainlink has just broken out from a sideways accumulation period of quite some time. Since mid-January the price had risen but then came down to retest support. Now LINK has risen beyond $30 and is looking to test the all-time-high of just under $40.
Could this be the start of the next leg-up in the crypto bull market? The indicators are favourable, but investors should be aware of another possible large correction or two as the price makes its way skywards.
Disclaimer: This article is provided for informational purposes only. It is not offered or intended to be used as legal, tax, investment, financial, or other advice.