An exchange of tweets back in December may well have been the tipping point that led to Elon Musk's Tesla buying $1.5 billion Bitcoin according to Michael Saylor.
In a recent interview with Time, Michael Saylor said that he believed his Twitter conversation with Elon Musk late last year was what induced the Tesla CEO to make his huge Bitcoin buy.
It was on December 20th that Musk tweeted a somewhat risqué image of a monk trying to ignore a pretty girl who had the word 'Bitcoin' over her naked bottom.
Saylor replied to the tweet and said that Musk should do Tesla shareholders "a $100 billion favour" and convert the Tesla balance sheet from dollars to bitcoin.
Musk responded "Are such large trxns even possible?". To which Michael Saylor replied:
"Yes, I have purchased over $1.3 billion in #BTC in past months & would be happy to share my playbook with you offline – from one rocket scientist to another."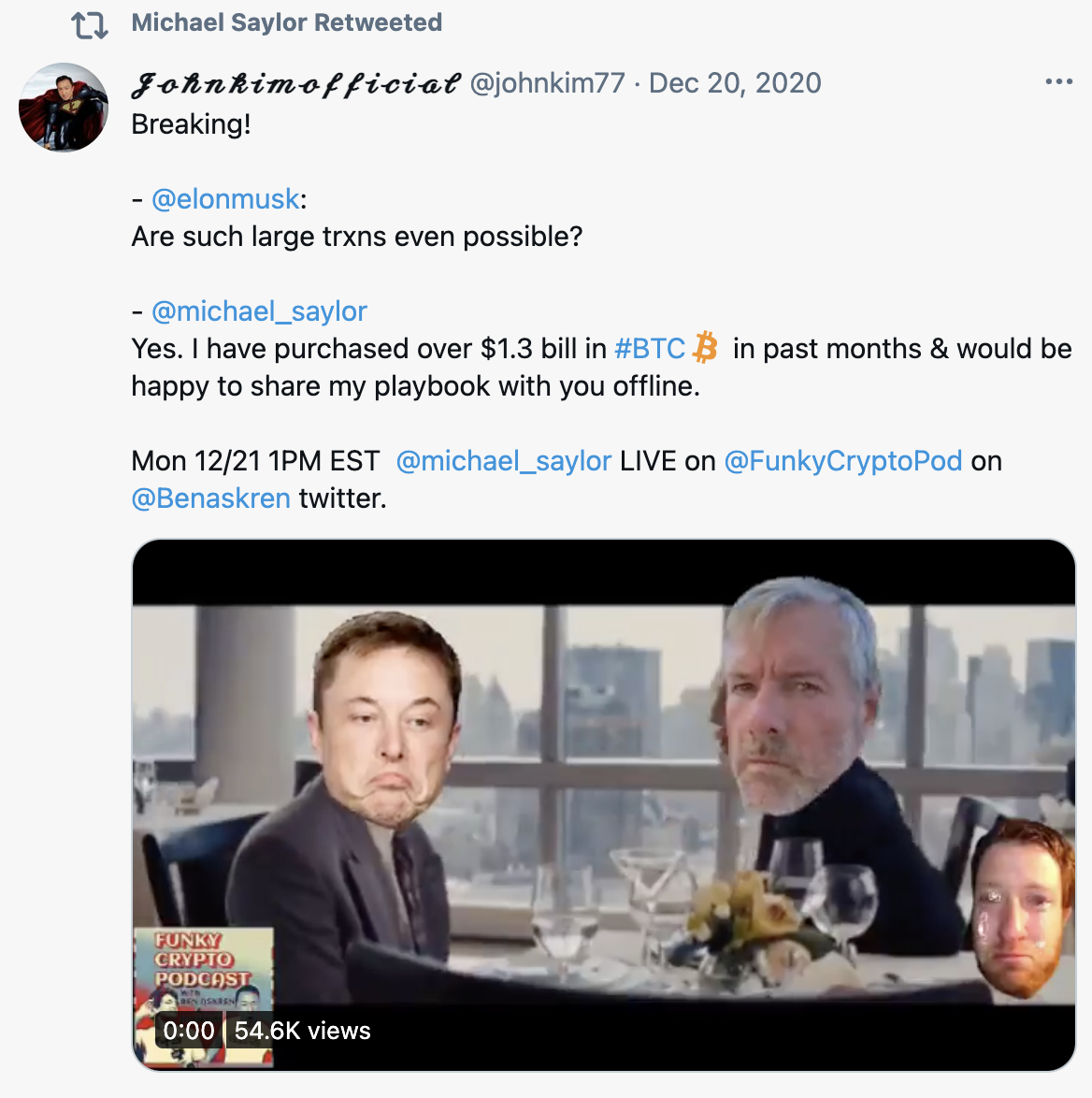 It was then on February 8th this year that it became apparent that Musk and Tesla had actually bought a very sizeable $1.5 billion bitcoin with cash from the balance sheet. There was also an announcement that Tesla would start accepting bitcoin as payment for its electric vehicles.
When asked by Time what sort of impact the Tesla purchase had made, Saylor replied:
It was an inflection point. All of a sudden, the narrative goes from "Those crazy people, what are they thinking, speculating in Bitcoin?" to "Maybe this is a real thing. This is probably not going away. Let's try to figure out how to think about it."
Finally, Saylor was asked if Bitcoin could just be "irrational exuberance". His reply was:
No, it's the opposite. It's a textbook example of a rational action in response to monetary inflation.
He added that Bitcoin was not speculation and in fact it was a unique new technology. He said that he wanted to see Bitcoin accepted as a legitimate asset class and saw his mission as "to fix the balance sheets of the world."
Disclaimer: This article is provided for informational purposes only. It is not offered or intended to be used as legal, tax, investment, financial, or other advice.