Binance Staking has today officially launched high yield $EASY staking with up to 40.56% APY.
Easyfi continues to provide extremely high yield to its users as Binance announces the Easyfi addition to its staking program. An APY of up to 40.56% paid out daily is certainly going to attract even more of those users.

The minimum locked amount for those wishing to stake is 0.5 $EASY and the locked staking format is on a first-come-first-served basis. The APY is adjusted daily depending on the on-chain staking rewards and is subject to the page display on the day.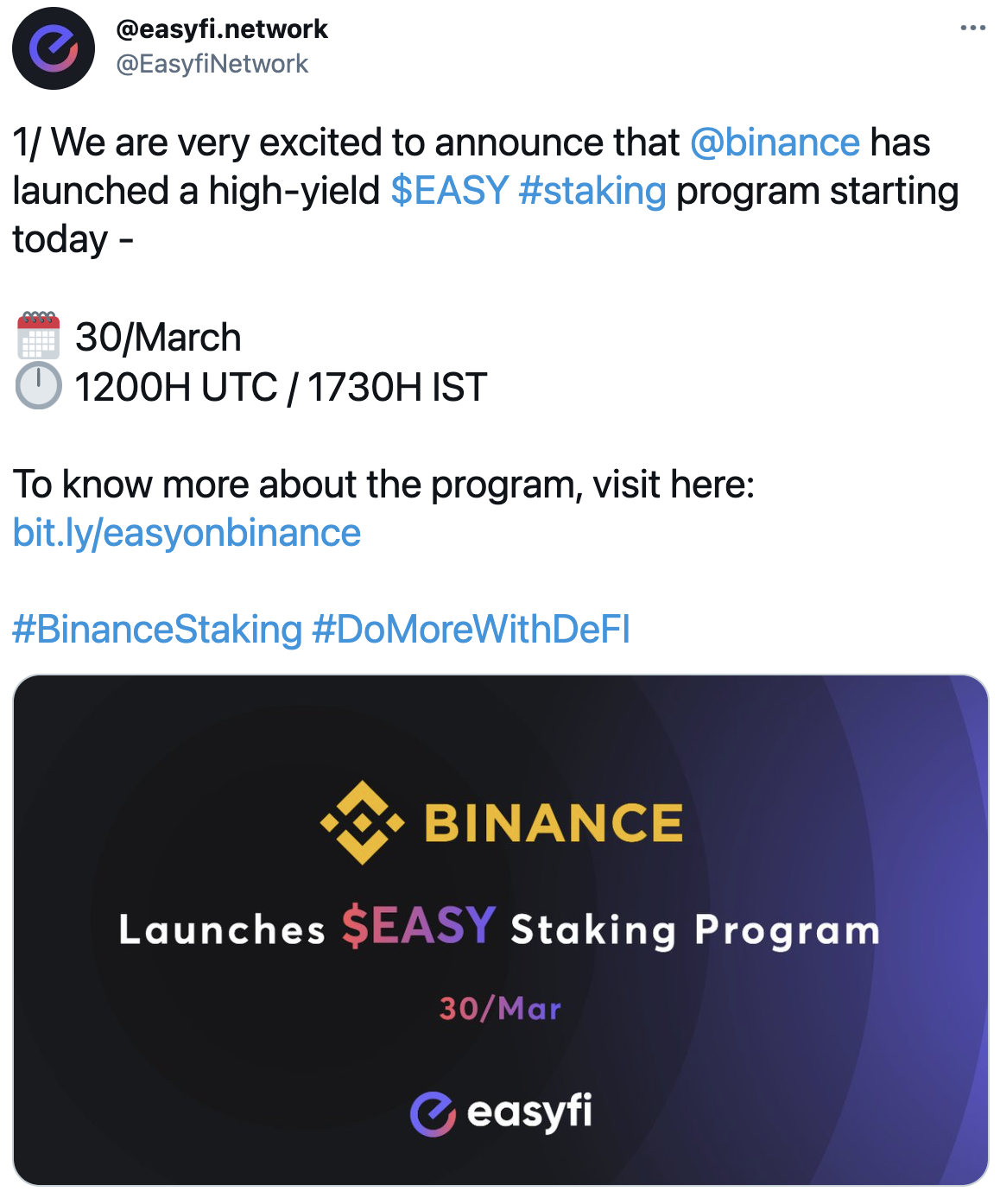 $EASY Binance bridge integration
It was only recently announced that the $EASY token had integrated with the Binance bridge and this enabled it to be easily transferred from the Ethereum network to the Binance Smart Chain.
This makes the $EASY token a fully integrated BEP20 token standard, as well as being a ERC20 token. Full integration of the EasyFi protocol on the Binance Smart Chain is the last remaining step.
The Binance bridge integration allows users to seamlessly transfer $EASY in and out of the Binance ecosystem. It also means that users will be able to move collateral from chains that $EASY is already deployed on, over to the BSC based protocol.
About EasyFi
Easyfi is a universal layer 2 lending protocol built for defi focused on scalability, composability, and adoption. It has been designed as an open and inclusive financial network infrastructure to run on public networks to facilitate end-to-end lending & borrowing of digital assets and related financial products.
Easyfi is being built upon the ethos of permission less networks & automation of smart contracts. The protocol has now expanded to Ethereum and Binance Smart Chain as well making it a multi-chain DeFi Lending protocol.
Disclaimer: This article is provided for informational purposes only. It is not offered or intended to be used as legal, tax, investment, financial, or other advice.