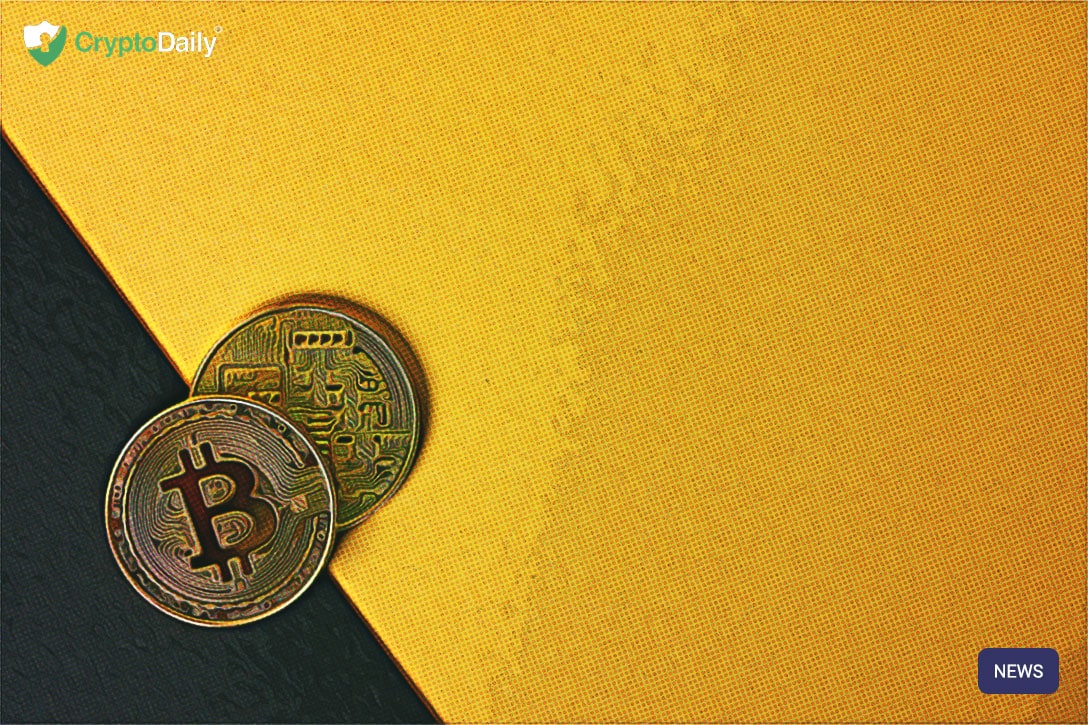 The hitherto world of opaque hedge fund trading has been brought into the light with the advent of the Templar Fund, one of the world's most successful Bitcoin hedge funds, trading perpetual Bitcoin futures derivatives on the Bitcoin Mercantile Exchange.
Hedge funds have generally been making less alpha on aggregate over the past decade due to certain factors such as increased competition, relatively unskilled hedge fund managers trying to get 'lucky' and the high subscription fees charged by many.
A combination of expertise, experience and cutting-edge tech has allowed one hedge fund in particular to buck this trend and become one of the safest yet highest yielding funds in this sector today.
The fund is privately run and has been operating since 2018. It was set up by a well-known Wall Street hedge fund manager with significant experience in the sector together with a small group of other hedge fund experts who have been working closely since 2014. This person has chosen not to be named given the delicate nature of Bitcoin trading but lets the success of the Templar Fund speak for itself.
Having left the rat race of Wall Street the Templar Fund team spent a year putting together a fully automated trading system which was then integrated into one of the world's first, and best performing, Bitcoin hedge funds. This trading engine can make millions of trades per week and outperforms any team of human operators as it is able to place hundreds of orders in less than a second.
How is the Templar Fund performing?
From its inception on 21st November 2018 until 3rd April 2020 the Templar Fund has returned 77.987% on equity. So for each $100 invested, clients have earned $177.99 ($158.49 after fees).

Full transparency
The Templar Fund provides full transparency in everything they do. A live trading stream enables investors to watch every trade as it happens 24 hours a day. Complete reports are published every 10 days where every single trade is documented giving all clients the capacity to self-audit and reconcile the trade data.
There is a vibrant discord community where fellow investors can meet each other and where they can ask questions of the team. In addition, at the end of every 30-day trade cycle clients can chat live with the fund manager who is there to answer any of their questions.
A client statement report together with a quote from them: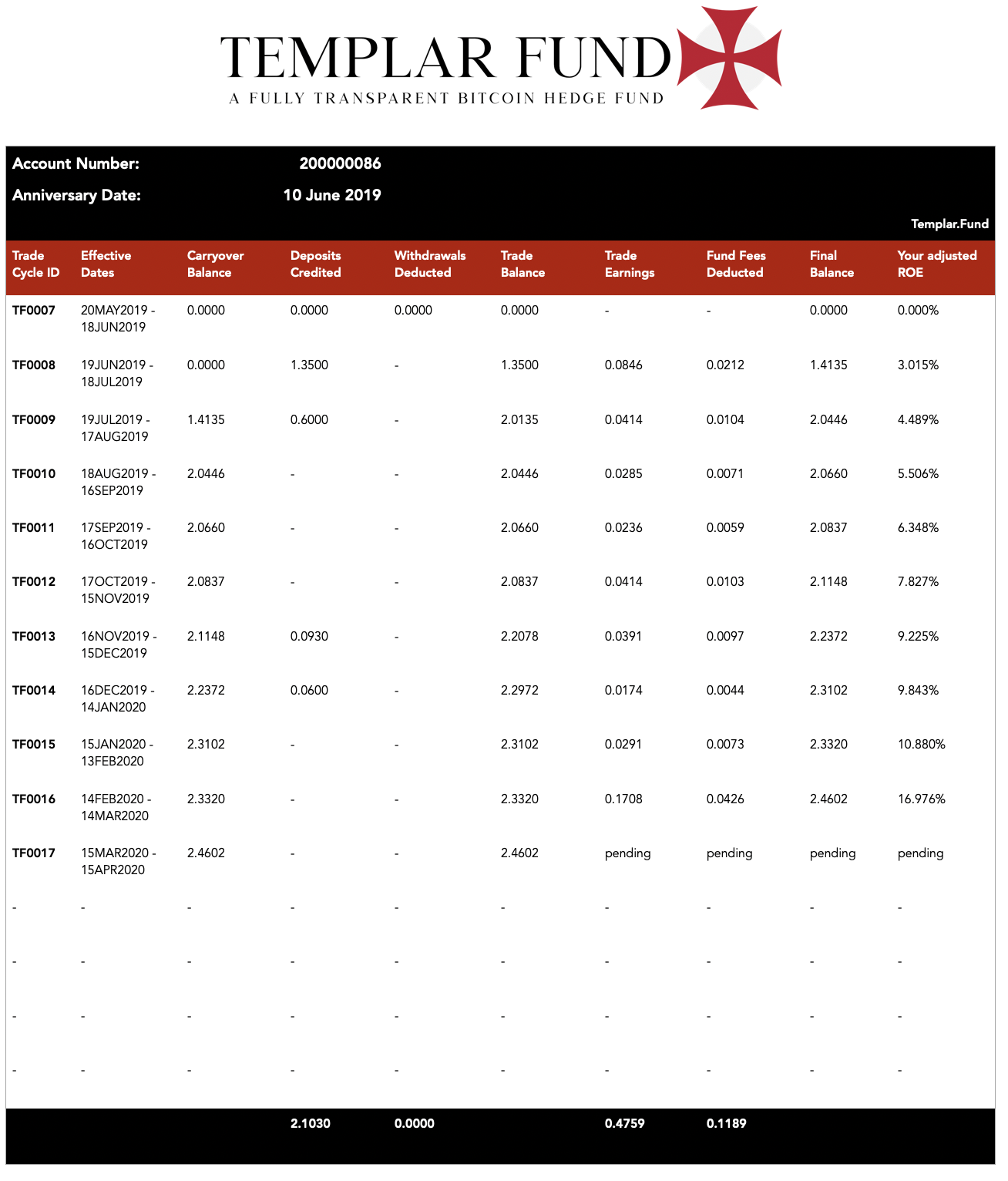 "The Templar Fund has earned my trust, as I have now completed 10 profitable trade cycles. As you can see from my trade activity, I am confident to continue to deposit to my account while I HODL bitcoin for the long term."
All are welcome
The Templar Fund isn't set up for the usual 'high wealth' or 'accredited' investors — absolutely anyone can join regardless of wealth, experience or geographical location. Investors based in any country on the globe are welcome to set up an account.
How is this possible?
Clients do not have the responsibility for managing their own trading accounts so there is no KYC involved and subsequently no FATCA reporting requirements. This then opens the door to clients from the US for example, who would normally not be allowed to participate.
How does the fund operate and how do clients earn?
The Templar Fund operates basically by providing liquidity to banks, exchanges and retail clients. Its market making activities enable it to make money from the spread between bids and asks. This is a fully automated and operated by a state-of-the-art AI trading desk which interacts with thousands of buyers and sellers 24 hours a day.
What gives the Templar Fund its edge is its trading system.
"We built the world's finest and best-performing high frequency marketing making trade system. Capable of quantum computations and the placement of thousands of orders per second, our system has now outperformed 99% of market making desks on earth."
Also, by providing liquidity to the Bitcoin Mercantile Exchange, which operates the largest Bitcoin derivatives market, the Templar Fund takes advantage of a priority API feed that allows it to access the order book before any retail traders, putting it on the front foot for every trade.
Clients can make unlimited deposits at any time which are then included in the next 30-day trade cycle. They then need do nothing more than sit back and let the Fund do all the work. Clients can withdraw any part or all of their trade balance at the end of each cycle as there is no 'lock-up' period which exists in the majority of other hedge funds.
If a client should want to avail themselves of the trading platform, they can open a free account with no minimum deposit. This gives them access to ongoing trade reports. The Templar Fund recommends the client spend time watching the reliability and high performance of the Fund trades before actually going ahead and making their own. An extremely low 0.0001 BTC is the minimum trade that can be made.

Fees
There are no admin fees or subscription charges to the Templar Fund. There are only 2 fees levied: 1) a 25% profit share, and 2) a 2% withdrawal fee. This means that if the Fund doesn't make any profit (and this has never happened to date) then the client will pay no profit share fees. In addition, the 2% withdrawal fee is practically guaranteed to be covered by the first 45 to 60 days of trading.
Support
The Templar Fund prides itself on its high level of support and customer satisfaction. In-house support agents respond to questions by live-chat and email. The actual average response time queue is at a pretty amazing 1.4 minutes.
Conclusion
In the ridiculously uncertain financial environment of the present day where COVID19 and the subsequent economic melt-down has really put the fox in amongst the chickens, investing has become a mine field and what was the norm yesterday is a real conundrum today. Traditional hedge funds are going to have to weather a storm where the apparently sensible investments of yesterday are now taking a beating.
A hedge fund that has its raison d'être in the highly volatile world of Bitcoin can outperform the herd. Especially when it is powered with the highest technical advances capable of calculating real-time data in quantum fashion. The Templar Fund looks to be a much safer bet than any traditional hedge fund out there and given its results I'm looking to see it capture a far greater client base over the coming years.
Disclaimer: All the above views are my own and should in no way be taken as financial advice. All those wishing to invest in Bitcoin or any financial fund should do their own research or use the services of a fully certified financial advisor.