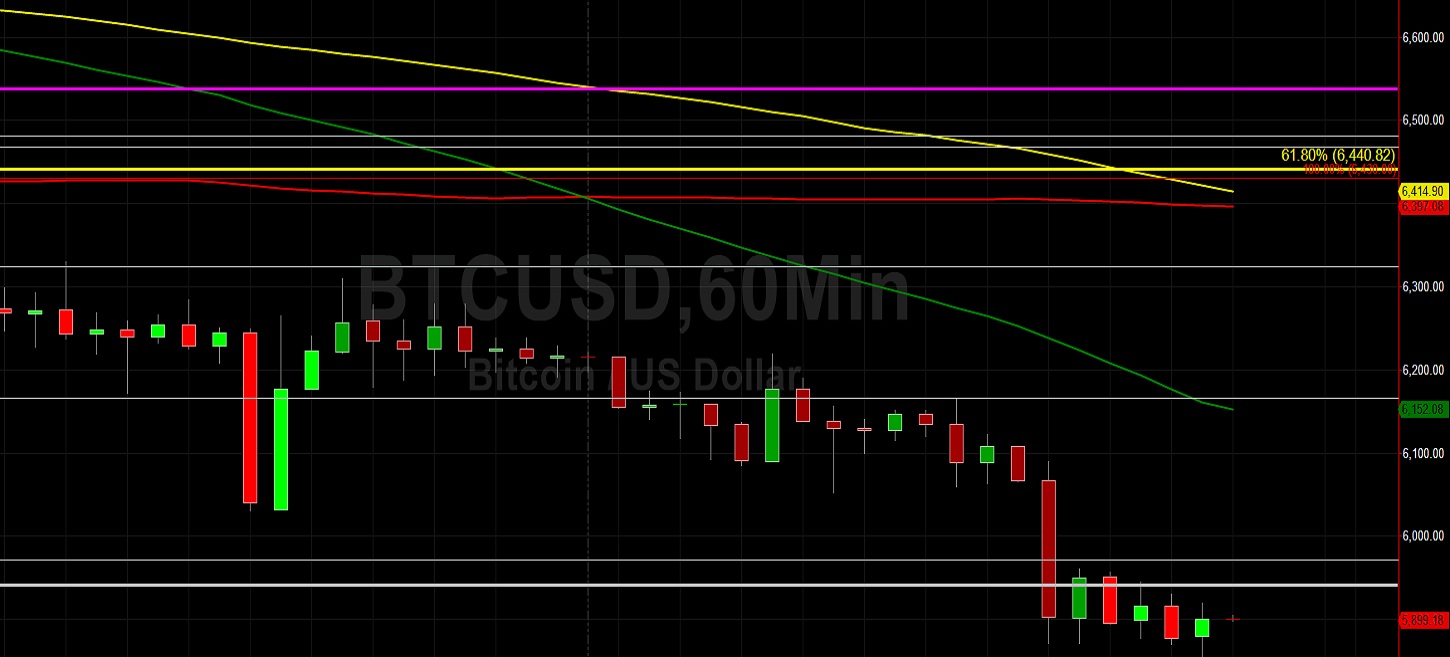 Bitcoin (BTC/USD) glided lower early in today's Asian session as the pair climbed dropped to the 5871.00 area after encountering selling pressure around the 6310.00 level during yesterday's Asian session. Sizable Stops were elected below the 5989.75 area during the move lower, a downside price objective related to selling pressure that intensified around the 6710.45 level. Another technically-significant level remains the 6161.57 area, and selling pressure emerged there during yesterday's North American session before the 5989 level was tested and gave way. Additional selling pressure saw Stops elected below the 5921 area, an upside price objective related to buying pressure that emerged around the 4432.30 level.
Above current price activity, upside price objectives include the 6436, 6520, and 6605 area. Below current price activity, downside price objectives include the 5714, 5439, 5099, and 4549 levels. Traders are observing that the 50-bar MA (4-hourly) remains bearishly below the 100-bar MA (4-hourly), and that the 200-bar MA (hourly) is bearishly converging with the 100-bar MA (hourly). After opening March around the 8525 area and escalating higher to the 9214 area, BTC/USD quickly depreciated to the 3858 area. The pair then traded sideways before escalating from the 4309 area to the 6990 area and then depreciating sharply to the 5657 area. BTC/USD then escalated to multi-day highs around the 6866 and 6983 areas.
Price activity is nearest the 100-bar MA (4-hourly) at 5970.98 and the 50-bar MA (Hourly) at 6161.60.
Technical Support is expected around 4342.13/ 3688.61/ 2882.04 with Stops expected below.
Technical Resistance is expected around 7101.76/ 7234.54/ 7414.53 with Stops expected above.
On 4-Hourly chart, SlowK is Bearishly below SlowD while MACD is Bearishly below MACDAverage.
On 60-minute chart, SlowK is Bearishly below SlowD while MACD is Bullishly above MACDAverage.