Ethereum (ETH) holds strong above $200 as price eyes a major breakout. The recent decline in price panicked a lot of investors looking for a move to the upside. However, we have reasons to believe that the uptrend might still continue at least for short term while the price nears a decision point. The price is still trading in a pennant that is yet to breakout to the upside or downside. Short term, there is an opportunity to trade the move to the upside but proper risk management will be key because there is not much upside to expect here. It could all come crashing down in no time but it is reasonable to expect that it is not going to happen while the market is expecting it. The Fear and Greed Index is back at 16 down from 47 yesterday. This is a sign of extreme fear in the market.
The 3H chart for ETH/USD shows that the price has ample room to rally towards $320 but it could start crashing from there if it fails to break to the upside. There are a growing number of retail traders expecting the price to crash but that is very unlikely to happen until the greedy bears are shaken out. We have yet to see a stop hunt to the upside that will force liquidate most of these overly ambitious positions. It is pertinent to note that the price has already broken below a strong ascending channel which means that there is not much upside to expect from here. Even if the price were to rise short term, it would still have to face a strong rejection at the bottom of the ascending channel. In chart analysis, every support once broken turns into a resistance.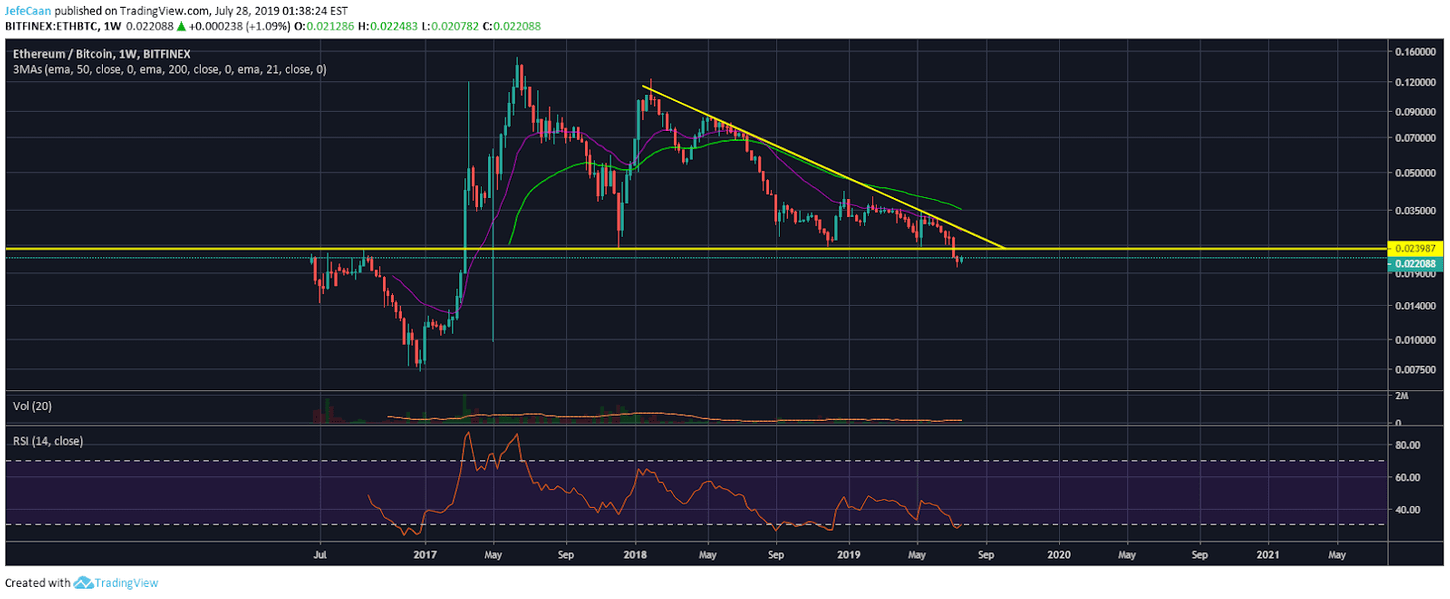 If we take a look at the weekly chart for ETH/BTC, we can see that the price is attempting to rise towards the support turned resistance. Until and unless this resistance is effectively breached and the price ends up closing above it, there is not much reason to expect any long term bullish reversal. In fact, if the price faces a strong rejection at this resistance, we are likely to see it crash hard and that would be the beginning of a strong downtrend in the altcoin market.
As long as Ethereum (ETH) remains in a downtrend against Bitcoin (BTC), not only may we not see an altcoin season, we may not even see a bullish cycle even in Bitcoin (BTC). So far, everything is progressing to plan and the ongoing cycle is taking longer than the preceding cycle. This means that we might see the market begin its downtrend soon as next month which would last all the way till the remainder of 2019 and more likely till the first half of the next year.