Bitcoin (BTC) failed to break past $9,600 on the weekend even though it charged aggressively from $8,440 (CME Futures close) and ended the week just below $9,000 at $8,979. When BTC/USD closed the week below $9,000 a lot of traders were disappointed because they expected the rally to continue till the 38.2% fib retracement from ATH which coincides with $9,600 on most exchanges. One might argue that the price did end up testing that level on the Bitstamp exchange but we have yet to see it happen on other exchanges. Now, just when BTC/USD closed the week below $9,000, we saw EUR/USD begin to charge towards its 50 Day EMA and this gave Bitcoin (BTC) the green light to keep going. At the time of writing, BTC/USD is well above $9,000 and EUR/USD is struggling to break past the 50 Day EMA.
We have discussed in our previous analyses how the EUR/USD break out could have been a fake out. We still maintain that this could be the case if EUR/USD fails to close above the 50 Day EMA. The most likely scenario will be that we might see EUR/USD break past the 50 Day EMA but it will end up closing below it, leaving a long wick to the upside. The same could happen with Bitcoin (BTC) and we can see a wick to $9,600 or higher levels with the price closing significantly lower. Bitcoin (BTC)'s long term outlook from here on out depends on the outlook of EUR/USD. As tempting as it is to believe that EUR/USD is actually on the cusp of a breakout from here, it is important to realize that ground realities suggest otherwise. The EURO has profited enormously off a weak British Pound (GBP) and we saw a lot of investors trading their Pounds (GBP) for Euros (EUR). In spite of that, EUR/USD maintained its downtrend because the US Dollar (USD) showed a lot of strength.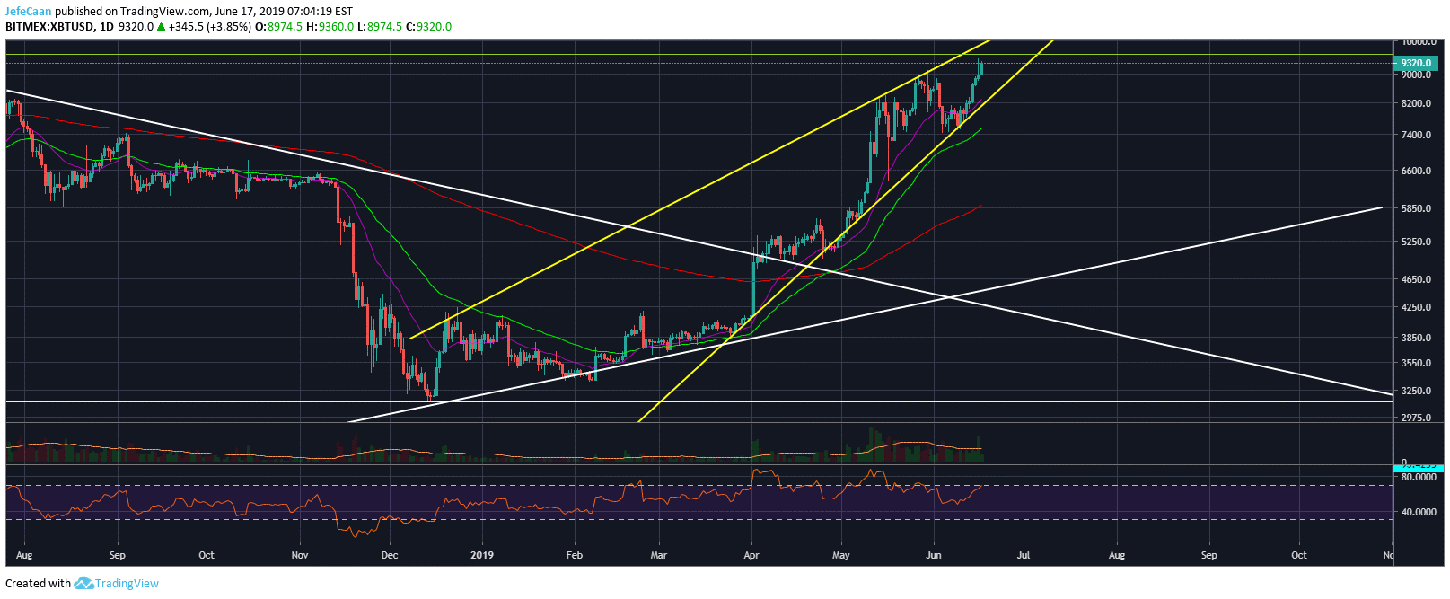 It is important to note that the European Central Bank needs a weak Euro against the Dollar. Mario Draghi could help reverse the temporary bullishness we see in the EUR/USD pair today as he opens the annual Sintra conference. If the Euro starts to decline against the US Dollar as we expect it to, BTC/USD will start falling as well. The whales had a good opportunity to push the price of Bitcoin (BTC) on the weekend to put it close to the 38.2% fib retracement level from ATH and they capitalized on that.

The price of Bitcoin (BTC) does not need much to push it towards $9,600 from here. It might even end up rallying towards $10,000 near term but the big picture remains intact. BTC/USD remains in a big rising wedge that has a very high probability of eventually breaking to the downside. That coupled with the long term outlook of EUR/USD suggests that Bitcoin (BTC) might have room to finish this rally short term, but the big picture remains unchanged and it is due for massive downside from here.